Aesthetics of Fascination
Keywords:
Fascination, Aesthetics of Fascination, Digital Art
Abstract
This article discusses the aesthetics of fascination, characterized here as an aesthetic modality. The text is divided into four parts, seeking to explain the senses of fascination, the philosophical question, the characteristics of an aesthetic of fascination and with an epilogue focused on some reflections on fascination in the field of art.
Downloads
Download data is not yet available.
References
BAUMGARTEN, Alexander G. Reflections on poetry: A. G. Baumgarten's meditationes philosophicae de nonnulis ad poema pertinentibus. Karl Aschenbrenner e W.B. Holther (trads.). Berkeley e Los Angeles: University of California Press, 1954.

____________. Aesthetica. Hildesheim: G. Olms, 1961.

BORGES, J. Luis. "La muralla y los libros". In Otras inquisicions. Madrid: Alianza Editorial, 1976.

____________. "A poesia". In Sete noites. João Silvério Trevisan (trad.). São Paulo: Max Limonad, 1983.

DELEUZE, Gilles. Espinoza e os signos. Abílio Ferreira (trad.). Porto: Rés Editora, 1970.

LAND, J. Em memória de Spinoza. In Estudos sobre Spinoza, Cesar Benjamin (org.). Rio de Janeiro: Contraponto, 2014, p. 55-92.

LIVRO Terapêutica em estética: conceitos e técnicas. Em: https://pensecomigo.com.br/livro-terapeutica-em-estetica-conceitos-e-tecnicas-pdf-fabio-dos-santos-borges/. Acesso: 09/09/2019, s/d.

LIPOVETSKI, Gilles; SERROY, Jean. A estetização do mundo. Viver na era do capitalismo artista. Eduardo Brandão (trad.). São Paulo: Companhia das Letras, 2013.

PRADO, Gilbertto. Circuito Alameda: Algunos apuntes sobre las obras Jardín Alameda, Encontros, Caja de Choque y Serigrafías. ANIAV - Revista de Investigación en Artes Visuales, [S.l.], n. 5, p. 13-29, sep. 2019. DOI: 10.4995/aniav.2019.11967.

PRADO, Gilbertto; LA FERLA, Jorge (Ed.). Circuito Alameda. Ciudad de México: Instituto Nacional de Bellas Artes | Laboratorio Arte Alameda, 2018. http://www.gilberttoprado.net/assets/circuito_alameda_gttoprado_jlf.pdf Acesso: 09/09/2019.

SANTAELLA, Lucia. O que é semiótica. São Paulo: Brasiliense, 1983.

SODRÉ, Muniz. As estratégias sensíveis. Afeto, mídia e política. Petrópolis: Vozes, 2006.

TAKADA, Paula. A arte de deslumbrar. Jornal da Usp, 18 a 24 de março, de 2002, ano XV, no. 589.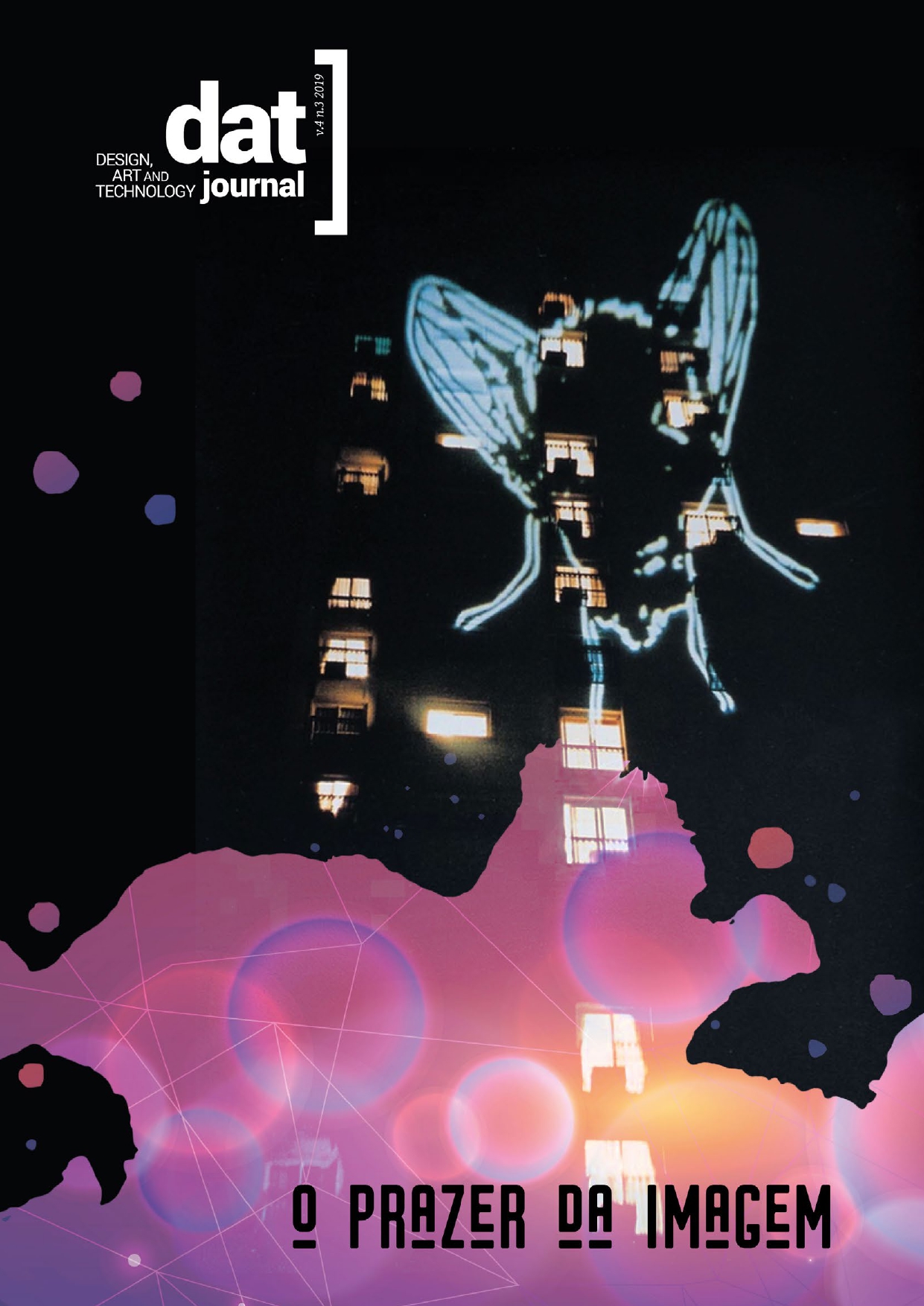 Downloads
How to Cite
Santaella, L. (2019). Aesthetics of Fascination. DAT Journal, 4(3), 22–36. https://doi.org/10.29147/dat.v4i3.144