Non-conventional potentials in the contemporary graphic design: A LULULUX case study
Keywords:
Graphic design, Book functions, Book materiality, LULULUX
Abstract
This article aims to analyze the graphic project called LULULUX (2014), realized by the Brazilian graphic designer Gustavo Piqueira. LULULUX is a narrative on a dinner set where the Piqueira uses as support napkins, cup holders and placemats as a book's proposition. The project points to the limits of the printed book, both in its materiality as well as its visual compositions and functions, generating a parallel and a questioning about the conventionality of contemporary editorial design, exposing new perspectives and strengths for the printed book in a possibility of an object material of great narrative and conceptual value.
Downloads
Download data is not yet available.
References
ARANTES, Priscila.; DE OLIVEIRA, Mirtes. Design e Ativismo. DAT Journal, v. 4, n. 2, p. 1-2, 5 Aug. 2019. DOI: https://doi.org/10.29147/dat.v4i2.124

BELLUZZO DE CAMPOS, Gisela; NEDER, Rafael. Visões sobre a Tipografia: aspectos histórico-críticos, metodológicos e tecnológicos. DAT Journal, v. 1, n. 1, p. 1-2, 29 nov. 2016. DOI: https://doi.org/10.29147/dat.v1i1.7

BONFIM, Gustavo Amarantes. Fundamentos de uma teoria Transdisciplinar do design: morfologia dos objetos de uso e sistemas de comunicação. Estudos em design. V. V. n2. dez. 1997.

CARDOSO. Rafael. Design para um mundo complexo. Ubu. São Paulo. 2016.

CARDOSO. Rafael. Design, cultura material e o fetichismo dos objetos. Revista Arcos. Volume 1 Rio de Janeiro. 1998.

COSTA. Carlos Zibel. Além das formas: introdução ao pensamento contemporâneo no design, nas artes e na arquitetura. Annablume. São Paulo. 2010.

FALCÃO, Guilherme. AUTO. DAT Journal, v. 4, n. 2, p. 109-111, 5 ago. 2019. DOI: https://doi.org/10.29147/dat.v4i2.135.

GROYS, Boris. Sobre lo nuevo. Artnodes. Universitat Oberta de Catalunya. Catalunya, de esta edición: FUOC, 2002.

HALL, Stuart. Cultura e Representação. Editora PUC-RIO. Rio de Janeiro. 2016.

HASLAM, Andrew. Livro e o Designer II, Como Criar e Produzir Livros. Rosari. São Paulo, 2007.

LEOTE, Rosangela; CARVALHO, Agda. Corpo/objeto/espaço. DAT Journal, v. 3, n. 1, p. 1-8, 12 jun. 2018. DOI: https://doi.org/10.29147/dat.v3i1.65

LUPTON, Ellen e PHILLIPS, Jennifer Cole. Novos fundamentos do design. São Paulo: Cosac Naify, 2008.

ONO MISUKO, Maristela. Design, Cultura e Identidade, no contexto da globalização. Revista Design em Foco, vol. I, núm. 1, julho-dezembro, 2004, pp.53-66.

PIQUEIRA, Gustavo. LULULUX. Lote 42. São Paulo, 2015.

RANCIERE, Jacques. O destino das imagens. Contraponto. Rio de Janeiro, 2012.

ZUANON, Rachel; PRADO, Gilbertto; FERREIRA, Cláudio. Transdisciplinaridades. DAT Journal, v. 1, n. 2, p. 1, 27 dez. 2016. DOI: https://doi.org/10.29147/dat.v1i2.36.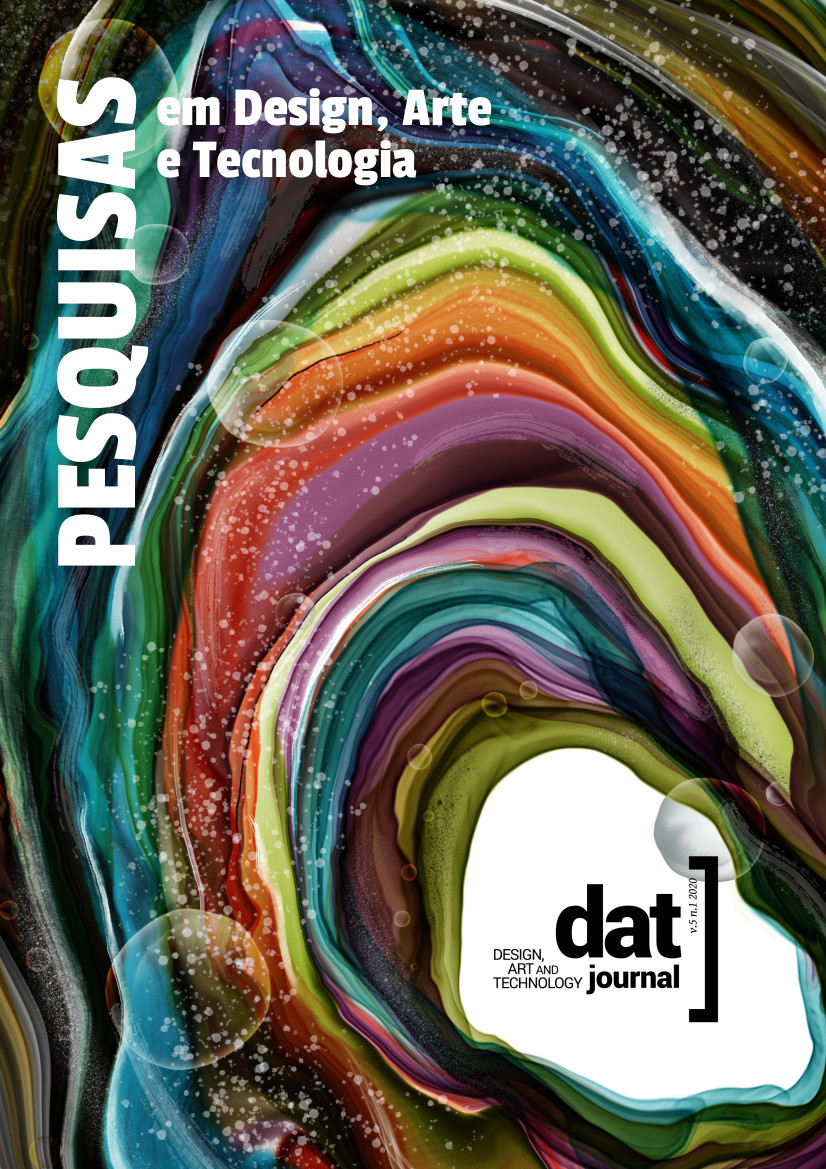 Downloads
How to Cite
Paes, G. P., Oliveira, M. M. de, & Carvalho, A. R. de. (2020). Non-conventional potentials in the contemporary graphic design: A LULULUX case study. DAT Journal, 5(1), 35–46. https://doi.org/10.29147/dat.v5i1.168