Study about the waterproofing of the composite starch / paper waste
Keywords:
Biocomposite, Starch, Paper waste, Waterproofing, Water absorption
Abstract
This research presents an alternative material that follows innovative and sustainable standards constituted by the union of the gelatinized starch matrix with paper waste as load. Since starch and paper are hydrophilic nature, limitations in the applications of this biocomposite may occur if no barrier is created to restrict moisture absorption. For this, waterproofing tests were performed to analyze the behavior of the material in relation to water absorption (2 and 24 hours) with four different waterproofing agents applying one, two and three layer. Satisfactory results were obtained from the second coat in 2 h and third coat in 24 h with the polyurethane based waterproofing agents. Therefore, comparing to the other waterproofing agents tested, and searching for more sustainable results, it can be concluded that the polyurethane-based waterproofing agent of vegetable origin proved to be the one that best meets the objectives of this research.
Downloads
Download data is not yet available.
References
ASSOCIAÇÃO BRASILEIRA DE NORMAS TÉCNICAS. NBR 13.818: Placas Cerâmicas para Revestimento – Especificação e Métodos de Ensaio (descrição dos parâmetros dos ensaios), Rio de Janeiro, maio 1997.

AZWA, Z.N.; YOUSIF, B.F.; MANALO, A.C.; KARUNASENA, W. A review on the degradability of polymeric composites based on natural fibres. Materials & Design, v.47, p.424-442, 2013.

CALEGARI, E.P. et al. Composites from renewable resources with thermoplastic starch matrix. In: Asim Shahzad. (Org.). Biocomposites: Properties, Performance and Applications. 1 ed. New York: Nova Science Publishers, 2017, p. 79-92 (a).

CALEGARI, E.P.; PORTO, J.S.; NEJELISKI, D.M.; DUARTE, L.C.; OLIVEIRA, B.F. Experimental study on waterproofing MDF with castor oil-based vegetal polyurethane. Matéria, v.22, p. 1-10, 2017 (b).

CARDOSO, G.; ANGRIZANI, C.C.; PORTO, J.S.; CALCAGNO, C.I.W. Reutilização de resíduos de papéis em composição com o amido: uma opção de material para o design sustentável. In: 6° Seminário de Inovação e Tecnologia do IFSul (Inovtec), Sapucaia do Sul, 2017.

ELEOTÉRIO, J. R. Propriedades físicas de painéis MDF de diferentes densidades e teores de resina. 2000. 121f. Dissertação de mestrado - Escola Superior de Agricultura "Luís de Queiroz", Universidade de São Paulo, Piracicaba, São Paulo, 2000.

FARUK, O.; BLEDZKI, A.K.; FINK, H.P.; SAIN, M. Biocomposites reinforced with natural fibers: 2000-2010. Progress in Polymer Science, v.37, nº11, p.1552–1596, 2012.

IMPERVEG. Ficha Técnica IMPERVEG AGT 1315. (http://imperveg.com.br/wp-content/uploads/2015/05/FICHA-T%C3%89CNICA IMPERVEG-AGT-1315.pdf) (a).

IMPERVEG. Ficha Técnica IMPERVEG UG 132A. (http://imperveg.com.br/wp-content/uploads/2015/04/FICHA_TECNICA_ IMPERVEG_UG132_A1.pdf) (b).

IMPERVEG. Poliuretano Vegetal Imperveg. (http://imperveg.com.br/poliuretano-vegetal-imperveg/) (c).

KOENIG, M.F.; HUANG, S.J. Evaluation of crosslinked poly(caprolactone) as a biodegradable, hydrophobic coating. Polymer Degradation and Stability, v.45, nº1, p.139-144, 1994.

NORMALIZACIÓN ESPAÑOLA. Norma EN 317: Tableros de partículas y tableros de fibras. Determinación de la hinchazón en espesor después de inmersión en agua.(Versión oficial EN 317:1993).

NOVA SANTA MARIA TINTAS. Verniz Ecolac. (http://www.novasantamaria.com.br/ecolac-verniz-a-base-dagua).

PICCOLI, M.; PACHECO, J.; CÂNDIDO, L.H.A.; BRANDI, L.B. Reutilização de tubos de papelão: estudo da impermeabilização visando sua aplicação no design de produtos. In: 11º Congresso Brasileiro de Pesquisa e Desenvolvimento em Design, Gramado, 2014.

SANJAY, M.R.; ARPITHA, G.R.; YOGESHA, B. Study on mechanical properties of natural – glass fibre reinforced polymer hybrid composites: a review. Materials Today: Proceedings, v.2, p. 2959 – 2967, 2015.

SHANKAR, S.; RHIM, J-W. Effects of poly(butylene adipate-co-terephthalate) coating on the water resistant, mechanical, and antibacterial properties of Kraft paper. Progress in Organic Coatings, v.123, p.153–159, 2018.

SHIRMOHAMMADLI, Y.; EFHAMISISI, D.; PIZZI A. Tannins as a sustainable raw material for green chemistry: A review. Industrial Crops and Products, v.126, p.316-332, 2018.

TARRÍO-SAAVEDRA, J.; NAYA, S.; FRANCISCO-FERNÁNDEZ, M.; ARTIAGA, R.; LOPEZ-BECEIRO, J. Application of functional ANOVA to the study of thermal stability of micro–nano silica epoxy composites. Chemometrics and Intelligent Laboratory Systems, v.105, nº1, p.114–124, 2011.

THIENEN, G.V.; SPEE, T. Health Effects of construction materials and construction products. Tijdschrift voor toegepaste Arbowetenschap, nº1, p.2-23, 2008.

VOITILLE, N. Impermeabilidade: Graus de Absorção de Água, 2018. (http://www.cliquearquitetura.com.br/artigo/ceramicas-impermeabilidade--resistencia.html).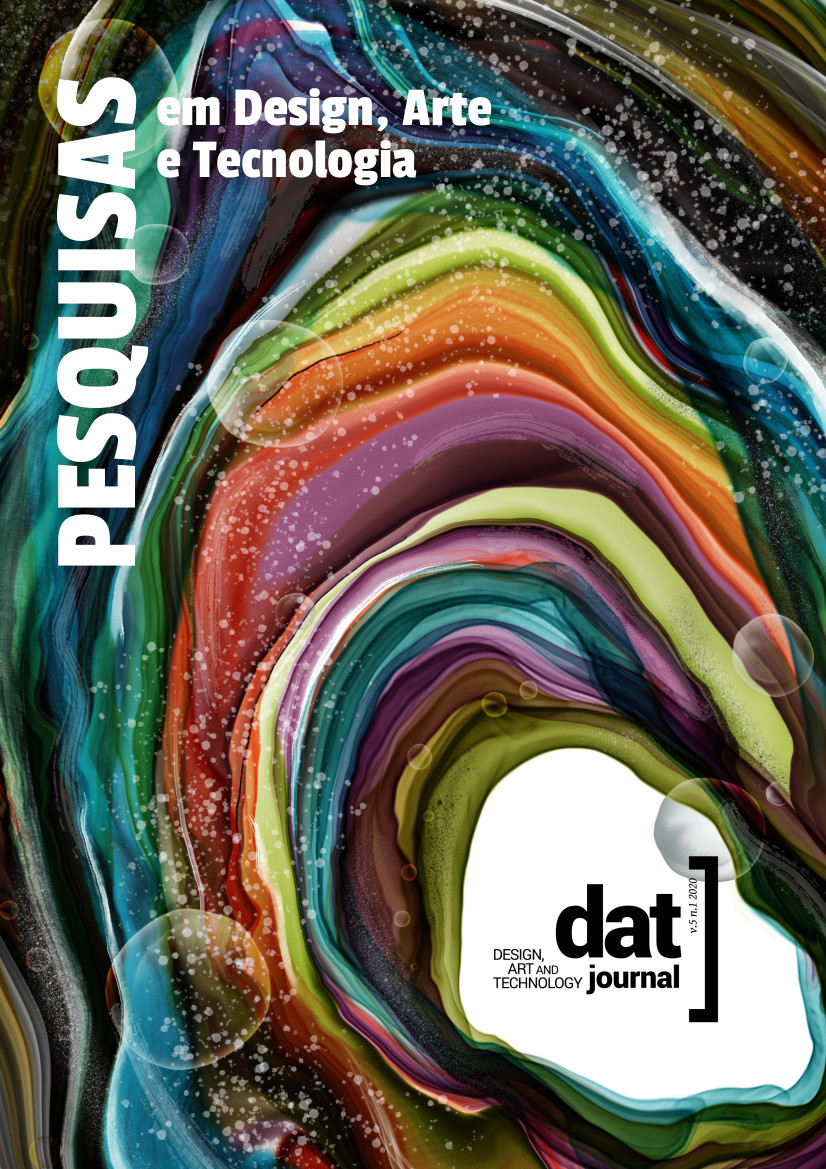 Downloads
How to Cite
Porto, J. S., Angrizani, C. C., Calcagno, C. I. W., & Duarte, L. da C. (2020). Study about the waterproofing of the composite starch / paper waste. DAT Journal, 5(1), 99–113. https://doi.org/10.29147/dat.v5i1.173