Design as a Promoter of Consumer Society Comfort
Keywords:
Design, Consumption, Ethic, Well-being
Abstract
Sometimes design produces goods that satisfy the individual's desires just by consumption. The current socioeconomic system is based on the assumption that mass production can provide individuals with an increase in their quality of life through the consumption of products and services. In this panorama, we will discuss the configuration of the consumer society and the contributions of design to well-being. The discussion will take place on two fronts: to demonstrate how the sense of well-being and comfort were modified by the trade in products and services and; to point out how the planning of design projects contributes to the maintenance of this socioeconomic system based on consumption. The discussion in this article seeks to demonstrate that economic growth, industrial development and increased production that makes new products feasible and that facilitates the access of these goods to the whole society does not provide the much desired social well-being of a population.
Downloads
Download data is not yet available.
References
ANDRÉ, I.; ABREU, A. Dimensões e espaços da inovação social. Finisterra , v. 41, n. 81, p. 121- 141, 2006. DOI: https://doi.org/10.18055/Finis1465
ARRUDA, A. J. V. Design e inovação social . São Paulo: Blucher, 2017. DOI: https://doi.org/10.5151/9788580392647
BAUMAN, Z. Modernidade líquida . Tradução: Plínio Dentzien. Rio de Janeiro: Zahar, 2001.
BAUMAN, Z. Vida para consumo . Tradução: Carlos Alberto Medeiros. Rio de Janeiro: Zahar, 2008.
CARDOSO, R. Design para um mundo complexo . São Paulo: Cosac Naify, 2012.
CAVALCANTI, A. V.; ARRUDA, A. O.; NONATO, C. B. Sustentabilidade no século XXI: história e possibilidades de avanços através do PSS. In: CAVALCANTI, A. V.; ARRUDA, A. O.; NONATO, C. B. (org.). Design e complexidade . São Paulo: Editora Blucher, 2017, p. 43-60. DOI: https://doi.org/10.5151/9788580392159-03
CORTEZ, A. T. C.; ORTIGOZA, S. A. G. (org.). Da produção ao consumo : impactos socioambientais no espaço urbano [online]. São Paulo: Editora UNESP; São Paulo: Cultura Acadêmica, 2009. DOI: https://doi.org/10.7476/9788579830075
DAMÁSIO, A. A estranha ordem das coisas: as origens biológicas dos sentimentos e da cultura. Tradução: Laura Teixeira Motta. São Paulo: Companhia das Letras, 2018. E-book.
DENIS, R. C. Design, cultura material e o fetichismo dos objetos. Arcos , v. 1, n. único, p. 15- 39, 1998.
DEVON, R.; VAN DE POEL, I. Design ethics : the social ethics paradigm. Int. J. Engn. Ed., v. 20, n. 3, p. 461-469, 2004.
DORRESTIJN, S.; VERBEEK, P. P. Technology, wellbeing, and freedom: The legacy of utopian design. I nternational Journal of Design , v. 7, n. 3, 2013.
FLUSSER, V.; CARDOSO, R. (org.). O mundo codificado : por uma filosofia do design e da comunicação. Tradução: Raquel Abi-Sâmara. São Paulo: Ubu, 2017.
JAMESON, F. A cidade do futuro. Libertas , v. 10, n. 1, p. 181-200, jan. 2010.
LIPOVETSKY, G.; SERROY, J. A estetização do mundo : viver na era do capitalismo artista. Tradução: Eduardo Brandão. São Paulo: Companhia das Letras, 2014. E-book.
LLOSA, M. V. A civilização do espetáculo : uma radiografia do nosso tempo e da nossa cultura. Tradução: Ivone Benedetti. Rio de Janeiro: Objetiva, 2013.
MANZINI, E. Design para a inovação social e sustentabilidade: comunidades criativas, organizações colaborativas e novas redes projetuais. Tradução: Carla Cipolla. Rio de Janeiro: E-papers, 2008. v. 1.
MONTEIRO, M. Ruined by design : how designers destroyed the world and what we can do to fix it. San Francisco, CA: Mule Design, 2019. E-book.
MORAES, D. de; KRUCKEN, L. Cadernos de estudos avançados em Design : design e sustentabilidade I. Barbacena: EdUEMG, 2009.
OZKARAMANLI, D.; DESMET, P. M. A.; OZCAN, E. Beyond resolving dilemmas: three design directions for addressing intrapersonal concern conflicts. Design Issues , v. 32, n. 3, p. 78-91, 2016. DOI: https://doi.org/10.1162/DESI_a_00401
PAPANEK, V. Arquitectura e design . Ecologia e ética. Lisboa: Edições70, 1995.
PINTO, J. Os gurus e o consumo: notas sobre a recepção dos bens esotéricos. Geraes Revista de Comunicação Social , n. 48, p. 19-22, 1997.
SARTRE, J.-P. Existencialismo é um humanismo . Rio de Janeiro: Vozes, 1970.
SCHWAB, K.; DAVIS, N. Shaping the fourth industrial revolution . Geneva: World Economic Forum, 2018. E-book.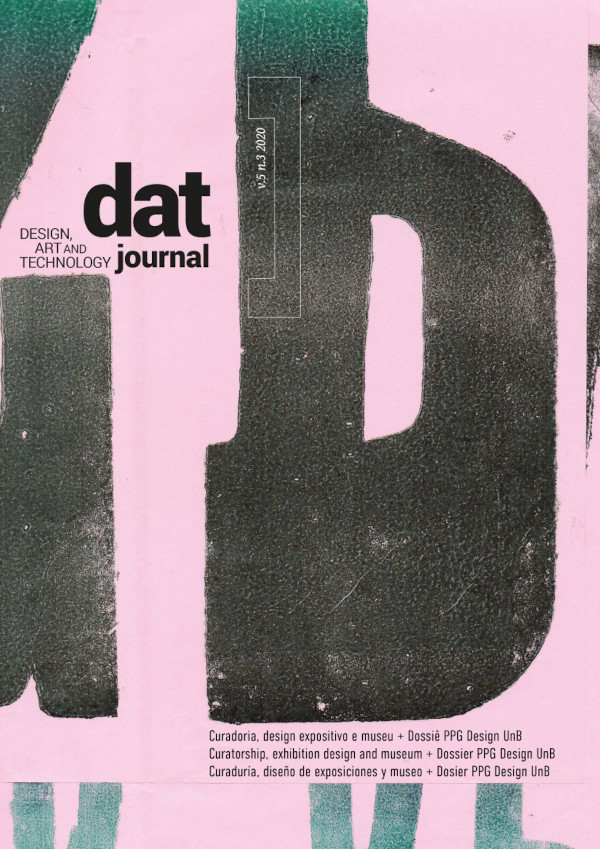 Downloads
How to Cite
Dias Maximo, F. H. ., Monteiro de Oliveira, L., Urban Bernardes de Menezes, R. O., & Carpintero Rezende, E. J. . (2020). Design as a Promoter of Consumer Society Comfort. DAT Journal, 5(3), 235–249. https://doi.org/10.29147/dat.v5i3.235