Homeodynamic Environments and Products: perspectives and contributions to human health and well-being
Keywords:
Homeodinamic Architectural Environments, Homeodynamic Urban Environments, Homeodynamic Physical and/or Digital Product, Transdisciplinarity
Abstract
From the homeodynamics' perspective (ROSE, 1998), the life regulation processes, and the resulting balance achieved, are elaborated in a dynamic flow and in continuous transformation. That differs from the possible idea of a fixed and immutable balance. In line with this perspective, stands out the concept of "Homeodynamic Environments and Products", coined by the co-founders of the DASMind [Design, Art, Space and Mind] - UNICAMP Transdisciplinary and Cooperative Research and Innovation network, also authors of this article. This concept is based in the fields of arts, architecture, urban design/planning, and visual/product design. Always in a transdisciplinary and complex approach, this concept seeks to understand the conception, design, planning, development and implantation of architectural and urban environments, as well as physical and/ or digital products, in deep synergy with the individuals' body-mind-spirituality sphere. Environments and objects become important actors in the body's continuous and dynamic internal adjustment process. As preventive and restorative for health and well-being, the homeodynamic environments and products are not designed merely as passive elements, but otherwise to act consistently and dynamically on the human organism.
Downloads
Download data is not yet available.
References
BARROS, R.; KOWALTOWSKI, Doris C. C. K. Do projeto urbano ao detalhe construtivo: "A Pattern Language" finalmente traduzida. 2013. Disponível em: https://www.vitruvius.com. br/revistas/read/resenhasonline/12.137/4734. Acesso em: 22 jun. 2020.
BEAR, M. F; CONNORS, B. W; PARADISO, M. A. Neurociências - Desvendando o sistema nervoso. São Paulo: Artmed., 4a edição, 2017.
CAVALCANTI, P. B.; AZEVEDO, G. A. N.; DUARTE, C. R. Humanização, imagem e caráter dos espaços de saúde. Cadernos PROARQ, Rio de Janeiro, v. 11, p. 7-10, 2007. CANNON, W. B. Organization for Physiological Homeostasis, Physiological Reviews 9:339- 443, 1929.
DAMÁSIO, A. R. Em busca de Espinosa: prazer e dor na ciência dos sentimentos. Tradução: Laura Teixeira Motta. São Paulo: Companhia das Letras, 2004.
DAMÁSIO, A. R. E o cérebro criou o Homem. Tradução: Laura Teixeira Motta. São Paulo: Companhia da Letras, 2011.
DUARTE, C. R. Ambiência: por uma ciência do olhar sensível no espaço. In: THIBAUD, J. P.; DUARTE, C. R. (orgs.). Por une écologie sociale de la ville sensible: ambiences urbaines en partage. Genève: MetisPresses, v. 1, 2013.
FARIA, B. A. C.; ZUANON, R. Architecture-Neuroscience cooperation: project recommendations to therapeutic gardens design for the non-pharmacological treatment of individuals with Alzheimer's disease. Lecture Notes in Computer Science, v. 11582, p. 181-199, 2019.
FERREIRA C. L. A obra de design brasileiro dos Irmãos Campana sob o olhar das relações complexas. Campinas, Brasil: Tese de Doutorado, Instituto de Artes, Universidade Estadual de Campinas-UNICAMP, 2011.
FERREIRA C. L. O design contemporâneo brasileiro e sua complexidade. Águas de São Pedro: Livronovo, 2014.
FERREIRA, C. L.; LONA, M. T. ; CHIMIRRA, V. . Irmãos Campana: A concepção projetual no design brasileiro. In: Luisa Paraguai; Rachel Zuanon. (Org.). Design, Arte e Tecnologia - DAT 9. 1ed. São Paulo: Rosari, v. 1, p. 31-49, 2014.
FREIRE, R. A.; MONTEIRO, E. Z. ; FERREIRA, C. L. . Challenges of Open Design - from theory to practice. DAT Design, Art & Technology, v. 3, p. 353-391, 2018. KOHLSDORF G.; KOHLSDORF, M. E. Ensaio sobre o desempenho morfológico dos lugares. Brasília: FRBH, 2017.
KOWALTOWSKI, D. C. C. Aesthetics and Self-Built Houses: an Analysis of a Brazilian Setting. Habitat Internacional [s.l.], v. 22, n. 3, p. 299-312, 1998.
LEGATES, T.; FERNANDEZ, D.; HATTAR, S. Light as a central modulator of circadian rhythms, sleep and affect. Nat Rev Neurosci 15, 443–454, 2014.
LEITNER, A. D.; PINA, S. M. Arquitetura sob a ótica da humanização em ambientes de quimioterapia pediátrica. Ambiente Construído, Porto Alegre, v. 20, n. 3, p. 179-198, jul./set. 2020.
LUKIANTCHUKI, M. A.; SOUZA, G. B. Humanização da arquitetura hospitalar: entre ensaios de definições e materializações híbridas. Arquitextos, [s.l.], v. 118, n. 1, mar. 2010. Disponível em: https://www.vitruvius.com.br/revistas/read/arquitextos/10.118/3372. Acesso em: 14 jul. 2020.
MALARD, Maria Lúcia. Os objetos do quotidiano e a ambiência. 2º Encontro Nacional de Conforto no Ambiente Construído, v. 2, p. 359-361, 1993.
MONTEIRO, E. Z.; TURCZYN, D. T. The five categories of solá-morales as a legacy for reading the urban landscape. Architecture, City and Environment, v. 12, p. 73-90, 2018.
MORIN, E. La tête bien faite. Repenser la réforme - Réformer la pensée. En Collection "Ĺ Histoire Immediate". (pp.18). Paris: Éditions du Seuil, 1999.
MORIN, E. Introdução ao pensamento complexo. Porto Alegre: Sulina, 2005.
PALLASMAA, J. A imagem corporificada - imaginação e imaginário na arquitetura. Porto Alegre: Bookman, 2013. POL, E. Seis reflexiones sobre los procesos psicologicos en el uso, organizacion y evaluacion del espacio. In: Amérigo, M.; Aragonés, J.I. &. Corraliza, J. (Orgs.), El comportamiento en el medio natural y construido. Badajoz: Junta de Extremadura, 1992.
ROSE, S. Lifelines: Biology beyond Determinism. Nova York: Oxford University Press,1998.
SANTOS, F. C.; PIMENTEL L. C. Manual do Estilo de Vida. São Paulo: nVersos, 2020.
SILVERTHORN, D. U. Fisiologia Humana: uma abordagem integrada. São Paulo: Manole, 2a edição, 2003.
THIBAUD, J.P. (2004). O ambiente sensorial das cidades: para uma abordagem de ambiências urbanas. In E.T. Tassara; E.P. Rabinovich; M.C. Guedes (Orgs.). Psicologia ambiente. SP: EDUC.347-361.
TUAN, Y. F. Topofilia: um estudo da percepção, atitudes e valores do meio ambiente. São Paulo: DIFEL, 1980.
TUAN, Y. F. Paisagens do Medo. São Paulo: Unesp, 2005. ZUANON, R.; OLIVEIRA, M. R. DA S.; FERREIRA, C. L.; MONTEIRO, E. Z. Memória, emoções e sentimentos: impactos na percepção espacial e afetiva da área urbana central de Campinas. DAT Journal, v. 5, p. 4-21, 2020.
ZUANON, R. Z; FERREIRA, C. L.; MONTEIRO, E. Z.; S.; BERNARDINI, S. P. Architecture in mind: elderlys affective memories and spatial perceptions of a downtown area. Lecture Notes in Computer Science, v. 1, p. 1, 2019.
ZUANON, R.; FARIA, B. A. C. Landscape Design and Neuroscience Cooperation: contributions to the non pharmacological treatment of Alzheimer's disease. Lecture Notes in Computer Science, p. 353-374, 2018.
ZUANON, R. Bio-Interfaces: designing wearable devices to organic interactions. In: Anna Ursyn (Org.). Biologically Inspired Computing for the Arts: Scientific Data through Graphics. Pennsylvania: IGI Global, p. 1-17, 2011.
ZUANON, R. Designing Wearable Bio-Interfaces: Transdisciplinary Articulations between Design and Neuroscience. Lecture Notes in Computer Science, v. 8009, p. 689-699, 2013.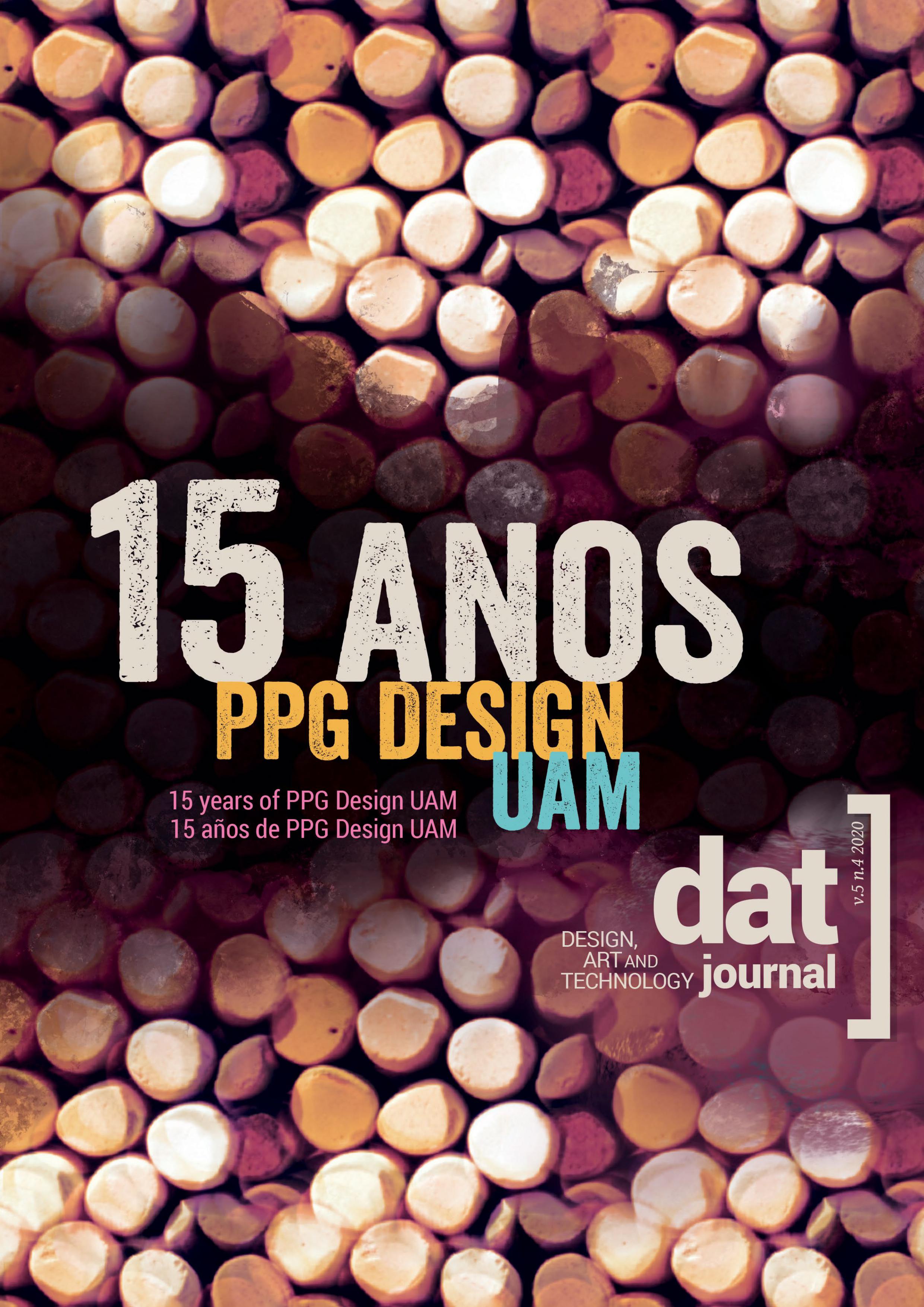 Downloads
How to Cite
Zuanon, R. ., Lima Ferreira, C., & Ziggiatti Monteiro, E. . (2020). Homeodynamic Environments and Products: perspectives and contributions to human health and well-being . DAT Journal, 5(4), 194–212. https://doi.org/10.29147/dat.v5i4.290