Can MachinesDo Art? Non human interventions in art and fashion
Keywords:
Art, Fashion, Gesture, Robots, Technology
Abstract
The first step in the evolution of technologically driven visual art genres was taken with the application of controlling spray guns and electrical brushes by David Alvaro Siqueiros 1920. The decisive break occurs again in contemporary fashion designs and installations (Savage Beauty 2011). Hence we have to emphasize upon the growing insularity and autonomy of technologically rebellious art – in the reduced human intention in patterns on dresses exhibited by the fashion maverick Alexander McQueen. We shall be able to appreciate the fact that the form of representation is most likely to be similar to a mechanics of accidence and autonomy, rather than control, and reflective of the independence of the machine itself, now called the machine being.
Downloads
Download data is not yet available.
References
BATAILLE, G. Eroticism. Maryom Boyars Publishers Ltd. London, 1998.
BEDAU, M. The Scientific and Philosophical Scope of Artificial Life. Leonardo 35, n.º 4 (Au gust 2002) pp. 395-400
BURNHAM, J. Systems Esthetics. Artforum 7, n.º 1 (September 1968) pp. 31-37.
CASADO-NAVARRO, A et.al. El Arte Mexicano. Arte Contemporáneo. Volumen 13. SEP, Sal vat. Quéretaro, México: 1986
KAC, E. Foundation and Development of Robotic Art, Art Journal 56, No. 3 (Autumn1997) pp. 60-67.
KANT, I. Critica del juicio. Colección austrual. Espasa-Calpe. Madrid. 1990
KING, L. M. AND RUSSELL T. C. Style and Substance: Fashion in Twenty-First-Century Rese-ar ch Libraries. Art Documentation: Journal of the Art Libraries Society of North America, Vol. 31, No. 1 (Spring 2012), pp. 93-107
KUSPIT, D. El fin del arte. Aka. Madrid: 2006
LANGA, H. Radical Art: Printmaking and the Left in 1930s New York. Berkeley, California: Uni-versity of California Press, 2004.
LIN, P.H. A Dream of Digital Art: Beyond the Myth of Contemporary Computer Technology in Visual Arts, Visual Arts Research 31, No. 1(60) (2005) pp. 4.12.
LIPOVETSKY, G. Imperio de lo efimero. La moda y su destino en las sociedades modernas. Anagrama. Barcelona:2000
MARCUSE, H. Eros y civilizacion. Edit. Ariel. Barcelona: 2003
MCQUEEN, A. Savage Beauty. Metropolitan Museum of Art. Photographs by Sølve Sundsbø. Metropolitan Museum of Art (New York, N.Y.) 2011.
MOON, F. The Machines of Leonardo da Vinci and Franz Reuleaux. Kinematics of the Ma-chi ne from the Renaissance to the Twentieth Century.Springer 2007.
MOSES, O. Jackson Pollock's Address to the Nonhuman. Oxford Art Journal, Vol. 27, No. 1 (2004), pp. 3-22.
PARREIRA-CORREIA, L.M. From Natural to Artificial Life, Revista Portuguesa de Filosofia, T. 66, Fasc. 4, Darwinismo: VertentesCientifica e Religiosa/Darwinism: Scientific and Religious Ver-tentes (2010) pp. 789-802.
STEIN, P. Siqueiros. International Publishers, New York: 1994
TAYLOR, R. P. ADAM, P. MICOLICH, DAVID J. The Construction of Jackson Pollock's Fractal Drip Paintings. Leonardo, Vol. 35, No. 2 (2002), pp. 203-207.
TAYLOR, R. P. A.P. MICOLICH AND D. JONAS, Fractal Expressionism, Physics World 12 (1999) p. 25
THOMPSON,R., MUKHOPADHYAY, T. (2020). Project Sideral and the Music of Cosmic Ani mism. DAT Journal, 5(1), 88-98. https://doi.org/10.29147/dat.v5i1.172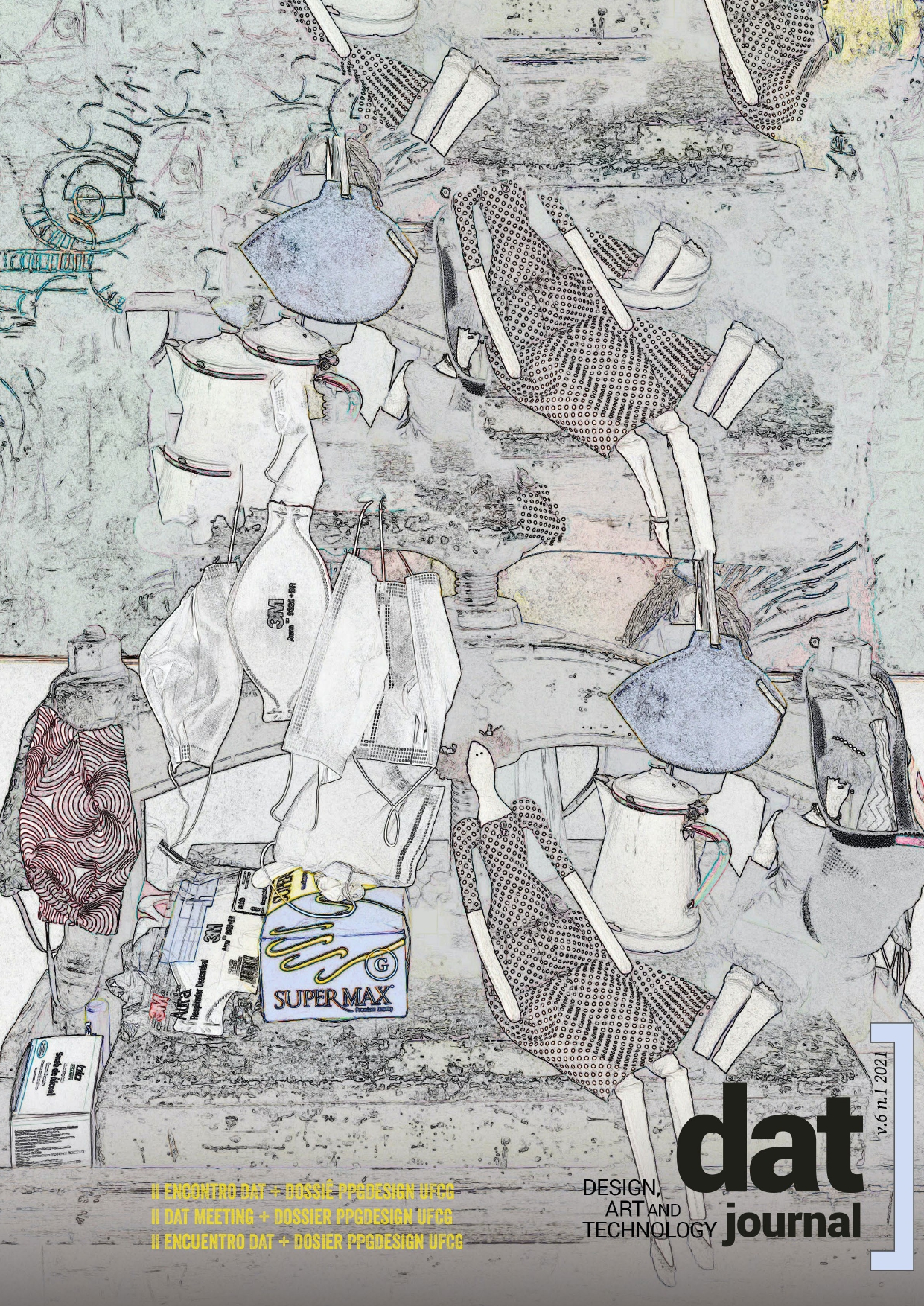 Downloads
How to Cite
Thompson, R., & Mukhopadhyay, T. (2021). Can MachinesDo Art? Non human interventions in art and fashion. DAT Journal, 6(1), 19–27. https://doi.org/10.29147/dat.v6i1.317