Art-Science-Technology: Transdisciplinarity as a Curatorial Argument in Three Contemporary Art Exhibitions
Keywords:
Exhibitions, Art Science Technology, Transdisciplinarity, Contemporary Art, Art History
Abstract
This article is about a study on three Art-Science-Technology exhibitions organized by researchers, between curators, scientists and artists, from different Higher Education Institutions in Brazil and Argentina: Mata - 200 million years (2011), FACTORS 4.0 (2017), Transdisciplinarity Art, Science and Neuroscience (2020). Shared curation seeks, both in the expository strategy and in the theoretical challenge, to discuss the concept of transdisciplinarity as a curatorial argument. This conception is combined with different concepts in each of the exhibitions and generates emerging questions, provoking new exhibition practices and other discourses to contribute to the field of Contemporary Art and its history.
Downloads
Download data is not yet available.
References
BARROS, Anna. Nanoarte. São Paulo: Ed SESI-SP, 2013.
BOURDIEU, Pierre. Science de la science et reflexivité. Paris: Raisons d'agir, 2001.
FREIRE, Cristina (org). Walter Zanini. Escrituras Críticas. São Paulo: Anna Blume/Mac USP, 2013.
FUSTER, J. M. Neurociencia. Los cimentos cerebrales de nuestra libertad. Ciudad de México: Ediciones Culturales Paidós, 2015.
GLICENSTEIN, Jérôme. L'Invention du Curateur. Paris: Presses Universitaires de France, 2015.
GROYS, Boris. Volverse Público. Buenos Aires: Caixa Negra, 2018.
KAPOULA, Zoï; VOLLE, Emmanuelle; RENOUL, Julient; ANDREATTA, Moreno (Editores). Exploring Transdisciplinarity in Art and Sciences. Cham: Ed. Springer, 2018.
MACT. https://www.ufsm.br/museus/arte-ciencia-tecnologia/museu-interativo-arte-ciencia-tecnologia-e patrimonio-cultural-mata-200-milhoes-de-anos/
RINCÓN, Daniel Lopez. Bioarte. Arte y vida en la era de la biotecnología. Madri: AKAL, 2015.
SANTOS, Nara Cristina; YEREGUI, Mariela (org.) FACTORS 4.0 é BIENALSUR. Santa Maria: Ed
PPGART, 2018. Disponível em: https://www.ufsm.br/app/uploads/sites/740/2018/08/Catlogo_FACTORS_OK1.pdf
SANTOS, Nara Cristina; CELESTE, Hosana (org.) Transdisciplinaridade Arte, Ciência e Neurociência. Santa Maria: Ed PPGART, 2020.Disponível em: https://www.ufsm.br/app/uploads/sites/740/2020/12/catalogo_transdisciplinaridade_.pdf
SMITH, Terry. Talking Contemporary Curating. New York: ICI, 2015.
WILSON, Stephen. Information Arts: intersection of Art, Science and Technology. London/Massachussets: MIT Press, 2002.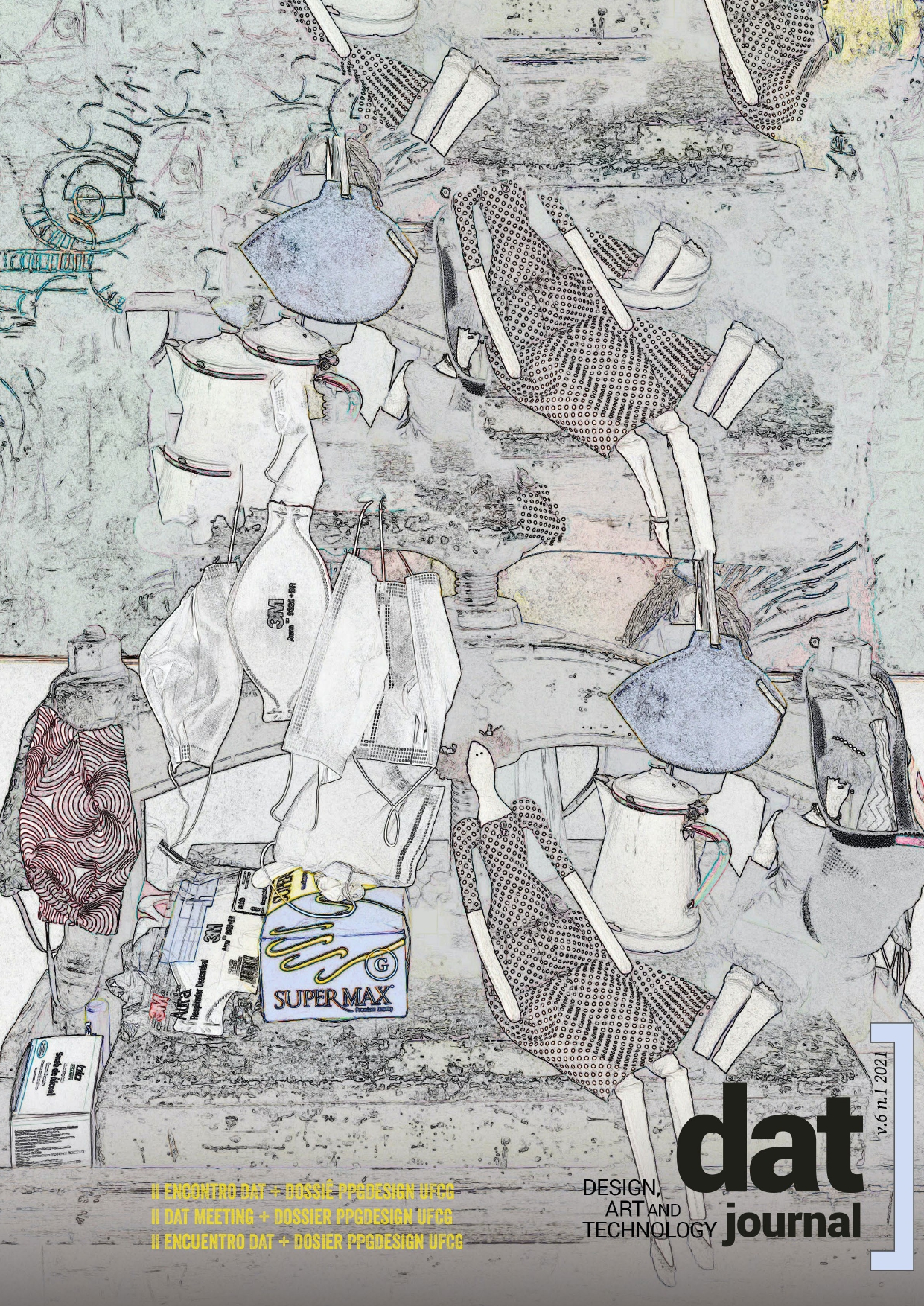 Downloads
How to Cite
Cristina Santos, N. (2021). Art-Science-Technology: Transdisciplinarity as a Curatorial Argument in Three Contemporary Art Exhibitions. DAT Journal, 6(1), 78–90. https://doi.org/10.29147/dat.v6i1.327