Drifting with smartphone
Nomadic imagery or film narratives
Keywords:
drift, image, smartphone, cinematography, art
Abstract
The wandering /getting lost in the urban space has always been a constant tool among the community of artists who have the city as their main object of study. As a versatile and practical urban registration the mobile tool, smartphone, is bringing together, in one device, the ability to photograph, film, map and communicate. As an interface, through the facility of using, as a potential equation, the ability to associating as one (the individual + the device) it cultivates the capability of connecting, instantaneously, the of ine urban environment to online ambiences. We are entering a new era of "mixed beings" through the uses of the apparatus smartphone (a concept ourished in early cinematography by Vertov - cine-truth and the cine-eye). So, I will try to address the issue of walking as the creation of experimental urban cinematic narratives (concepts such as drift, urban nomadism and the "cibrid being" will be consociated).
Downloads
Download data is not yet available.
References
ANDERS, Peter. (1998). Cybrids - Integrating Cognitive and Physical Space in Architetcure. Paper presented at the Convergence Conference, Orlando.Volume 4 Number 1, pp.85-105
ARNHEIM, Rudolf. (2002) Arte e Percepção Visual: uma Psicologia da Visão Criadora, São Paulo: Pioneira Thomson, pp. 417-418
BADGER, Emily. (2012). An App to Help You Lose Yourself in the City - Drift wants you to "unfamiliarize" yourself in familiar places. http://www.citylab.com/tech/2012/05/app-help-you-lose-yourself-city/2149/122 (Acessado em 16.04.2015).
BASTOS, Paulo Bernardino. (2006). Intersecção das novas tecnologias na criação da imagem nas artes plásticas no final do séc. XX : a imagem, a tecnologia e a arte, Tese de doutoramento: Estudos de Arte, Departamento de Comunicação e Arte da Universidade de Aveiro, 2006, 381 p. : il. color.+1 CD-ROM (anexos).
BEIGUELMAN, Giselle. (2003). O livro depois do livro. São Paulo: Editora Peirópolis.
BENJAMIN, Walter. [1976] (1985). Charles Baudelaire: A Lyric Poet in the Era of High Capitalism. London: Verso.
CAMPBELL, Scott W., KWAK, Nojin. (2011). Mobile Communication and Civil Society: Linking Patterns and Places of Use to Engagement with Others in Public. In Human Communication Research, Vol 37, Issue 2, pp.207-222.
CAMPOS, Jorge. (2014). O kino-olho, o kino-punho e o homem novo (anos 20, séc. XX). http://www.dai.esmae.ipp.pt/wp-content/uploads/2014/10/kine-olho.pdf168
CARERI, Francesco. [2002] (2013). Walkscapes - O caminhar como prática estética. São Paulo Editora G.Gili.
CHAMBERS, Iain. (2006). The Aural Walk. In Christoph Cox and Daniel Warner ed.by (Ed.), Audio Culture: readings in modern music (pp. 98-101). New York: The Continuum International Publishing Group Ltd.
DZIEZA, Josh. (Agosto de 2014). I got destroyed at web-surfing competition: No keys, no search, no going back. http://www.theverge.com/2014/8/12/5991595/i-got-destroyed-at-a-web-surfing-competition121 (Acessado em 20.03.2015).
HARING, Keith. (1990) In. Jason Rubell.Keith Haring: The Last Interview. Arts Magazine (September). New York.
HARVEY, David. (2008). The Right To The City. New Left Review(53 ), 23-40.
JACQUES, Paola Berenstein. (2003). Apologia da deriva: escritos situasionistas sobre a cidade. Rio de Janeiro: Casa da Palavra.
JACQUES, Paola Berenstein. (2012). Elogio aos Errantes. Salvador: EDUFBA.
NAME, Leonardo dos Passos Miranda. (fev. 2003). O cinema e a cidade: simulação, vivência e influência. Arquitextos, 03 (n.033.02). http://www.vitruvius.com.br/revistas/read/arquitextos/03.033/706167
POE, Edgar Allan. [1840] (1978). The Man Of The Crowd. In Thomas Ollive Mabbott (Ed.), Tales and Sketches 1831-1842 (pp.506-518). London: The Belknap Press of Harvard University Press.
SCHAFER, R. Murray. (2001). A Afinação do mundo (Marisa Trench Fonterrada, Trans.). São Paulo: UNESP.
SILVA, Bruno Evangelista da. (2009). A representação da cidade Moderna no filme "O Homem com uma Câmera". Paper presented at the V ENECULT - Encontro de Estudos Multidisciplinares em Cultura, Salvador, Bahia – Brasil - http://www.cult.ufba.br/enecult2009/19080.pdf
TUAN, Yi-Fu. (1983). Espaço e Lugar: A perspectiva da experiência, São Paulo: Difel.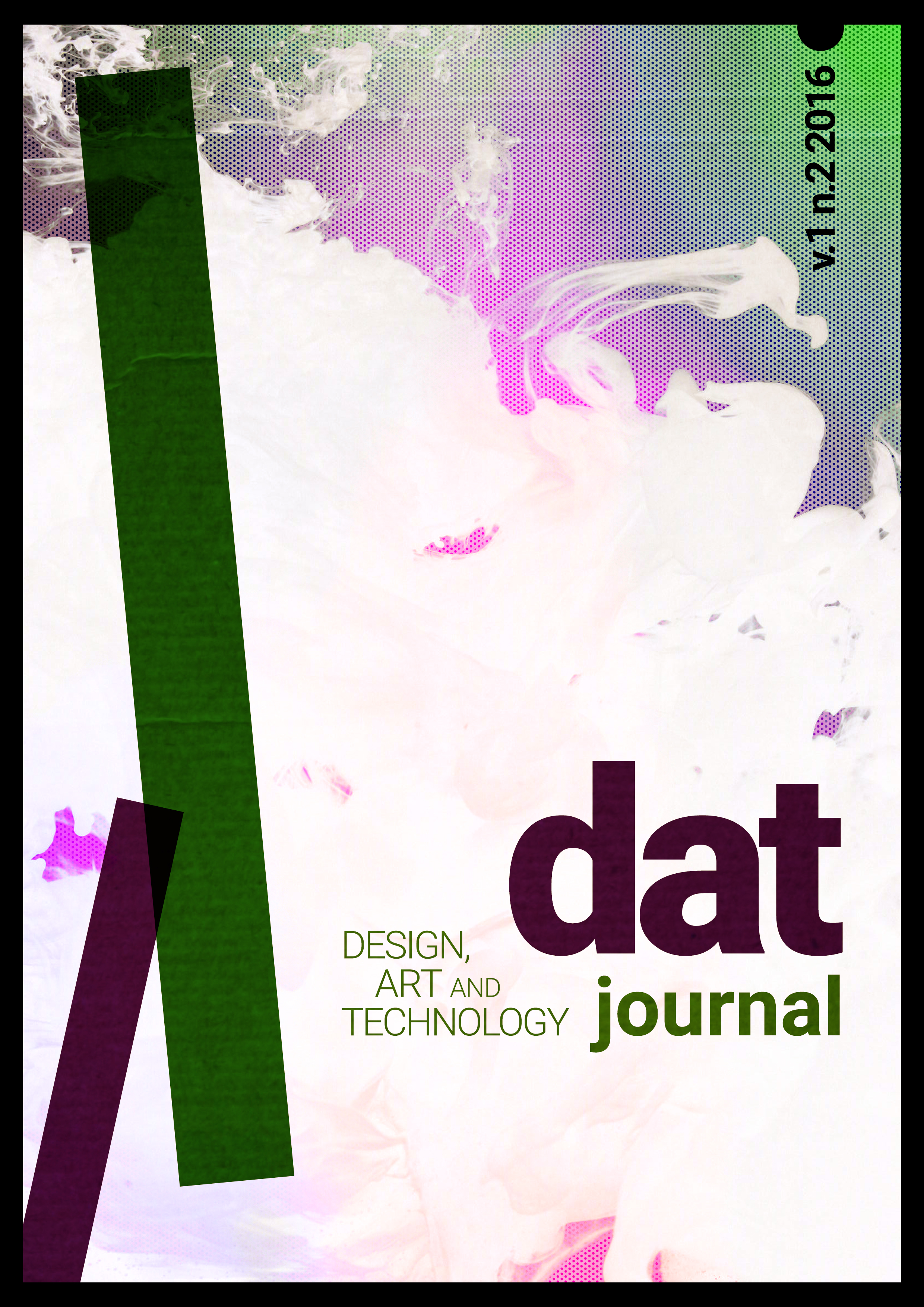 Downloads
How to Cite
Bastos, P. B. (2016). Drifting with smartphone: Nomadic imagery or film narratives. DAT Journal, 1(2), 134–150. https://doi.org/10.29147/2526-1789.DAT.2016v1i2p134-150