Textile technology combined with inclusive design
Keywords:
Inclusive design, textile technology, hydrating microcapsule, thermoregulatory microcapsule, pressure ulcer
Abstract
This research discusses the benefits of textile technology for inclusive design, recognizing aspects that prioritize the comfort and health of wheelchair users. It focuses on ergonomic and social design concepts to support the design of the project aimed at the disabled. The research proposes the importance of technological development based on microcapsules, such as calendula and eicosan with gelatin shells, which, when applied to the fabric, can expand the possibilities of using the textile. The benefit discussed here is aimed at people with mobility difficulties, specifically wheelchair users, whose main focus is to prevent or mitigate the formation of pressure ulcers, when they have not yet suffered ruptures of the dermis and epidermis. It is discussed, then, addresses new directions for textile processing based on microencapsulation aimed at clothing for the physically disabled to better adapt to everyday life and, consequently, health.
Downloads
Download data is not yet available.
References
BERETTA, Elisa Marangon. 2015). Obtenção e Aplicação de Microcápsulas de Eicosano em Espumas de Poliuretano Visando Conforto Térmico em assentos para Cadeira de Rodas. Tese (Doutoramento em Engenharia). Universidade Federal do Rio Grande do Sul, Escola de Engenharia, Porto Alegre, 2015.
BERGLIN, Lena. Smart Textiles and Wearable Technology. 2013. Disponível em: http://www.hb.se/Global/THS/BalticFashion_rapport_Smarttextiles.pdf. Acesso em: 05 maio 2015.
BUZZI, Marcelo; FREITAS, Franciele de; WINTER, Marcos de Barros. Cicatrização de úlceras por pressão com extrato Plenusdermax® de Calendula officinalis L. Revista Brasileira de Enfermagem, v. 69, n. 2, p. 250-257, 2016.
ERKAN, Gökhan. Enhancing The Thermal Properties of Textiles With Phase Change Materials. RJTA, v. 8, n. 2, p. 57-64, 2004.
KRÜGER, Jaqueline Menezes; FERREIRA, Alexandre Rodrigues. Aplicação da tecnologia assistiva para o desenvolvimento de uma classe ajustável para cadeirantes. Iberoamerican Journal of Industrial Engineering, Florianópolis, v. 5, n. 9, p. 43-69, 2013. Disponivel em: http://incubadora.periodicos.ufsc.br/index.php/IJIE/article/view/2260/pdf. Acesso em: 22 set. 2020.
LAVILLE, A. Ergonomia. São Paulo: Pedagógica e Universitária, 1976.
LEOTE, R.; CARVALHO, A. Corpo/objeto/espaço: Percepções e Transduções. DAT Journal, v. 3, n. 1, p. 1-8, 12 jun. 2018.
MADENE, A.; JACQUOT, M.; SCHER, J.; DESOBRY, S. Flavour Encapsulation And Controlled Release: A Review: 2006. International Journal Of Food Science And Technology, n. 41, p.1-21, jan. 2006. Disponível em: http://Onlinelibrary.Wiley.Com/Doi/10.1111/J.1365-2621.2005.0 0980.X/Full. Acesso em: 18 dez. 2018.
MARCUZZO, Leciane Cristina. Obtenção, caracterização e aplicação de microcápsulas em espumas de poliuretano visando o conforto térmico para potencial uso na Tecnologia Assistiva. Dissertação (Mestrado em Design). Universidade Federal do Rio Grande do Sul. Programa de Pós-Graduação em Design. Porto Alegre, 2012.
MATTILA, H. R. Intelligent textiles and clothing. Woodhead Publishing Limited. Abington, 2006.
MONLLOR, P.; BONET, M. A.; CASES, F. Characterization Of The Behaviour Of Flavour Microcapsules In Cotton Fabrics. European Polymer Journal, n. 43, p.2481–2490, 2007.
PAPANEK, Victor. Design for the Real World: Human ecology and social change. 2. ed. Grã-Bretanha: Thames & Hudson, 1995.
PAUSE, Barbara. Phase change materials show potential for medical applications. Technical Textiles International. Set. 1999, p. 23–26.
PEÑA, B.; PANISELLO, C.; ARESTÉ, G.; GARCIA-VALLS, R.; GUMÍ. T. Preparation and characterization of polysulfone microcapsules for perfume release. Chemical Engineering Journal, n. 179, p.394-403, 2012. Disponível em: www.elsevier.com/locate/cej. Acesso em: 21 out. 2018.
QUALHARINI, E.L.; ANJOS, F.C. Ergonomia no espaço edificado para pessoas portadoras de deficiência. 1998. Disponível em: http://www.abepro.org.br/biblioteca/ENEGEP1998_ART086.pdf. Acesso em: 9 out. 2018.
SÁNCHEZ, Luz; LACASA, Engracia; CARMONA, Manuel; RODRÍGUEZ, Juan F.; SÁNCHEZ, Paula.
Applying an Experimental Design to Improve the Characteristics of Microcapsules Containing Phase Change Materials for Fabric Uses. Industrial and Engineering Chemistry Research, v. 47, n. 23, p. 9783- 9790, 2008.
SIMÕES, J. F. Manual de apoio às ações de formação do projeto Design Inclusivo. Iniciativa Equal. 2007.
SPRIGLE, S, SONENBLUM, S. Assessing evidence supporting redistribution of pressure for pressure ulcer prevention. Journal of Rehabilitation Research & Development, v. 48 n. 3, p. 203-214, DOI:10.1682/JRRD.2010.05.0102, 2005.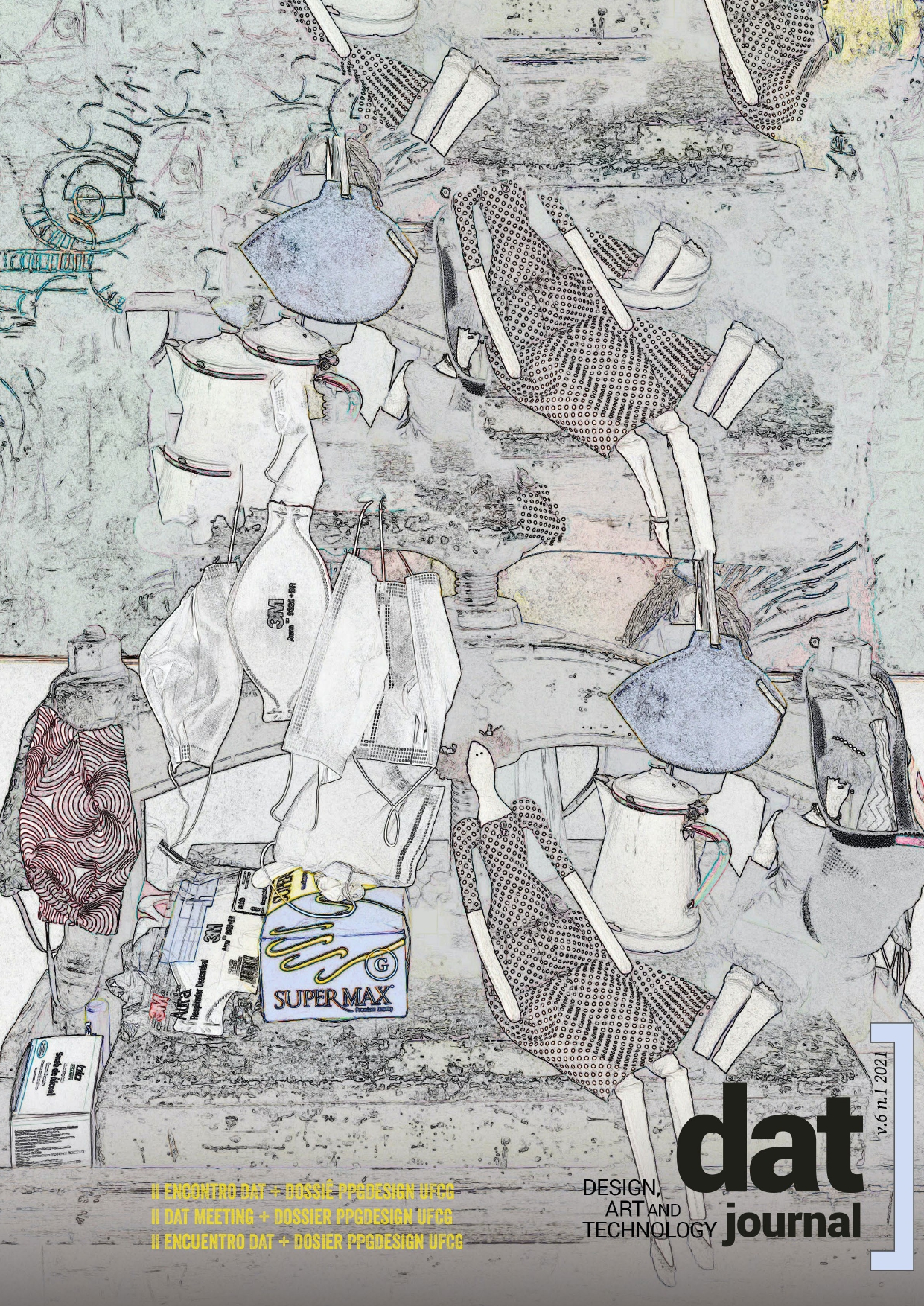 Downloads
How to Cite
Cristina Teodoro Ferreira, V., & Venturelli, S. (2021). Textile technology combined with inclusive design. DAT Journal, 6(1), 266–278. https://doi.org/10.29147/dat.v6i1.340