The recalibration of a design studio curriculum during COVID–19 in Aotearoa
Keywords:
COVID–19, Curriculum Design, Design Education, Online Learning, Studio Practice
Abstract
This article presents the impact COVID–19 had on a first-year communication design curricula revitalisation to progress students from a secondary level standards-based criterion to a tertiary culture predicated on active and experiential practice-led studio inquiry. Methodologically, it describes a design-based research intervention that asks what occurred in the translation of a brief written as an in-person, studio-based model into a purely online undertaking, learning from anywhere, teaching in a constant state of flux? Through a commentary on practice, the revitalisation of a design programme, and the pedagogical shift from within the traditional studio paradigm–a dynamic on-campus, in-person model into an abrupt and atypical online undertaking due to the global pandemic, this paper contributes to a discourse on a design studio approach and presents the transference of the Learning Management System that supports distance learning.
Downloads
Download data is not yet available.
References
Anderson, L. W., & Bloom, B. S. (2001). A taxonomy for learning, teaching, and assessing: A revision of Bloom's taxonomy of educational objectives. UK: Longman.
Baumeister, R. F., & Leary, M. R. (1995). The need to belong: desire for interpersonal attachments as a fundamental human motivation. Psychological bulletin, 117(3), 497.
Biggs, John. (2012). What the student does: teaching for enhanced learning. Higher Education Research & Development, 31(1), 39-55. DOI: 10.1080/07294360.2012.642839
Bolstad, R., & Gilbert., J with McDowall, S Bull., A Boyd., S & Hipkins, R (2012). Supporting future-oriented learning and teaching: A New Zealand perspective. Ministry of Education.
Boyd, D. (2016). What Would Paulo Freire Think of Blackboard™: Critical Pedagogy in an age of Online Learning. International Journal of Critical Pedagogy. Vol. 7 No. 1. p. 174-5.
Brown, A. L. (1992). Design experiments: Theoretical and methodological challenges in creating complex interventions in classroom settings. The Journal of the Learning Sciences, 2(2), 141-178.
Collins, A. (1992). Toward a Design Science of Education. In E. Scanlon & T. O'Shea (Eds.), New Directions in Educational Technology (pp. 15–22). New York: Springer-Verlag.
Delors, J., Chung, F., Geremek, B., Gorham, W., Kornhauser, A., Manley, M., & Nanzhao, Z. (1996). Relatório para a UNESCO da Comissão Internacional sobre Educação para o século XXI. Educação um tesouro a descobrir, 6.
Dewey, J. (1937). Education and Social Change. Bulletin of the American Association of University Professors, (1915-1955), 23(6), 472-474.
Drick Boyd (2016) What Would Paulo Freire Think of Blackboard™: Critical Pedagogy in an age of Online Learning, International Journal of Critical Pedagogy | Vol. 7 No. 1, 2016 (p. 174-5).
Ehn, P., & Ullmark, P. (2017). Educating the Reflective Design Researcher. In L. Vaughan (Eds.). Practice-based Design Research (pp. 77–86). London: Bloomsbury Academic. DOI: Retrieved April 12, 2021, from DOI http://dx.doi.org/10.5040/9781474267830.ch-008
Ellis, M., & Grieve, F. (2020, December). Teaching in a State of Flux and Uncertainty: Transitioning the Design Studio during COVID-19. In Link Symposium Abstracts 2020 (pp. 20-21). DOI: https://doi.org/10.24135/linksymposium.vi.5
Freire, P. (2007). Pedagogy of the Oppressed. 30th Anniversary Edition. New York: Continuum Press. Gowing, M., & Brandt, E. (2019). Ficciones Typografika. Sydney: Formist.
Kampen, S. (2019). An Investigation into Uncovering and Understanding Tacit Knowledge in a First-Year Design Studio Environment. DOI: https://doi.org/10.1111/jade.12171
Kirschner, P. A. (2002). Cognitive load theory: Implications of cognitive load theory on the design of learning [Editorial]. Learning and Instruction, 12(1), 1–10. https://doi.org/10.1016/S0959-4752(01)00014-7
Kolb, A., & Kolb, D. (2005). Learning Styles and Learning Spaces: Enhancing Experiential Learning in Higher Education. Academy of Management Learning & Education Vol. 4, No. 2. https://doi.org/10.5465/amle.2005.17268566
Kuhn, G., & Quigley, A. (1997). Understanding and Using Action Research in Practice Settings. Kuhn, G., & Quigley, A. (Eds.), Creating Practical Knowledge through Action Research, (pp. 23-40). San Francisco: Jossey-Bass.
Lourie, M. (2020). Recontextualising 21st century learning in New Zealand education policy: The reframing of knowledge, skills and competencies. New Zealand Journal of Education Studies, 55, 125.
Maslow, A. H. (1962). Lessons from the Peak-Experiences. Journal of Humanistic Psychology, 2 (1), 9-18. DOI: https://doi.org/10.1177/002216786200200102
McPhail, G. (2020). Twenty-First Century Learning and the case for More Knowledge About Knowledge. New Zealand Journal of Educational Studies. DOI: https://doi.org/10.1007/s40841-020-00172-2.
Mortensen Steagall, M., Tavares, T. and Barbosa, N. (2020). Communication Design Department Response to COVID-19: A study for online delivery in Blackboard. Unpublished report.
Wang, F & Hannafin, M.J. (2005). Design-Based Research and Technology-Enhanced Learning Environments. Educational Technology Research and Development, 53(4), 5-23. p. 6).
Wenger, E. (1998). Communities of Practice. Learning, meaning, and identity. USA: Cambridge University Press.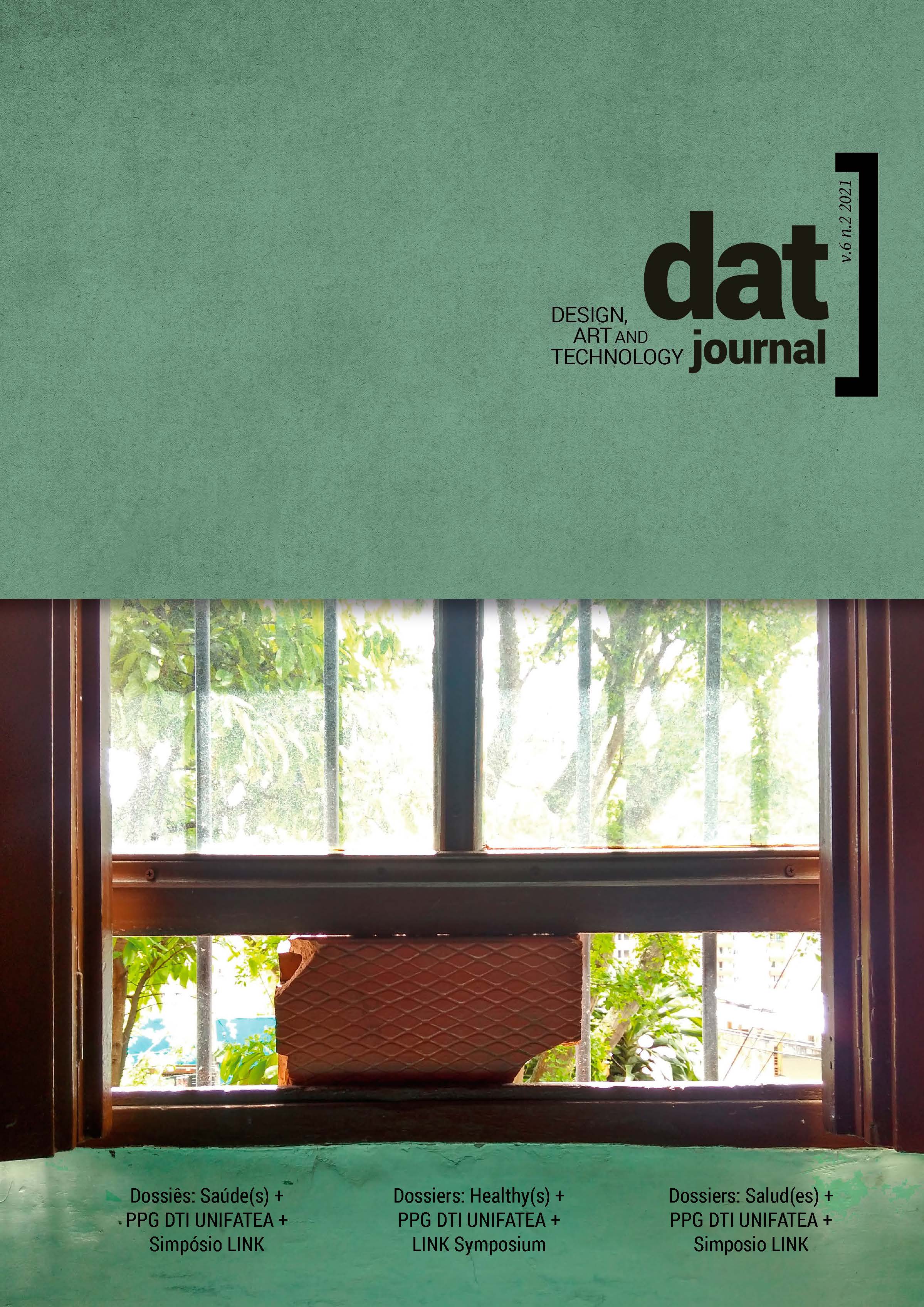 Downloads
How to Cite
Ellis, M., & Grieve, F. (2021). The recalibration of a design studio curriculum during COVID–19 in Aotearoa. DAT Journal, 6(2), 403–417. https://doi.org/10.29147/dat.v6i2.410
Section
Dossiê Simpósio LINK