Textile design as a resignification tool for post-COVID-19 antimicrobial tissues
Keywords:
Nanotechnology, Textile Design, COVID-19, Antimicrobial
Abstract
This article analyzes the improvement of functional, aesthetic and ergonomic aspects in the design of clothing textiles with the use of nanotechnology. To this end, we consider the phenomena that generate resignifications for the design of textiles for the manufacture of articles for clothing, considering the world after COVID-19. We User a qualitative and bibliographic method, associated with philosophical questions of design, based on conceptual reflections on the universe of design and what are the dialogues in this field with the production of antimicrobial fabrics for clothing in the post-COVID-19 world.
Downloads
Download data is not yet available.
References
AGÊNCIA NACIONAL DE VIGIL NCIA SANITÁRIA-ANVISA. Covid-19: tudo sobre másca¬ras faciais de proteção. 2020. Disponível em: http://portal.anvisa.gov.br/noticias/-/ asset_publisher/FXrpx9qY7FbU/content/covid-19-tudo-sobremascaras-faciais-de-prote¬cao/219201. Acesso em: 05 jul. 2020.
ARIYATUM, B., HOLLAND, R., HARRISON, D., KAZI, T., 2005. The future design direction of smart clothing development. J. Text. Inst. 96, 199-210.
BAURLEY, S et al. Communication-Wear: user feedback as part of a co-design process. Lecture Notes in Computer Science, v. 4813, 2007.
BERGER, Peter. L.; LUCKMANN, Thomas. A construção social da realidade: um livro sobre sociologia do conhecimento. Lisboa: Dinalivro, 2004.
BERGMANN, M., & MAGALHÃES, C. (2017). Hybrid materials: Textile nature in transfor¬mation. DAT Journal, 2(2). https://doi.org/10.29147/2526-1789.DAT.2017v2i2p144-158
BERTALANFFY, Ludwig von. Teoria Geral dos Sistemas. Petrópolis: Vozes, 1972.
BRUNO, Flavio da Silveira et al. Estudo Prospectivo Setorial Têxtil e Confecção. Relatório técnico. Centro de Gestão e Estudos Estratégicos. 2008.
CARDOSO, Rafael. Design para um Mundo Complexo. São Paulo: Cosac Naify, 2016.
CASTRO, E.M. de Melo e. Introdução ao Desenho Têxtil. Lisboa: Editorial Presença, 1981.
CORADI, Michaela. Têxteis antimicrobianos produzidos pela modificação superficial de tecidos de algodão e imobilização de enzima pectinolítica. São Paulo, 2018.
Covid-19: tudo sobre máscaras faciais de proteção. 2020. Disponível em: http://portal. anvisa.gov.br/noticias/-/asset_publisher/FXrpx9qY7FbU/content/covid-19-tudo-sobre¬-mascaras-faciais-de-protecao/219201. Acesso em: 05 jul. 2020.
ELSNER P. Antimicrobials and the skin physiological and pathological flora. Curr Probl Dermatol, 2006.
ENVIRONMENTAL PROTECTION AGENCY (EPA). Nanotechnology white paper. Prepared for the US EPA by members of the Nanotechnology Workgroup, a group of EPA's Scien¬cie Policy Council. Washington, 2007.
FIALKOWSKI, V. P.; KISTMANN, V. B. 2016. Gestão de Design e Inovação Incremental: Ade¬quação de Plataformas de Produtos Pré-existentes em um Novo Mercado. E-Revista LOGO, v. 5, n. 2, 2016.
GARCIA, R; CANTALONE, R. A critical look at technological innovation typology and innova¬tiveness terminology: a literature review. The Journal of Product Management, v. 19, 2002.
INTERNATIONAL ORGANIZATION FOR STANDARDIZATION (ISO). Ballot on ISO/DTR 12885: nanotechnologies: health and safety practices in occupational settings. Geneva, 2017. Documento em PDF: norma não publicada em discussão pública.
JOHNSON, Ingrid. COHEN, Allen C. Fabric Science. New York, NY: Fairchild Publications, v. 9, 2010.
JORDÃO, Fabio. O que é nanotecnologia? Tecmundo. 2009.
KARWOWSKI, W. Ergonomics and human factors: the paradigms for science, enginee¬ring, design, technology, and management of human. Compatible systems. Ergonomi¬cs, v. 48, n. 5, 2005.
KARWOWSKI, W.; SOARES, M.M. e STANTON, N. (2011). Handbook of Human Factors in Consumer Product Design. Vol. 1: Methods and Techniques Vol. 2: Uses and Applica¬tions. Boca Raton, CRC Press.
LATOUR, Bruno. Um Prometeu Cauteloso? Alguns passos rumo a uma filosofia do de¬sign (com especial atenção a Peter Slotedijk). Agitprop: revista brasileira de design, São Paulo, v.6, n. 58, jul/ago. 2014.
LÖBACH, Bernd. Design Industrial: Bases para a Configuração de Produtos Industriais Editora Edgard Blücher Ltda, 2001.
MAGALHÃES, Andréia Patrícia Souza Alves. Atividade antimicrobiana em têxteis. Portugal, 2015.
MARTINS, S. B. Ergonomia e moda: repensando a segunda pele. In: PIRES, D.B. Design de Moda: olhares diversos. Barueri: Editora Estação das Letras e Cores, 2008.
MEDEIROS, Eliton S.; PATERNO, Leonardo G.; MATTOSO, Luiz H. C. Nanotecnologia. In: DU¬RÁN, Nelson; MATTOSO, Luiz Henrique Capparelli; MORAIS, Paulo Cezar de. Nanotecnologia: Introdução, preparação e caracterização de nanomateriais e exemplos de aplicação. São Paulo: Artliber, 2006.
MERLEAU-PONTY, Maurice. Fenomenologia da Percepção. Editora Martins Fontes,1999.
MILLER, JOHN C., SERRATO, R., KUNDAHL, G., "The Handbook of Nanotechnology: Business, Policy and Intellectual Property Law". First Edition, New Jersey, Wiley, 2005.
NORMAN, Donald A. Design emocional: por que adoramos (ou detestamos) os objetos do dia-a-dia. Rio de Janeiro: Rocco, 2008.
NORMAN, D.; VERGANTI, R. Incremental and radical innovation: design research versus technology and meaning change. Design Issues, v. 30, n. 1.
PEZZOLO, Dinah Bueno. Tecidos: história, trama, tipos e uso. São Paulo: SENAC / São Paulo, 2007.
SENAI-SP. Nanomundo: um universo de descobertas e possibilidades. São Paulo: SENAI¬-SP, 2013.
SCHERER, F. O. ; CARLOMAGNO, M. S. Gestão da Inovação na prática: como aplicar concei¬tos e ferramentas para alavancar a Inovação. São Paulo: Atlas, 2009.
SHULTE, Paul A.; SALAMANCA-BUENTELLO, Fabio. Ethical and scientific issues of na¬notechnology in the workplace. Ciência Saúde Coletiva, Rio de Janeiro, v. 12, n. 5, sep./ oct. 2007.
SOLOMON, M. Consumer Behavior: Buying, Having, and Being. New Jersey, Upper Sa¬ddle. 2009.
TAIEB, A. H.; MSAHLI, S; SAKLI, F. Modelling consumer satisfaction degree of functional textile. Journal of Modelling and simulation of Systems. V. 1, n. 2, 2010.
VASCONCELOS, Yuri. Múltiplas utilidades- Resinas nanoestruturadas funcionam como bactericidas e fungicidas em máquinas de lavar roupa e colchões. In Revista Pesquisa FAPESP, junho de 2007. Pág. 72-75. Disponível em https://revistapesquisa.fapesp.br/multi¬plas-utilidades/ Acesso em 19/04/2021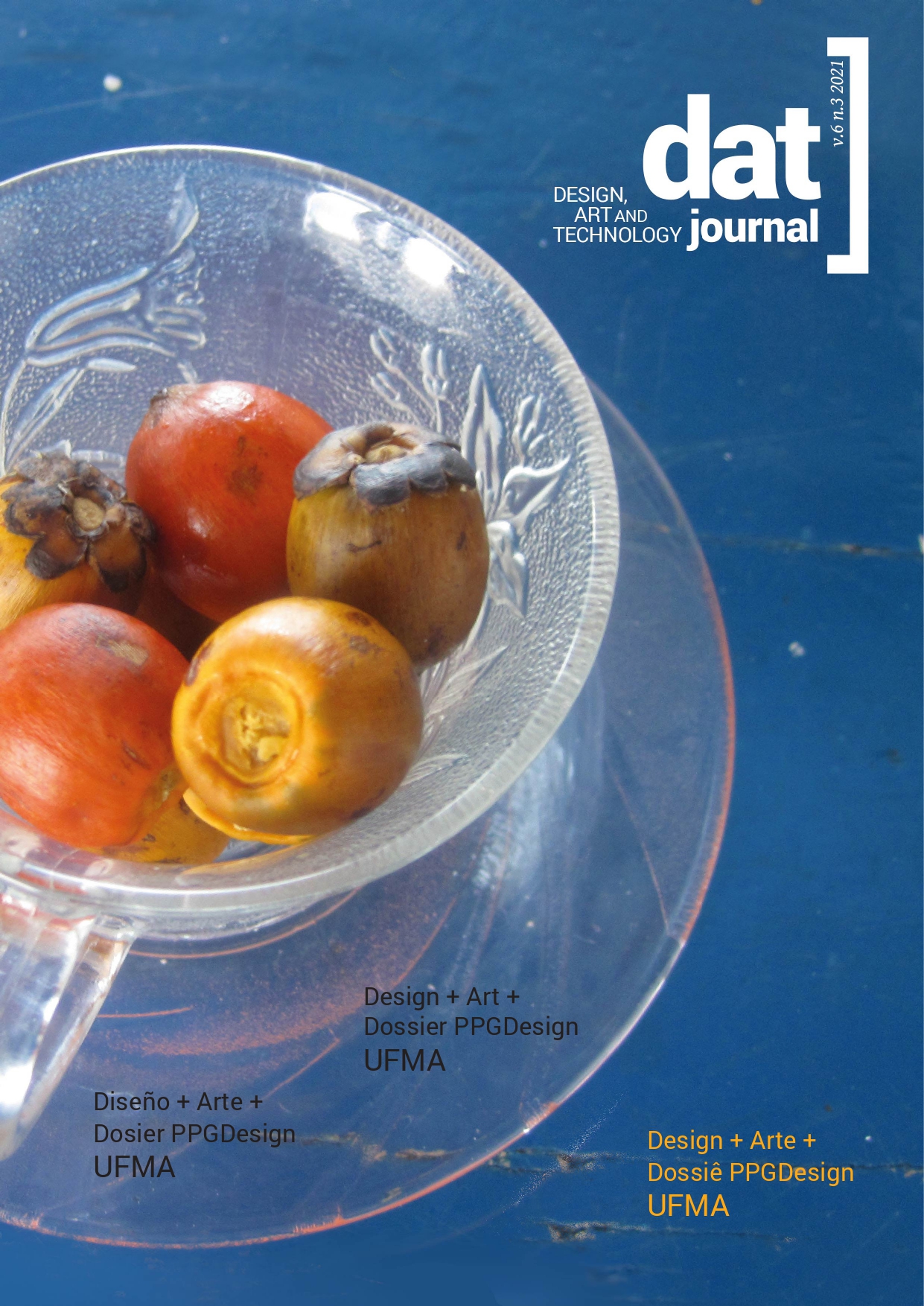 Downloads
How to Cite
Godoy, S. de, & Sogabe, M. (2021). Textile design as a resignification tool for post-COVID-19 antimicrobial tissues. DATJournal: Design, Art and Technology, 6(3), 9–19. https://doi.org/10.29147/dat.v6i3.434
License
This work is licensed under a Creative Commons Attribution 4.0 International License.