Dossiê PPGDesign UFMA
Abstract
In this issue of the DATJournal, in addition to the texts selected regularly by the journal, we have one additional dossier.
The dossier of this DATJournal has guest editors Raquel Gomes Noronha and Denilson Moreira Santos and presents design research in Northeast Brazil, focusing on the Postgraduate Program in Design at the Federal University of Maranhão. This dossier continues the DATJournal special series on Postgraduate Programs in Design in Brazil, which are invited to present their trajectories, characteristics and strength lines. With this initiative, we intend, more than mapping and celebrating the strength and diversity of these Programs, to stimulate the exchange between Postgraduate Programs in Design in Brazil.
We appreciate all contributions and wish you a good reading.
Gilbertto Prado and Sérgio Nesteriuk
Dossier PPGDesign UFMA
The Graduate Program in Design at the Federal University of Maranhão is located in São Luís, and began its activities in January 2012, operating at the Center for Exact Sciences and Technology. Over the years, the nucleating role of the PPGDg-UFMA can be seen in the north-northeast region, receiving students from states adjacent to Maranhão, such as Piauí, Pará and Ceará, as well as from other regions of the country and Latin America, having graduated, over its ten years, 76 masters in Design.
The academic master's degree in Design at UFMA has an area of ​​concentration in Product Design, understanding the concept of product in a broad way, covering the various materialities and immaterialities that constitute products – outcomes – of contemporary design processes.
Thus, the program has three research area that involve technological, historical, methodological and theoretical aspects on the themes: Line 1, entitled Design: materials, processes and technologies; Line 2, called Design: information and communication, and finally Line 3, Design: ergonomics and usability in processes and products. This arrangement was defined in 2016, when there was a consultancy by then area coordinator, Prof. Dr. Ricardo Triska was in São Luís and, together with the then Research Office, now called AGEUFMA, the research areas were redesigned, in dialogue with the teaching profile and the demands of the social context.
The PPGDg-UFMA faculty is characterized by interdisciplinarity, covering the areas of Design, Engineering, Communication, Library Science, Education and Psychology. Based on this characteristic, the program research addresses everyday issues and challenges to be undertaken in the Amazon region.
This approach is being strengthened with important partnerships undertaken with PROCAD-AM (National Program for Academic Cooperation in the Amazon) with the project "Creative Communities and Local Knowledge: design in low-income contexts", involving the Graduate Design programs of UFMA, of the University of the State of Minas Gerais (UEMG) and of the Federal University of Paraná (UFPR).
Many research projects are being developed collectively, involving faculty and students in research missions and inter-institutional exchanges. Collective publications, co-supervisions, participation in events and defense boards have been fundamental for the qualification of PPGDg as a reference program in the Legal Amazon, a general objective of PROCAD-AM.
This dossier presents seven articles that present the characteristics, quantitative and qualitative data about the PPGDg itself and its research area. The first of them, authored by the coordinators of the last quadrennium, presents a brief history about the program, the conceptual adjustments and implementation of strategic planning actions in search of growth and qualification for the PPGDg.
Next, there are two articles per research area, involving students and professors in their productions. They are organized as follows: the initial articles present the lines in a broader way, and the subsequent ones present some specificity in relation to the research area, related to a particular theme. Thus, an overview of the Graduate Program in Design at UFMA is presented, showing its themes, theoretical and methodological approaches, in search of innovation in processes and products in the field of Design.
Raquel Gomes Noronha | Denilson Moreira Santos
Downloads
Download data is not yet available.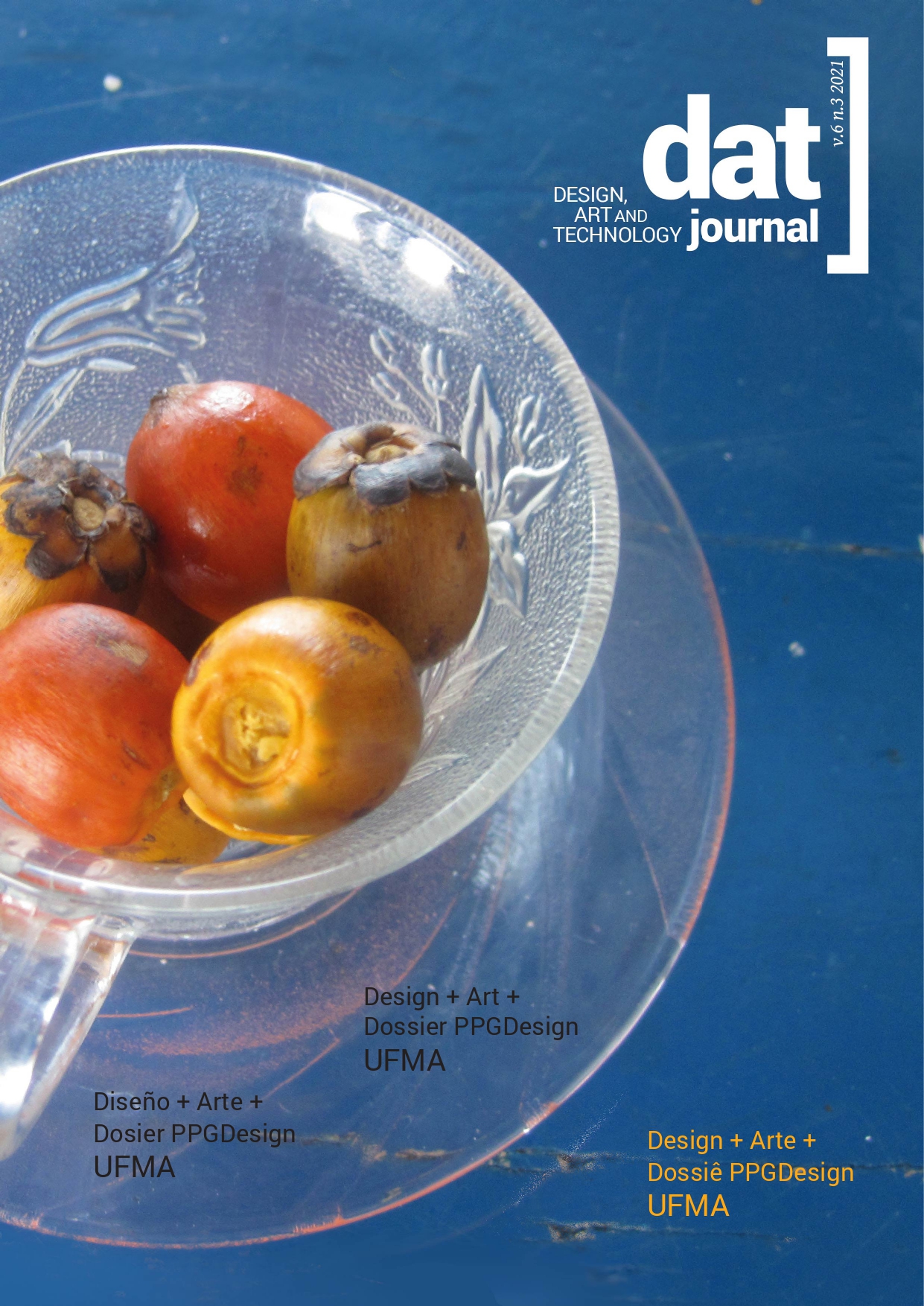 How to Cite
Noronha, R. G., & Santos, D. M. (2021). Dossiê PPGDesign UFMA. DATJournal: Design, Art and Technology, 6(3), 6–8. https://doi.org/10.29147/dat.v6i3.461
License
Copyright (c) 2021 https://creativecommons.org/licenses/by/4.0
This work is licensed under a Creative Commons Attribution 4.0 International License.