Art and technique of applied marquetry in contemporary furniture design
Keywords:
surface design, marquetry, Contemporary furnishings
Abstract
The production of prints, textures and reliefs through surface design has enabled the creation of bold and creative projects for different segments of industrial production, among them the furniture industry. The marquetry is a technique of ornamentation of flat surfaces by creating designs with the application of different materials, especially wood veneers. The present work has the objective of creating a pattern of marquetry from a conceptual reference and the subsequent application on the surface of a piece of furniture. The concept was defined from the analysis of the formal  constitution of the Ruins of São Miguel da Missões. The furniture developed was a side table, with functionality inspired by the structure of the ruins. The marquetry was made from geometric modules, in the colors red, blue and light wood, being applied in one of the pieces of the table. Combining a traditional, artistically executedtechnique with a cultural reference, the result was a contemporary style furniture. Finally, the furniture prototype
was produced.
Downloads
Download data is not yet available.
References
BAXTER, Mike. Projeto de Produto: guia prático para o desenvolvimento de novos produtos. São Paulo: Edgard Blücher, 1998.
BÜRDEK. Bernhard E. Design: história, teoria e prática do design de produtos. São Paulo: Edgard Blücher, 2010.
CASA BRASIL. As formas 2012 da Schuster. In: Casa Brasil Blog, 2012. Disponível em: http://www.casabrasil.com.br/blog/2012/as-formas-2012-da-schuster. Acesso em: 24 de mai. de 2012.
DELAS. Marchetaria para revestir a casa. In: Delas, 2016. Disponível em: http://delas.ig.com.br/casa/decoracao/marchetaria-para-revestiracasa/c1597609284886.html. Acesso em: 17 de abr. de 2016.
FREITAS, Renata Oliveira Teixeira de. Design de superfícies: ações comunicacionais táteis nos processos de criação. São Paulo: Edgard Blücher, 2011.
LIMA, Marco Antônio Magalhães. Introdução aos Materiais e Processos para Designers. Rio de Janeiro: Editora Ciência Moderna Ltda, 2006.
LÖBACH, Bernd. Design Industrial: Bases para a configuração dos produtos indutriais. São Paulo: Edgard Blücher, 2001.
MALLALIEU, Huon. História ilustrada das antiguidades. São Paulo: Nobel,1999.
PEREIRA, Priscila Z.; RÜTHSCHILLING, Evelise A; SILVA, Régio P. Design de Superfície: cultura iconográfica como referência para a estamparia têxtil. Anais 9º Congresso Brasileiro de Pesquisa e Desenvolvimento em Design. 2010.
RÜTHSCHILLING, Evelise Anicet. Design de Superfície. Porto Alegre: Ed. da UFRGS, 2008.
SCHWARTZ, Ada Raquel Doederllein. Design de Superfície: por uma visão projetual geométrica e tridimensional. 2008. Dissertação (Pós Graduação em Desenho Industrial) – Universidade Estadual Paulista, São Paulo.
SERVIÇO BRASILEIRO DE APOIO ÀS MICRO E PEQUENAS EMPRESAS. Ideias de negócios: Marchetaria. SEBRAE, 1990.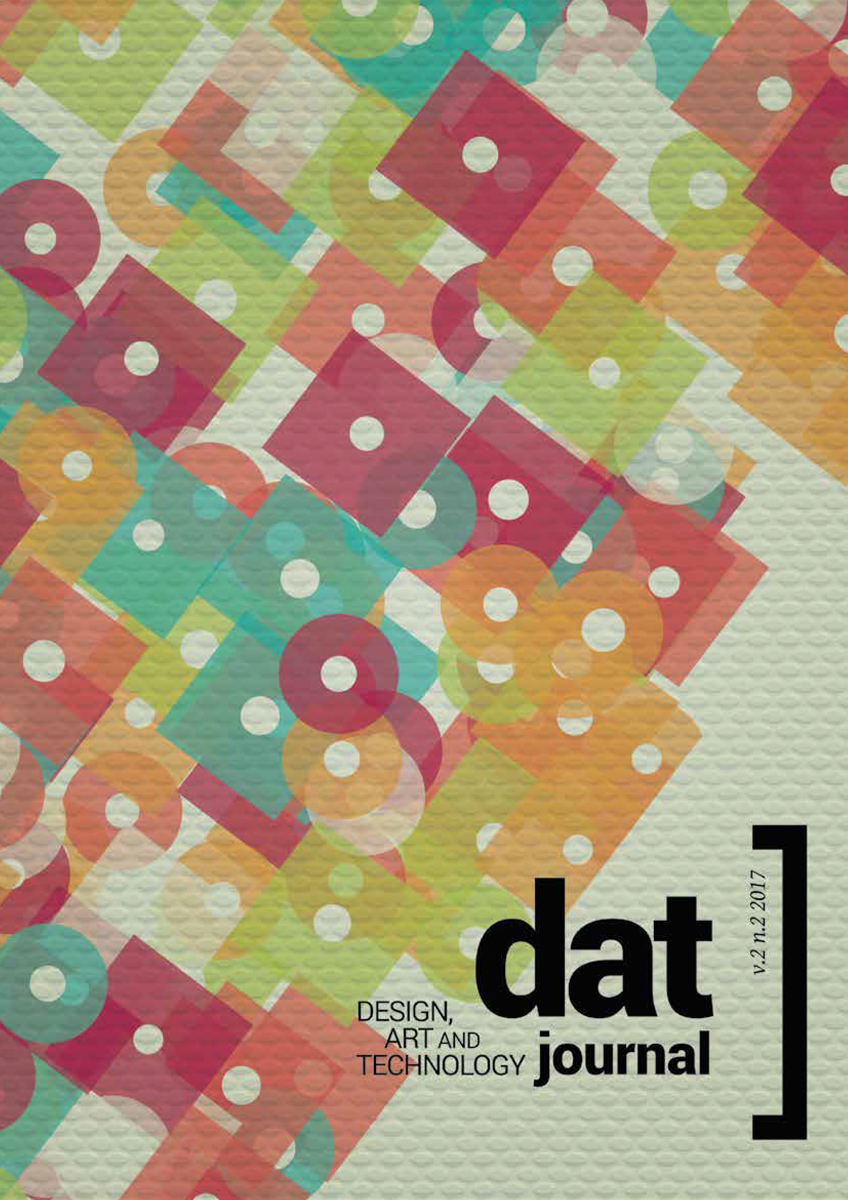 Downloads
How to Cite
Vieria, A., Nejeliski, D., & Rigo, F. (2017). Art and technique of applied marquetry in contemporary furniture design. DAT Journal, 2(2). https://doi.org/10.29147/2526-1789.DAT.2017v2i2p52-65