Advanced Materials in Design for Innovation from the 21st Century
Context and Meaning
Keywords:
Advanced material, design, innovation and meaning of materials
Abstract
AbstractWith the advancement of technology new ways of material conception to the product were developed in the recent contemporaneity. Thus, the objective of this study was to understand the evolution of the concept between materials and design to innovation in the 21st Century. It was carried out a bibliographical research, content analysis and narrative review of the literature about the theme. The results were pointed to simultaneous conception processes between advanced materials, technologies and products, highlighting the intangible values of materials as attributes to the product. It was concluded that advanced studies evaluate the meanings of materials to innovation through the materials design.
Downloads
Download data is not yet available.
References
ALBIÑANA, J.C.; VILA, C.A. Framework for concurrent material and process selection during conceptual product design stages. Materials & Design, Elsevier. v. 41, p. 433-446, 2012.
ASHBY, M., & JOHNSON, K. Materiais e Design: arte e ciência da seleção de materiais no design de produto. 2° ed. Elsevier. Rio de Janeiro, 2011.
BELL, B. Material Intelligence: An Overview of New Materials for Manufacturers. PFInnovation, Canadá, 2011.
CALEGARI, E. P., OLIVEIRA, B. F. de.Um estudo focado na relação entre design e materiais. v.4, n.1, p. 51. Projética, Londrina – PR. 2013.
CORPORATIVO NESTLÉ. Leite MOÇA® atende a pedidos dos consumidores e apresenta nova lata. São Paulo, maio de 2014. Disponível em: http://corporativo.nestle.com.br/media/ pressreleases/leite¬mo%C3%87a¬atende¬apedidos¬dos¬consumidores¬e¬apresenta¬nova¬ lata. Acesso em: fev. 2016.
DIAS, M. R. A. C. Dias. Percepção dos materiais pelos usuários: Modelo de avaliação Permatus. Tese, Universidade Ferderal de Santa Catarina, 2009.
DIAS, M. R. A. C., GONTIJO, L.A. Método permatus para a seleção de materiais. ENEGEP. Belo Horizonte, MG, p.1-14, 2011.
DOBRZANSKI, L. A. Significance of Materials Science for the Future Development of Societies. Journal of Materials Processing Technology, n. 175, p. 133–148, 2006.
FALLER, R. R.; Engenharia e Design: Contribuição ao estudo da seleção de materiais no projeto de produto com foco nas características intangíveis. (Dissertação de Mestrado) - PPGEM-UFRGS, 2009.
FIELD, F.R., CLARK, J.P., ASHBY, M.F. Market Drivers for Materials and Process Development in the 21st Century.MRS BULLETIN. 2001.
GERHARDT, E.; SILVEIRA, D. T. Métodos de pesquisa. Universidade Aberta do Brasil – UAB / UFRGS,Curso de Graduação Tecnológica – Planejamento e Gestão para o Desenvolvimento Rural da SEAD/UFRGS. – Porto Alegre: Editora da UFRGS, 2009.
G1 GLOBO. Leite Moça lança lata com abridor e aposenta embalagem 'acinturada'. Economia. Negócios. Notícias. Publicado em mai. 2014. Disponível em: http://g1.globo.com/economia/negocios/noticia/2014/05/leite-moca-lanca-lata-com-abridore-aposenta-embalagem-acinturadaa.html. Acesso em: mar. 2017.
KARANA, E.; BARATI, B.; ROGNOLI, V.; VAN DER LAAN A. Z. Material Driven Design (MDD): A Method to Design for Material Experiences. International Journal of Design, v.9, n.2, 2015.
KARANA, E. PEDGLEY, O.; ROGNOLI, V. Introduction to Materials Experience. In: Materials Experience: Fundamentals of Materials and Design, Elsevier, p. xxv–xxxiii, 2014.
KARANA, Elvin; HEKKERT, Paulo. User-Material-Product Interrelationships in Attributing Meanings. International Journal of Design, v.4, n.3, p. 43-52, dez. 2010.
KARANA, Elvin; HEKKERT Paul; KANDACHA Prabhu. A tool for meaning driven materials selection. Materials & Design. Elsevier. v. 31, p. 2932–2941, 2010.
KARANA, Elvin; HEKKERT Paul; KANDACHA Prabhu. Material considerations in product design: A survey on crucial material aspects used by product designers. Materials & Design, Elsevier. v. 29, n.6, p. 1081-1089, 2008.
KINDLEIN, W.; GUANABARA, A. S. 2006. A Importância do Binômio Design e Engenharia como Catalisador de Inovação. In: 7º Congresso de Pesquisa e Desenvolvimento em Design, P&D2006, Curitiba, p. 1-10, 2006.
MATERIABRASIL. Materioteca. Disponível em: http://www.materiabrasil.com/explore. Acesso em: dez. 2016.
MATERIALS CONNEXION. Inspire. Disponível em: http://www.materialconnexion.com/Inspire/tabid/867/Default.aspx#1. Acesso em: dez. 2015.
MATERIO. Showrooms. Disponível em:< https://materio.com/>. Acesso em: dez. 2015.
MESSER, M.; PANCHAL, J. H.; ALLEN, J. K.; McDOWELL, D. L.; MISTREE, F. A Function-based approach for integrated design of material and product concepts. Proceedings of IDETC/CIE 2007. ASME 2007 International Design Engineering Technical Conferences & Design Automation Conference. September 4-7, 2007, Las Vegas, Nevada,
USA, 2007.
MORAES, Dijon. Limites do Design. 2ed. São Paulo: Studio Nobel, 1999
NAVARRO, R.F. A evolução dos materiais Parte1: da Pré-história ao início da era moderna Revista Eletrônica de Materiais e Processos. v.1, n.1, p. 01-11, 2006.
ONO, M. M. Design, Cultura e Identidade, no contexto da globalização. Revista Design em Foco. Universidade do Estado da Bahia, Bahia, v.1, p.1, p. 53 - 66. 2004.
OSLON, G. B. Beyond Discovery: Design for a New Material World. Calphad, v. 25, n. 2, p. 175-190, 2001.
ROTHER, E. T.. Revisão sistemática X revisão narrativa. Acta paul. enferm.[online]. v.20, n.2, p.V-VI, 2007.
SANT'ANNA, José Alex P. Subsídios para Seleção de Materiais Poliméricos Termoplásticos. São Paulo, Dissertação apresentada à Escola Politécnica da Universidade de São Paulo para obtenção do título de Mestre em Engenharia, 2007.
TAMBINI, Michael. O design do século. São Paulo: Ática, 1996.
TRANSMATERIAL. Disponível em: http://transmaterial.net/. Acesso em: Dez. 2015.
van KESTEREN, I.E.H. Product designers' information needs in materials selection. Materials & Design. v.29, n.1, p.133-145, 2008.
VERGHESE, G. Strangers in a Material World mapping the application of new materials and risk in the design process, IDEA International Conference, Inhabiting Risk, Wellington, New Zealand; jun. 2007.
VERGHESE, G. Material Change Agents And Their Dangerous Ideas. In book: Interior Tactics, Interior Tools 2008, Chapter, Publisher: Libri Publishing, Oxfordshire, Editors: Gigli, J, Hay, F, Hollis, E. Milligan, A, Milton, A, Plunkett, D., 2008.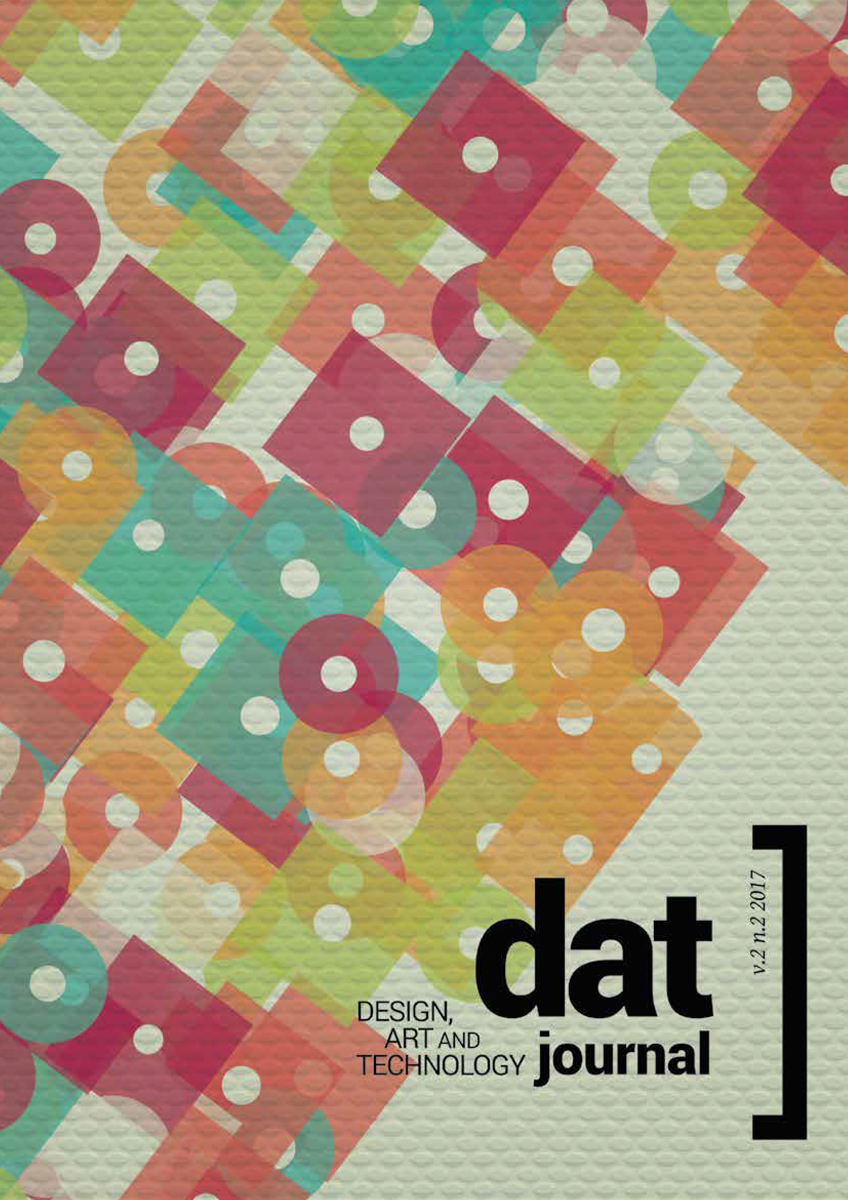 Downloads
How to Cite
Barauna, D., Souza, S., Zamoner, M., & Razera, D. (2017). Advanced Materials in Design for Innovation from the 21st Century: Context and Meaning. DAT Journal, 2(2). https://doi.org/10.29147/2526-1789.DAT.2017v2i2p91-107