Information design applied to digital media: a case study on COVID-19 newsletters
Keywords:
Information design, covid-19, information architecture, epidemiological bulletin, visual perception
Abstract
This article submits a technical analysis and survey data collected from users concerning epidemiology reports (infographics) published by several cities of the state of Maranhão during the covid-19 pandemic, on social media during the year 2021. Building on that assessment, a new template for epidemiology reports has been developed, drawing on the survey findings made to date, which have shown no validated concern regarding both reading flow and information layout. For this study, an evaluation protocol was designed founded on Ambrose and Harris' (2005; 2009;2012) visual elements concepts, Spencer's (2010), Rosenfeld's, Morville's, and Arango's (2015) information architecture, and Gomes'(2008), Menezes' and Queiroz's (2016) perception. Parallel to this, a quantitative survey was carried out with the public to understand if the reports meet their needs.
Downloads
Download data is not yet available.
References
Ambrose, G. & Harris, P. Tipografía. Bookman Editora, 2005.
Ambrose, G. & HARRIS, P. Cor. Bookman Editora, 2009.
Ambrose, G. & Harris, P. Layout. Bookman Editora, 2012.
Chan, A. K., Nickson, C. P., Rudolph, J. W., Lee, A. & Joynt, G. M. Social media for rapid knowledge dissemination: early experience from the COVID‐19 pandemic. Anaesthesia, n.º 75, 1579-1582, 2020. https://doi.org/10.1111/anae.15057
Costa, A., Bakker, J. & Plucinska G. How and why it works: The principles and history behind visual communication. Medical Writing, n.º 29, 16-21, 2020.
D.School. Bootcamp Bootleg. Escola de Design Thinking da Universidade Stanford, 2018. Disponível em: <https://dschool.stanford.edu/resources/design-thinking-bootleg>. Acesso em: 04 mai.2020.
Fernandes, F. R. Design de Informação: base para a disciplina no curso de Design. FRF Produções, 2015.
Gad, D. Information Design of Public Documents: Applying Gestalt Principles to Improve User Understanding, Doctoral dissertation, Université Laval, 2018.
Gonsales, P. Design thinking para educadores. Instituto Educadigital, São Paulo, 2014.
Gomes Filho, J. Gestalt do objeto: sistema de leitura visual da forma. 8. ed. rev. e ampl. São Paulo: Escrituras Editora, 2008.
Menezes, H. F. & Queiroz, J. E. R. D. Análise dos princípios visuais no projeto gráfico: estudo de caso envolvendo infográficos jornalísticos. Blucher Design Proceedings, 2(9), 4673-4685, 2016.
Rosenfeld, L., Morville, P. & Arango, J. Information Architecture: for the Web and Beyond. Sebastopol (CA): O'Reilly Media Inc, 2015.
Netto, J. T. C. Semiótica, informação e comunicação: diagrama da teoria do signo (Vol. 168). Editora Perspectiva, 1980.
Santos, A. Seleção do Método de Pesquisa: Guia para pós graduando em design e áreas afins. Insight, 2018.
Sakamoto, C. K. & Lucio, L. A luz e o insight-sobre percepção visual e na Comunicação. Boletim Academia Paulista de Psicologia, 37(92), 115-12, 2017. Disponível em: http://pepsic.bvsalud.org/scielo.php?script=sci_arttext&pid=S1415-711X2017000100009&lng=pt&nrm=iso. Acesso em 20 abr. 2021.
Silva, R., Silva, S. & Toutain, L. Infográficos e processos cognitivos como recurso para popularização da informação sobre Covid-19. Revista Fontes Documentais, 3, 377-385, 2020. Disponível em: https://aplicacoes.ifs.edu.br/periodicos/index.php/fontesdocumentais/article/view/659. Acesso em 13 abr. 2021
Sociedade Brasileira de Design da Informação. Brasil, 2020. Disponível em: http://www.sbdi.org.br/definicoes. Acesso em: 15 abr. 2021.
Spencer, D. A practical guide to information architecture (Vol. 1). Penarth: Five Simple Steps, 2010.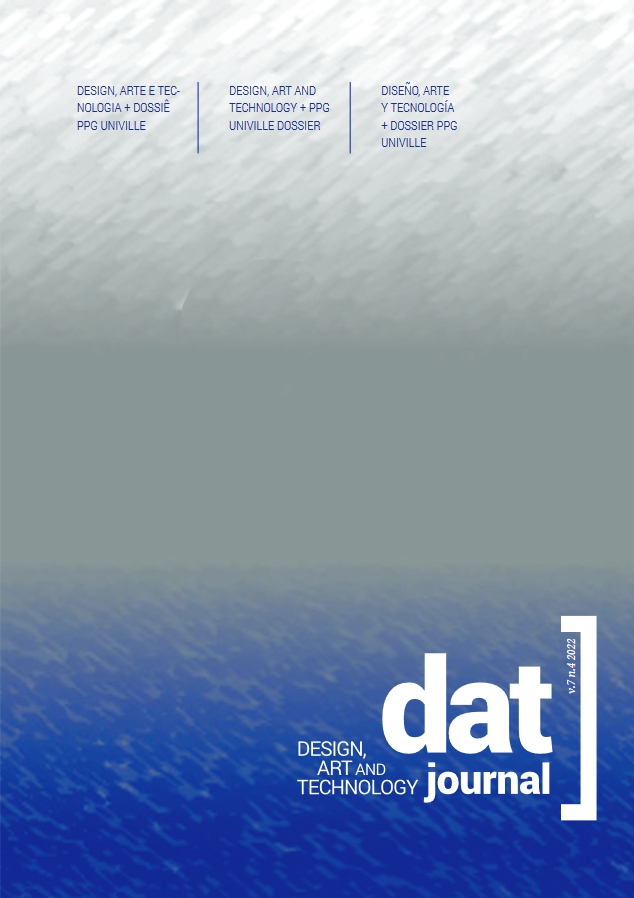 Downloads
How to Cite
Portela, S. C. C., Brito, A. C., & Fernandes, F. (2022). Information design applied to digital media: a case study on COVID-19 newsletters. DAT Journal, 7(4), 144–160. https://doi.org/10.29147/datjournal.v7i4.639
Section
Art, Design and Technology
License
Copyright (c) 2022 DAT Journal
This work is licensed under a Creative Commons Attribution 4.0 International License.