Human and machine generating poetic energy
Keywords:
Art-Technology, Energy harvest, Interaction, Human body, Anthropocene
Abstract
In the context of the Anthropocene, Post-Human and Post-Digital, technology in Art gains a complexity that goes beyond the exploration of its possibilities, involving Other environmental and social concerns. From these discussions comes the proposal to build a triptych of works that incorporate current issues. In this sense, we present three works of Art-Technology, which propose to eliminate the use of commercial electricity or batteries, as well as the non-use of computers or digital processors in their structure. However, the proposal maintains the interactivity of the human with the machine and technological devices. Breath, Touch and Gesture form the triptych, in which each work explores modes of interaction, technologies, materials, shapes and meanings, based on simplicity and transparency, so that it gains energy and life through contact with the human body, generating different poetics and symbologies.
Downloads
Download data is not yet available.
References
ANGELINI, Leonardo; et al. Move, hold and touch: a framework for tangible gesture in- teractive systems. Machines, v. 3, n. 3, p. 173-207, 2015. DOI: https://doi.org/10.3390/machines3030173
DANOWSKI, D.; DE CASTRO, E. V. The ends of the world. [S. I.]: John Wiley & Sons, 2016. FITZMAURICE, George W.; et al. Graspable user interfaces. University of Toronto, 1997.
FOGLIANO, Fernando. Arte em tempos de crise: a evolução humana e a consciência cósmica. In: Anais do Encontro Internacional de Grupos de Pesquisa: convergências entre arte, ciência, tecnologias & realidades mistas. Anais...São Paulo(SP) UNESP, 2021. Disponível em: DOI: https://doi.org/10.29327/164891.10-7
-EM-TEMPOS-DE-CRISE--A-EVOLUCAO-HUMANA-E-A-CONSCIENCIA-COSMICA>. Acesso em: 07/12/2022
FLUSSER, Vilém. Filosofia da Caixa Preta:, Ensaios Para Uma Futura Filosofia da Fotografia.
Annablume, 2011.
HARAWAY, Donna. Anthropocene, Capitalocene, Plantationocene, Chthulucene: Making Kind. Environmental Humanities, vol. 6, 2015, pp. 159-165. ISSN: 2201-1919 DOI: https://doi.org/10.1215/22011919-3615934
HARVEY, David. Seventeen contradictions and the end of capitalism. Oxford University Press, USA, 2014.
KIM, Youngmin. Human consciousness and prosthetic temporality: On the way to new technological humanities. New Techno Humanities, 2022. DOI: https://doi.org/10.1016/j.techum.2022.10.001
LATOUR, B. Anthropology at the time of the Anthropocene: a personal view of what is to be studied. In: The anthropology of sustainability. Palgrave Macmillan, New York, 2017. p. 35-49. DOI: https://doi.org/10.1057/978-1-137-56636-2_2
LEDUC, Katherine. Art as affordance. The University of Western Ontario Journal of Anthro- pology, v. 21, n. 1, 2013. DOI: https://doi.org/10.5206/uwoja.v21i1.8937
LOVELOCK, J. Novacene: The coming age of hyperintelligence. [S. I.]: MIT Press, 2019.
SOGABE, Milton; FOGLIANO, Fernando; NUNES, Fabio Oliveira; BRAZ, Soraya; PERES, Caroli- na; e GAZANA, Cleber. Sopro. DATJournal v.2 n.1 2017. pp 105-115. Disponível em: . Acesso em: 05/12/2022. DOI: https://doi.org/10.29147/2526-1789.DAT.2017v2i1p104-114
SOGABE, Milton; FOGLIANO, Fernando; PERES, Carolina; GAZANA, Cleber; NUNES, Fábio Oli- veira; BRAZ, Soraya; STEINBERG, Mirian; MARQUES, Rodrigo Dorta; MALVA, Daniel. Toque (Touch). In ARTECH2017: Proceedings of the 8th International Conference on Digital Arts September 2017 Pages 203–205. Disponível em: <https://doi.org/10.1145/3106548.3106619>. Acesso em: 05/12/2022. DOI: https://doi.org/10.1145/3106548.3106619
SOGABE, Milton. Arte pós-digital. In: Proceedings of International Meeting of Art and Te- chnology. Disponível em . 2016.
STENGERS, Isabelle; et al. In catastrophic times: Resisting the coming barbarism. Open Humanities Press, 2015.
STIEGLER, Bernard; ROGOFF, Irit. Transindividuation. e-flux journal, v. 14, 2010.
VAN DEN HOVEN, Elise; MAZALEK, Ali. Grasping gestures: Gesturing with physical arti- facts. AI EDAM, v. 25, n. 3, p. 255-271, 2011. DOI: https://doi.org/10.1017/S0890060411000072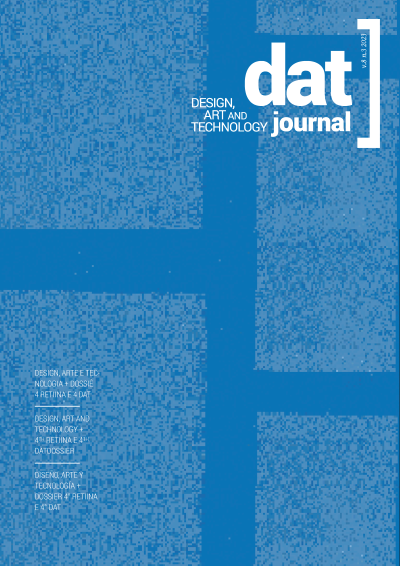 Downloads
How to Cite
Sogabe, M., Fogliano, F., Hildebrand, R., Nunes, F. O., Rubini , I., Marques, R. D., Gazana, C., Braz, S., Santos, C. N. D., & Milano, B. J. S. (2023). Human and machine generating poetic energy. DAT Journal, 8(3), 74–84. https://doi.org/10.29147/datjournal.v8i3.758
Section
4 RETiiNA + 4 Design, Arte e Tecnologia
License
Copyright (c) 2023 DAT Journal
This work is licensed under a Creative Commons Attribution 4.0 International License.