Territory and sustainability, Transductor Ecomedia. Poetics of the Image
Keywords:
Territory, Ecosystem, Visual arts, New media, Networks
Abstract
The Transductor Ecomedia project aims to make visible the difficulties faced by natural spaces, taking as a model the space of the Marjal dels Moros in which the CEACV is located, in contact with widely entropied territories, due to traditional agricultural uses and new industrial uses that are not always attentive to the environmental sensitivity for which they are responsible. We start from the idea that artistic projects are a good tool to approach social problems from a broad and inclusive perspective that help us reflect and act on them, helping to create a collective conscience.. Transductor Ecomedia, is an artistic project about the visibility of data, the territory and sustainability. It is one of the results of the research project that we are currently developing within the R+D+i program of the MINISTRY OF SCIENCE AND INNOVATION 2020, carried out in collaboration between the research group of the Polytechnic University of Valencia and the Center for Environmental Education of the Valencian Community (CEACV).
Downloads
Download data is not yet available.
References
TORO SÁNCHEZ, F. J. La geografía como un «saber necesario» para la sostenibilidad: Consideraciones a propósito de las propuestas educativas de Edgar Morin. Cuadernos Geográficos, núm. 49, 2011, p. 9-32. Universidad de Granada. España
MALDONADO, J. et al., TRANSDUCTOR ECOMEDIA (en_ser_es), International Congress LANDSCAPE AND SUSTAINABILITY Listening to Multiplicity 2022 (preprint)
ALBELDA, J.; SGARAMELLA, C. Arte, empatía y sostenibilidad. Capacidad empática y con- ciencia ambiental en las prácticas contemporáneas de arte ecológico. Ecozona. Vol. 6, Nº. 2, 2015 DOI: https://doi.org/10.37536/ECOZONA.2015.6.2.662
RIFKIN, J. La civilización empática. Barcelona: Ediciones Paidós, 2010.
HIMMELSBACH S. MOLINA R. F. OHLENSCHLÄGER K. SPEHR C. VOLCART Y. & SALA PAR-
PALLÓ. Ecomedia : estrategias ecológicas en el arte actual: [exposición]. Diputación de Valencia : Sala Parpalló. 2009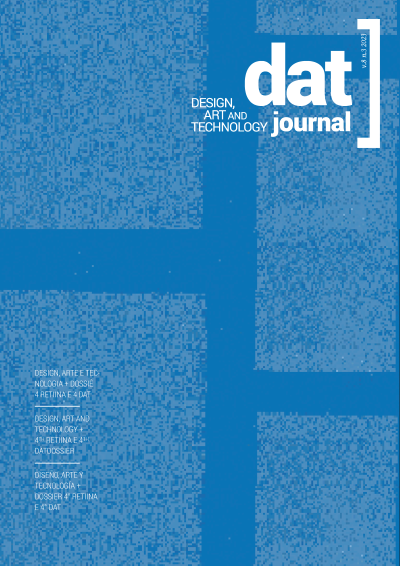 Downloads
How to Cite
Martínez Arroyo, E. J. (2023). Territory and sustainability, Transductor Ecomedia. Poetics of the Image. DAT Journal, 8(3), 20–30. https://doi.org/10.29147/datjournal.v8i3.764
Section
4 RETiiNA + 4 Design, Arte e Tecnologia
License
Copyright (c) 2023 DAT Journal
This work is licensed under a Creative Commons Attribution 4.0 International License.