The Assemblage Robotic Plant: A Design Approach
Keywords:
Assemblage, Robotics Design, Physical Computing
Abstract
This article presents an approach to the design of robotics that values the notion of assemblage. The term assemblage can represent an intermediate state between iterative and design experimentation. Developing robotic integrated systems, such as small network communication between metastable individuals, is costly. As a result, fully integrated automated systems are usually preferred over experimental open methods. That integra[1]ted automated process diminishes the potential of establishing assemblage in favours of more arborescent solutions. Here it will present an approach that concentrates on the stability of the microcontroller board and allows the development of the assemblage. At the same time, it opens the exploring potential of differential parts in physical computing.
Downloads
Download data is not yet available.
References
ADAFRUIT. About us. In: ADAFRUIT, 2023. (https://www.adafruit.com/about).
ARDUINO CC. About Arduino. In: ARDUINO CC, 2021. (https://www.arduino.cc/en/about).
BALUSKA, F.; GAGLIANO, M.; WITZANY, G. (EDS.). Memory and Learning in Plants. 1st ed. 2018 edition ed. [s.l.] Springer, 2018. DOI: https://doi.org/10.1007/978-3-319-75596-0
DE ASSIS, P. Introduction. In: Machinic Assemblages of Desire: Deleuze and Artistic Resear- ch. GIUDICI, P and DE ASSIS, P. Ed. 11-25. Leuven (Belgium): Leuven University Press. DOI: https://doi.org/10.2307/j.ctv1595mb9.4
DELEUSE, G.; GUATTARI, F. A Thousand Plateaus. Ed. 1. London: BLM Academic UK
HUI, Y. On the Existence of Digital Objects. Minneapolis: University of Minnesota Press. 2016. DOI: https://doi.org/10.5749/minnesota/9780816698905.001.0001
MANCUSO, S. The Revolutionary Genius of Plants: A New Understanding of Plant In- telligence and Behavior. Edição: Translation ed. New York, NY: Atria Books, 2018.
SIMONDON, G.; ARAGON, L.; SANTOS IVO, G. A individuação à luz das noções de forma e de informação. São Paulo: Editora 34, 2020
SIMONDON, G.; RIBEIRO, V. Do Modo De Existência Dos Objetos Técnicos. Rio de Janeiro: Contraponto Editora, 2020.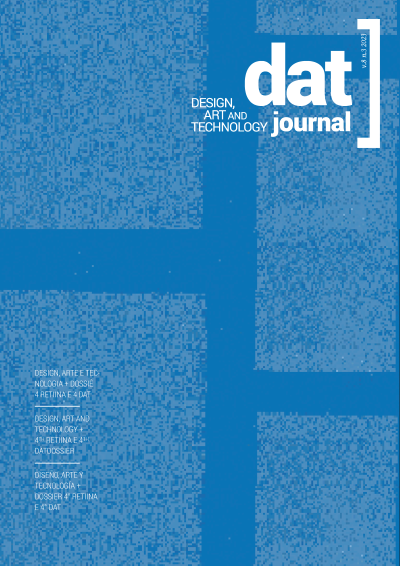 Downloads
How to Cite
Bergamo, M. L. (2023). The Assemblage Robotic Plant: A Design Approach. DAT Journal, 8(3), 31–45. https://doi.org/10.29147/datjournal.v8i3.765
Section
4 RETiiNA + 4 Design, Arte e Tecnologia
License
Copyright (c) 2023 DAT Journal
This work is licensed under a Creative Commons Attribution 4.0 International License.