Signals detected between biological and machinic
Keywords:
Computer art, Computer design, Technology, Emergency
Abstract
The goal of the text is discussing the possibility of symbiosis, interaction between species such as biological systems and machines, which may occur in
proposals involving research in art, design and technology. In this bias, it is suggested that the computational condition induces a way of experiencing the world that is undetermined and fragmentary, proposing a kind of collapse of the traditional boundaries between art, design and nature; between artificial and natural.
Downloads
Download data is not yet available.
References
DELEUZE, Gilles; GUATTARI, Félix. O que é a filosofia? Rio de Janeiro: Ed. 34, 1992.
DIMENSTEIN, Gilberto. Amoreiras inteligentes, Folha de São Paulo, p. C2 (30 de Junho de 2010).
GARDNER, M. Mathematical Games - The fantastic combinations of John Conway's new solitaire game 'life', Scientific American, No. 223, 120-123 (October 1970).
LIMA, Leonardo; PRADO, Gilbertto. Imagens Digitais Interativas. DATJournal, v. 3 n. 2 (2018), p. 43-71. DOI: https://doi.org/10.29147/dat.v3i2.86.
MAGALHÃES, Ana Gonçalves; BEIGUELMAN, Giselle (Org.). Futuros Possíveis: Arte, Museus e Arquivos Digitais. São Paulo: Ed. Peirópolis, 2014.
MANDELBROT, Benôit. The fractal geometry of nature. Disponível em: https://ordinatous.com/pdf/The_Fractal_Geometry_of_Nature.pdf. Acesso em: 29 de nov. 2018.
PRADO, Gilbertto; La Ferla, Jorge (Ed.). Circuito Alameda. Ciudad de México: Instituto Nacional de Bellas Artes | Laboratorio Arte Alameda, 2018. http://www.gilberttoprado.net/assets/circuito_alameda_gttoprado_jlf.pdf
PRADO, Gilbertto. Project Amoreiras (Mulberry Trees): Autonomy and Artificial Learning in an Urban Environment. Leonardo 2018 51:1, 61-62. The MIT Press https://doi.org/10.1162/LEON_a_01557
PRADO, Gilbertto. Grupo Poéticas Digitais: Dialogo y Medio Ambiente. ANIAV - Revista de Investigación en Artes Visuales, [S.l.], v. 1, n. 1, p. 47-58, jul. 2017. Disponible en: <https://polipapers.upv.es/index.php/aniav/article/view/7820>. Acesso em 15 jul. 2017 doi:https://doi.org/10.4995/aniav.2017.7820.
PRADO, Gilbertto. Grupo Poéticas Digitais: projetos desluz e amoreiras. ARS (São Paulo), São Paulo, v. 8, n. 16, 2010 . pp. 110-125. Disponível em <http://www.scielo.br/scielo.php?script=sci_arttext&pid=S1678-53202010000200008&lng=pt&nrm=iso>. Acesso em 05 jun. 2011. doi: https://doi.org/10.1590/S1678-53202010000200008
SHIFFMAN, Daniel. The Nature of Code: Simulating Natural Systems with Processing. New York: The Nature of Code, 2012.
VENTURELLI, Suzete. Arte Computational. Brasília: Edunb, 2017.
VENTURELLI Suzete; ROCHA Cleomar; SILVA, Teófilo Augusto da; COUTINHO, Cláudio; REIS, Artur Cabral Reis; MARTINS, Tainá e HARGREAVES, Prahlada. Poiesis do corpo. IN: DATJournal v. 3 n. 1 (2018): DOI: https://doi.org/10.29147/dat.v3i1.78
SOGABE, Milton; PERES, Carolina; FOGLIANO, Fernando; NUNES, Fabio Oliveira; BRAZ, Soraya; PERES, Carolina; GAZANA, Cleber Gazana: Sopro. IN: DATJournal v. 2 n. 1 (2017) DOI: https://doi.org/10.29147/2526-1789.DAT.2017v2i1p104-114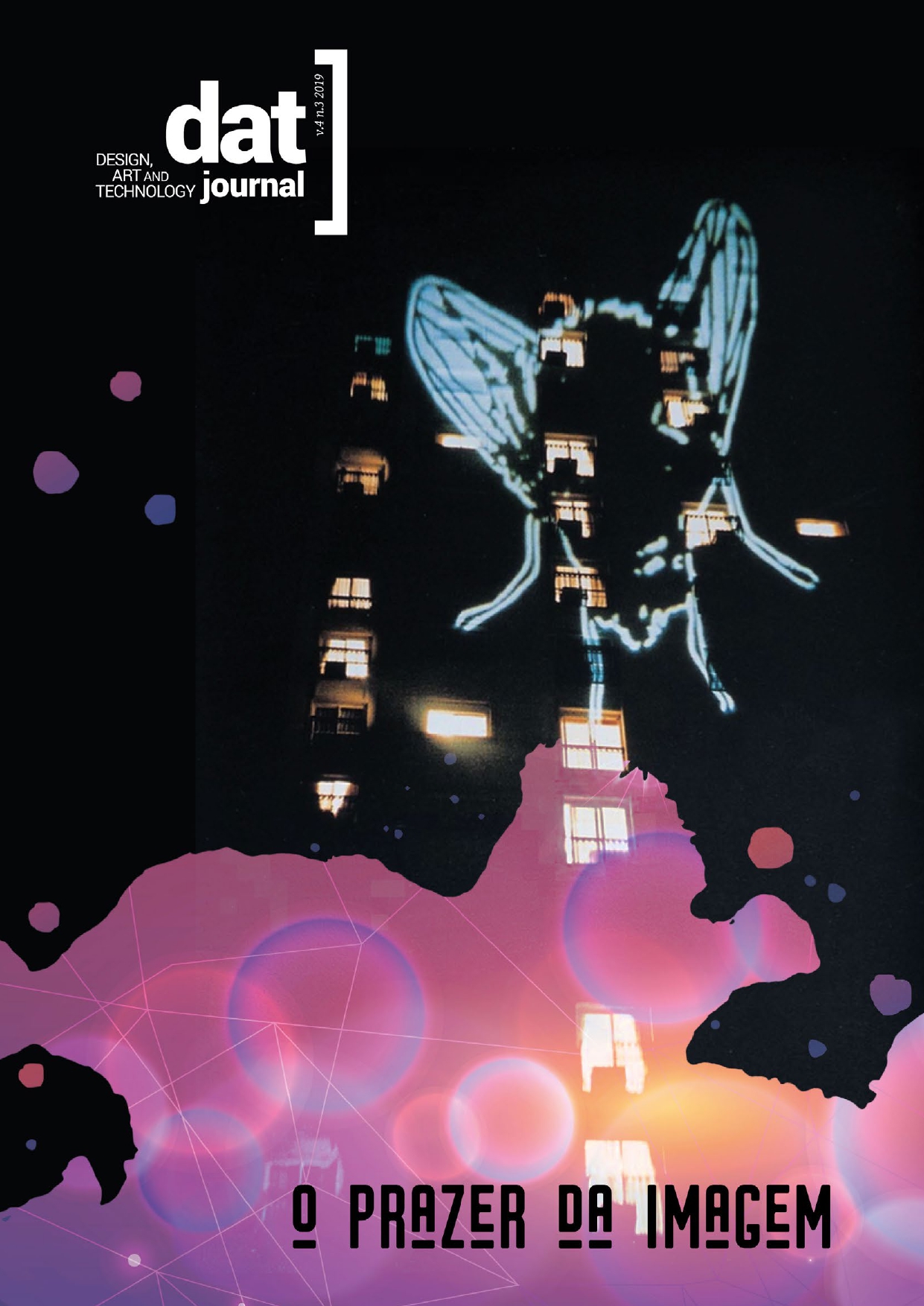 Downloads
How to Cite
Cabral, A., Venturelli, S., & Prado, G. (2019). Signals detected between biological and machinic. DAT Journal, 4(3), 117–127. https://doi.org/10.29147/dat.v4i3.152