SO MANY IMAGES or about the pleasure-pain of the image
Abstract
The essay reflects on some of the dimensions of the image, and their relationship as something that shows, as a revelation of invisible fields, memories,
living archives of time. In this way, we will deal with questions like images and ask what is their relation to what they do not see, what is invisible. We hope to
contribute to a discussion about an image, from the understanding that images are representations of the world, or perhaps a world, a particular universe. Representations refer to representations, fold, unfold to multiply to infinity, abandoning reports, states of affairs, as actualities, backwards.
Downloads
Download data is not yet available.
References
BELTING, H. (2005). "Image, Medium, Body: A New Approach to Iconology. Critical Inquiry," 31(2), 302-319. doi:10.1086/430962

BRIAN HARLEY. "Mapas, saber e poder". Confins [Online], 5 | 2009, posto online em 24 avril 2009. URL : http:// confins.revues.org/index5724.html DOI : en cours d'attribution

COELHO TEIXEIRA. (2015) Regina Silveira, a arte de corrigir a realidade. Publica- do em: 05 de agosto de 2015. Acessado em: 10/08/2019 https://revistazum.- com.br/revista-zum-8/a-arte-de-corrigir-a-realidade/

DELEUzE, Gilles. Deux Régimes de Fous. Textes et Entretiens: 1975-1995 (Edição preparada por David Lapoujade), Paris. Les Èditions de Minuit, 2003.

DiDI-Huberman. Écorces. Paris: Les Éditions de Minuit, 2011.

GEIGER, ANNA BELLA. (1977) Brasil nativo/Brasil alienígena. a1977. impres- são sobre papel. 31 x 98 cm. Acervo/Aquisição Núcleo Contemporâneo MAM-SP - Número de tombo: 2006.003-000. Acessado em: 10/08/2019. https://mam.org.br/acervo/2006-003-000-geiger-anna-bella/

MOREL, Marcos. Cinco imagens e múltiplos olhares: 'descobertas' sobre os índios do Brasil e a fotografia do século XIX. Hist. cienc. saude, Rio de Janeiro , v. 8, supl. p. 1039-1058, 2001 . Available from S0104-59702001000500013&lng=en&nrm=iso>. access on 25 Nov. 2019. http://dx.doi.org/10.1590/S0104-59702001000500013.

NEVES, LINO JOÃO DE OLIVEIRA. "Desconstrução da colonialidade: iniciativas indígenas na Amazônia", e-cadernos CES [Online], 02 | 2008, posto online no dia 01 dezembro 2008, consultado o 24 novembro 2019. URL : http://journals.openedition.org/eces/1302 ; DOI :
10.4000/eces.1302

PEIRCE, C.SANDERS. COLLECTED PAPERS. Acessado em: https://libraries.indiana.edu/collected-papers-charles-sanders-peirce

JAREMTCHUK, Dária. Anna Bella Geiger: passagens conceituais. São Paulo: Editora Universidade de São Paulo, 2007.

SAMAIN , ETIENNE. As peles da fotografia: fenômeno, memória/arquivo, desejo. IN: VISUALIDADES, Goiânia v.10 n.1 p. 151-164, jan-jun 2012.

SILVEIRA, REGINA. (1977) BRAZIL TODAY, obra com cartões postais Brasil Nativo, divulgação no site. Acessado em: 10/08/2019 https://reginasilveira.- com/BRAZIL-TODAY

SCHROEDER, CAROLINE SAUT. (2012) Arte em trânsito: arte postal no cotejo entre intimidade e esfera pública. Revista-Valise, Porto Alegre, v. 2, n. 4, ano 2, dezembro de 2012.

TACCA, FERNANDO DE. (2011) O índio na fotografia brasileira: incursões sobre a imagem e o meio. História, Ciências, Saúde – Manguinhos, Rio de Janeiro, v.18, n.1, jan.-mar. 2011, p.191-223. Acessado em 12/10/2019. http://www.scielo.br/pdf/hcsm/v18n1/12.pdf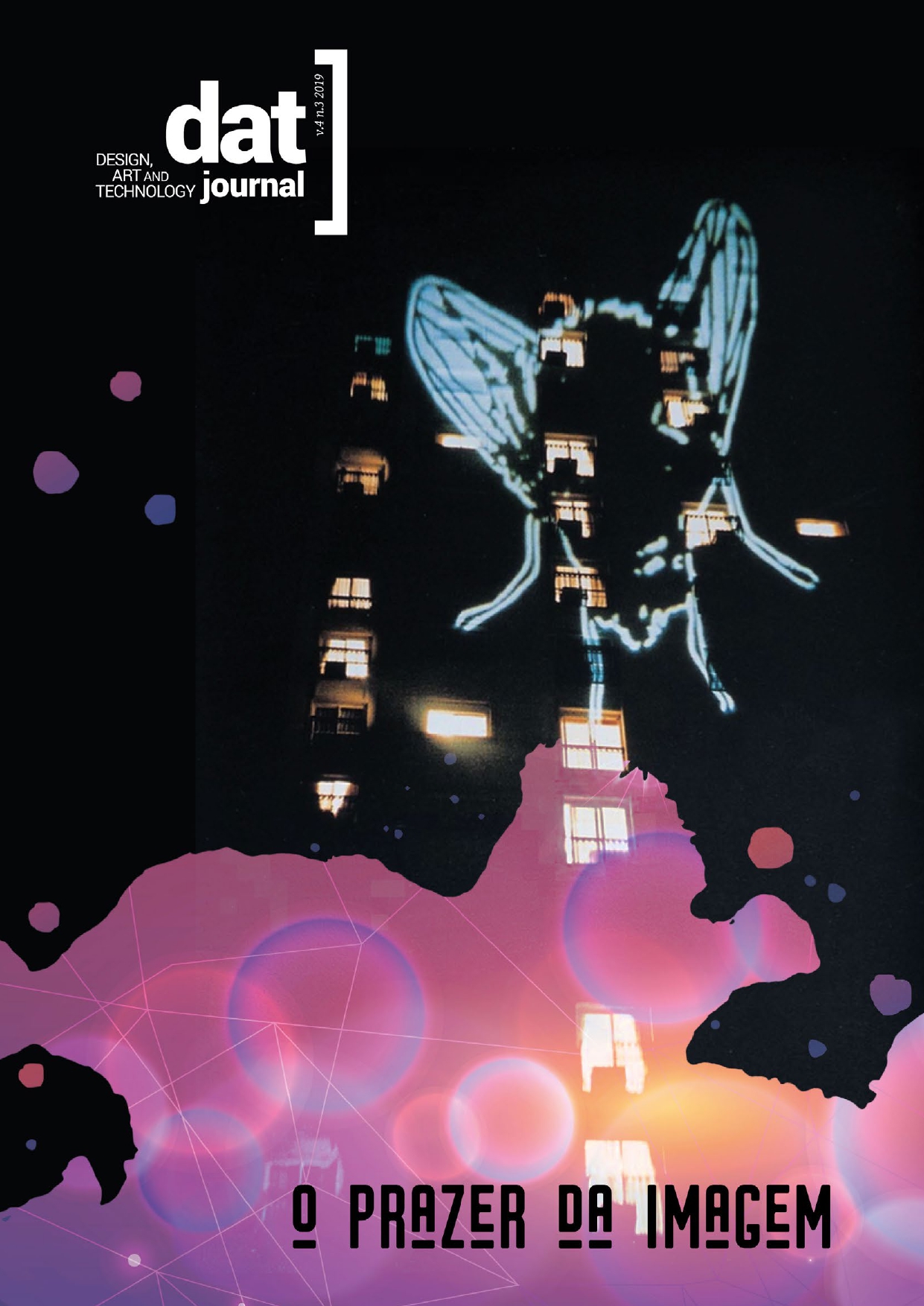 How to Cite
Sampaio, V. (2019). SO MANY IMAGES or about the pleasure-pain of the image. DAT Journal, 4(3), 141-150. https://doi.org/10.29147/dat.v4i3.154