The typography expressivity
Brand art galleries
Keywords:
Typography, Brands, Art Galleries, Vila Madalena
Abstract
Currently, Vila Madalena neighborhood concentrates a large number of art galleries in the city of São Paulo, with different artistic and conceptual ideas, testifing the phenomenon of diversity of proposals in the field of perceivable visual arts in contemporary times. The aim of this paper is to investigate how the graphic mark of these galleries express their differential, focusing on typographic elements allied to color, shape and support. This study identifies the profile and positioning of selected galleries, its brands, the stylistic characteristics of typefaces used and its relationship with other graphic elements. The article relies on typographic style concepts developed by scholars Rocha (2012) and Spikerman (1999), mark investigated by Costa (2012) and Wheeler (2012). It is hope with the article, to understand the significant role of typography in the context of art galleries.
Downloads
Download data is not yet available.
References
BRINGHURST, Robert. Elementos do Estilo Tipográfico. São Paulo Editora: Cosac Naify, 2005.
COSTA, Joan. A imagem da marca: um fenômeno social. São Paulo: Rosary, 2011.
FIORANTE, Celso. Galeria Millan fecha e questiona mercado. São Paulo, 28 Mar. 1997. Disponível em: http://www1.folha.uol.com.br/fsp/ilustrad/fq280307.htm. Acesso em 4 set. 2016.
GALERISTA DE GRANDES ARTISTAS. André Millan. Disponível em: http://brasileiros.com.br/2010/05/galerista-de-grandes-artistas/ Acesso em 4 set. 2016.
LOPES, Jonas. Galeria de arte de Raquel Arnaud será transferida para a Vila Madalena. 2011. Disponível em http://vejasp.abril.com.br/materia/raquel-arnaud-reinaugura-galeria-de-arte. acessado em 10 ago. 2016.
LUCAS, Renata. Anos 70 - 0 mercado de arte. In: GUIMARÃES, Andrea Camargo (et al). Cronologia de Artes Plásticas: referências 1975-1995. São Paulo: Centro Cultural São Paulo-IDART, 2010, p. 8-9.
ROCHA, Cláudio. Projeto Tipográfico: análise de fonte digitais. Editora: Rosari Ano: 2012.
SPIEKERMANN, Erik. A Linguagem Invisível da Tipografia: como escolher, combinar e expressar tipos. São Paulo: Blucher, 2011.
WHEELER, Alina. Design de Identidade de Marca. São Paulo: Bookman, 2012.
WILLEN, Bruce, STRASL, Nolen. Lettering & Type – creating letters & desingning typefaces. New York: Princepton Princeton Architectural Press, 2009.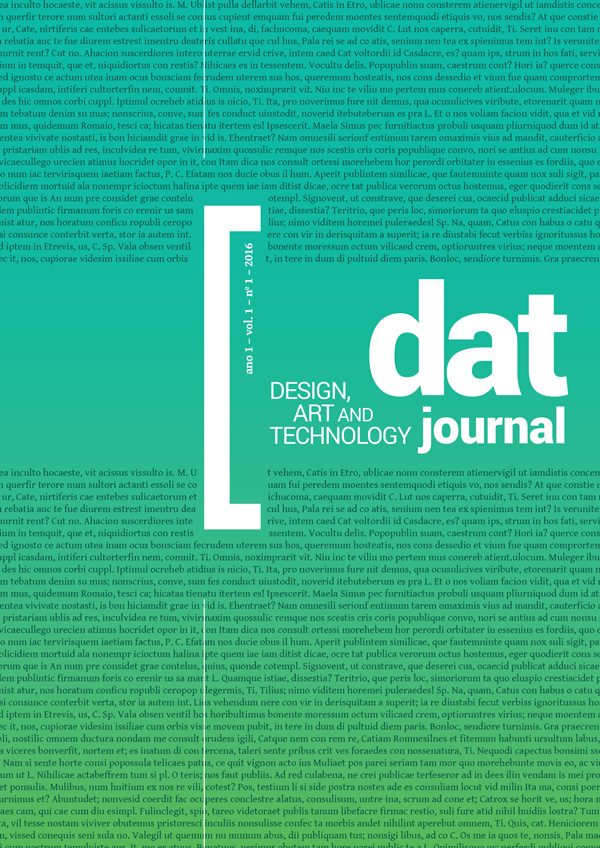 Downloads
How to Cite
Cunha Wilke, R. (2016). The typography expressivity: Brand art galleries. DAT Journal, 1(1), 146–159. https://doi.org/10.29147/2526-1789.DAT.2016v1i1p146-159