Elderly satisfaction evaluation with the use of outdoor fitness equipment
Keywords:
Design, Eldery, Outdoor gyms, Usability, Satisfaction
Abstract
This work presents the results of a master's dissertation research, which aimed to assess the satisfaction of the elderly regarding the use of fitness equipment in outdoor gyms. The case study of this research is the Parque da Criança, in the city of Campina Grande (PB). Observational and interactional methods were used, and the elderly users were divided into two groups: Group 1 (non-experienced) and Group 2 (experienced) after agreeing to sign a TCLE (Free and Informed Consent Form). Forms and usability tests such as the SUS (System Usability Scale) and the DS (Semantic Differential) were applied as instruments. The study evidenced that the more the public is used to the equipment, the higher the satisfaction rates are, and that the impressions can vary as the user gets used to the equipment, whether in positive or negative aspects. For both experienced and non-experienced users, the equipment is considered satisfactory concerning the verified aspects of safety, usability, comfort, intuitiveness and pleasure.
Downloads
Download data is not yet available.
References
BASSANI, P. B. S.; BEHAR, P. A.; HEIDRICH, R. O.; BITTENCOURT, A.; ORTIZ, E. Usabilidade e acessibilidade no desenvolvimento de interfaces para ambientes de educação à distância. Revista Novas Tecnologias na Educação. UFRGS, v. 8, n. 1, EAD, 2010.
BEVAN, N. Measuring usability as quality of use. Journal of Software Quality, Issue 4, p. 115- 140, 1995.
DEJEAN, P.; NAEL, M. Ergonomia do Produto. In: FALZON, Pierre. Ergonomia. São Paulo: Blucher, 2007. Cap. 28, p. 393-405.
FALCÃO, C. S.; SOARES, M. M. Usabilidade de Produtos de Consumo: uma análise dos conceitos, métodos e aplicações. Estudos em Design. Rio de Janeiro: v. 21, n. 2, p. 01 – 26, 2013.
GOULD, J. D.; LEWIS, C. Designing for Usability: What Designers Think. Março, v. 28, n. 3. Communications of the ACM, 1985.
FALZON, P. (org.). Ergonomia. 1° edição. São Paulo - SP: Blucher, 2007. Cap. 1, p. 3-19.
FERNANDES, B. D. P. Motivação para a prática de exercícios físicos em academias ao ar livre em praças públicas. 2015. 76 f. Trabalho de Conclusão de Curso (Graduação em Educação Física) – Faculdade de Educação Física. Universidade Estadual de Campinas, Campinas, 2015.
HAN, S. H.; YUN, M.H.; KWANK, J.; HONG, S.W. Usability of electronic consumer products. International Journal of Industrial Ergonomics, 28, p. 143-151, 2001.
HERBERT, J. S. Métodos para a avaliação da qualidade de software. Porto Alegre: Instituto de Informática da UFRGS, 1995.
IEA - International Ergonomics Association. Definition, Domains of Specialization, Systemic Approach. 2019. Disponível em: https://iea.cc/definition-and-domains-of-ergonomics/. Acesso em: 2014 set. 2020.
IIDA, I.; BUARQUE, L. Ergonomia: Projeto e Produção. 3ª edição. São Paulo: Edgard Blücher, 2018.
ISO FDIS 9241-171. Ergonomics of humansystem interaction. Part 171: Guidance on software accessibility. ISO, 2008.
ISO 9241. Requisitos Ergonômicos para Trabalho de Escritórios com Computadores. Parte 11: Orientações sobre Usabilidade, 2002.
JORDAN, P. W. An introduction to usability. London: Taylor & Francis, 1998.
JORDAN, P. W. Designing pleasurable Products: an introduction to the new human factors. London: Taylor and Francis, 2000.
LAW, E. L-C.; BEVAN, N.; CHRISTOU, G.; SPRINGETT, M.; LARÚSDÓTTIR, M. Classifying and selecting UX and usability measures. In the Proceedings of Meaningful Measures: Valid Useful User Experience Measurement (VUUM), 5th COST294-MAUSE Open Workshop, 18th June, Reykjavik, Iceland, 2008.
MORAES, A. D. Ergonomia e usabilidade de produtos, programas, informação: área de concentração, linhas de pesquisa, projetos de pesquisa, ideias, realizações, produção e competências. In: MORAES, A. D.; FRISONI, B. C. Ergodesign: produtos e processos. Rio de Janeiro: 2AB, 2001. p. 9-50.
OLIVEIRA, S. T. Recomendações para ampliação da usabilidade das academias públicas para usuários cegos e com baixa visão. 2014. Dissertação (Mestrado em Design) – Programa de Pós-Graduação em Design Universidade Federal do Paraná, Curitiba, 2014.
ORGANIZAÇÃO MUNDIAL DA SAÚDE. Disponível em: http://www.editorarealize.com.br/revistas/cieh/trabalhos/Comunicacao_oral_idinscrito_336_6bee66358561046 0f2bb0552e4c8712.pdf. Acesso em: 29 ago. 2018.
OSGOOD, C. E., SUCI G. J.; TANNEMBAUM, P. H. Medicion de actitudes. In: SUMMERS, G. F. Medicion de Actitudes. México: Trilhas, 1976.
OVERBEEKE, C.J.; DJADJADININGRAT, T.; HUMMELS, C.; WENSVEEN, S. Beauty in usability: Forget about ease of use! In: W.S. GREEN; P.W. JORDAN (Eds.). Pleasure with products: Beyond usability. London: Taylor & Francis, p. 9–17, 2002.
PEREIRA, M. A. L.; RODRIGUES, M. C. Perfil da capacidade funcional em idosos residentes no condomínio Vila Vida em Jataí-GO. Rev. Bras. Ativ. Fis. Saúde, Florianópolis, v. 12 n. 1, pp. 27-33, set. 2012.
PIZZATO, G. Z. de A. Design e emoção na utilização do mobiliário urbano em espaços públicos. 2013. 159 f. Tese (Doutorado em Engenharia) – Escola de Engenharia, Universidade Federal do Rio Grande do Sul, Porto Alegre, 2013.
PREECE, J. et al. Design de Interação: além da interação homem-computador. 3. Ed. Porto Alegre: Bookman,2013.
RENATO, P. Usabilidade x Intuitividade. In: Action Labs, 2017 (https://www.actionlabs.com.br/insights/usabilidade-x-intuitividade/)
SANTA ROSA, J. G.; MORAES, A. Design Participativo - Técnicas para Inclusão de Usuários no Processo de Ergodesign de Interfaces. 1. ed. Rio de Janeiro: Rio Books, 2012. 170 p.
SCHERMANN, D. Escala de Likert: como usar a pergunta de escala no seu questionário de pesquisa. In: Opinion Box, 2019. (https://blog.opinionbox.com/pergunta-de-escala-ou-escala-de-likert/)
SHACKEL, B. Usability - context, framework, definition, design & evaluation. In Human Factors for Informatics Usability, (Shackel B. and Richardson S. J., eds.); p. 21-37, Cambridge: Cambridge University Press. ISBN 0-521-36570-8, 1991.
SILVA, R. S. C.; VELOSO, I. T. B. M. Equipamentos de ginástica: satisfação e caracterização dos usuários idosos. Brazilian Journal of Development. São José dos Pinhais, v. 6, p. 1067 - 1078, 2020.
SIN, A. K.; ZAMAN, H. B.; AHMAD, A.; SULAIMAN, R. Evaluation of wearable device for the elderly (W-Emas). In: ZAMAN, H. B.; ROBINSON, P.; SMEATON, A. F.; SHIH, T. K.; VELASTIN, S.;
JAAFAR, A.; ALI, N. M. Advances in visual informatics: 4th International Visual Informatics Conference. Bangi: Springer, 2015.
STONE, P. W. et al. Organizational climate of staff working conditions and safety: an integrative model.Rockville, MD: Agency for Healthcare Research and Quality. AHRQ Publication No 05-0021–2, 2005.
TEIXEIRA, F. O que é o SUS (System Usability Scale) e como usá-lo em seu site. In: Uxdesign. cc Brasil, 2015.(https://brasil.uxdesign.cc/o-que-é-o-sus-system-usability-scale-e-como-usá-lo-em-seu-site-6d63224481c8)
TULLIS, T.; ALBERT, W. Measuring the user experience: collecting, analyzing, and presenting usability metrics. Burlington: Morgan Kaufman, 2008.
VIDAL, M. C. R. Guia para análise ergonômica do trabalho (AET) na empresa. 2. ed. Virtual Científica: Rio de Janeiro, 2008. 332 p.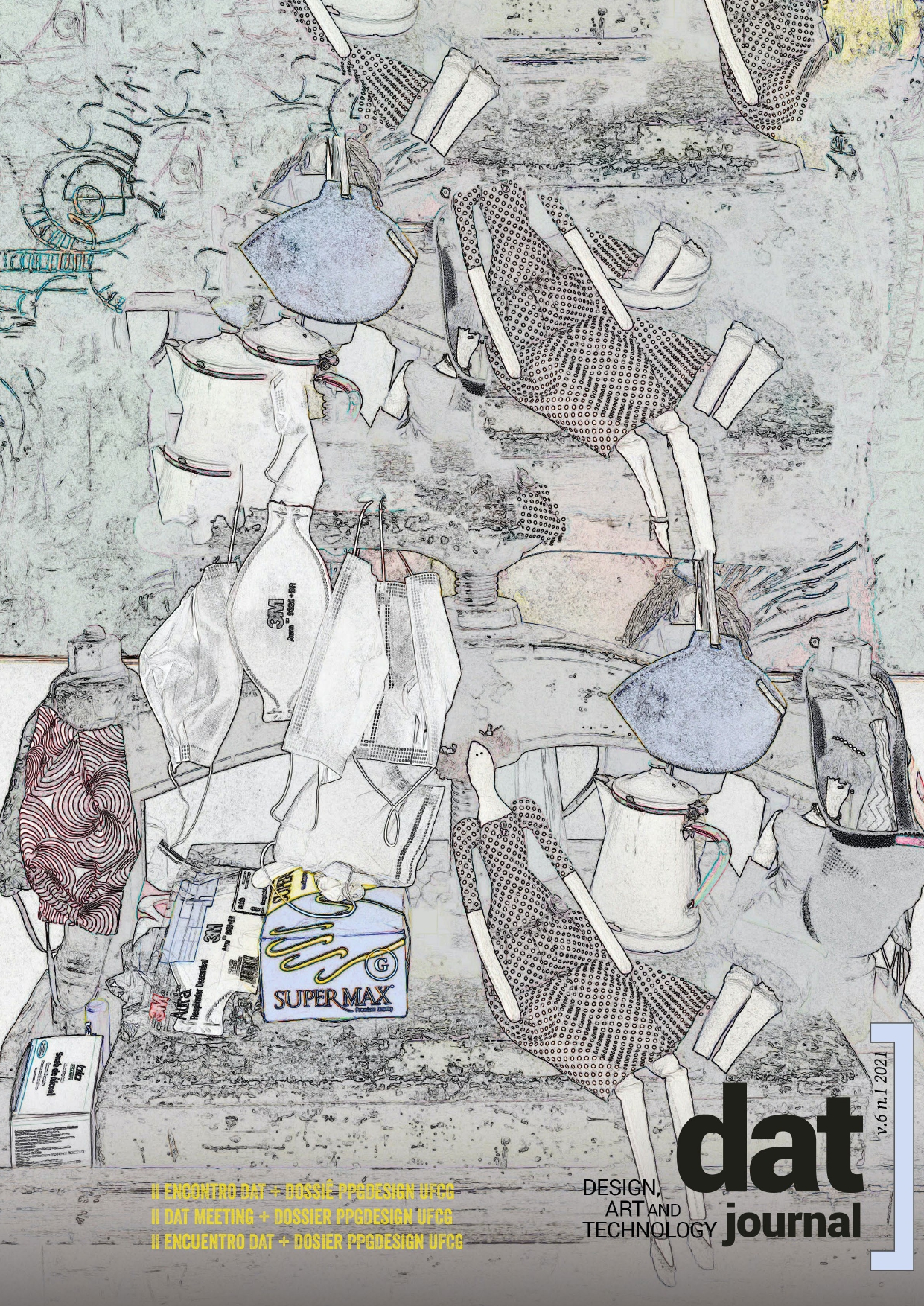 Downloads
How to Cite
Sena de Castro e Silva, R., & Tatiane de Barros Macêdo Veloso, I. (2021). Elderly satisfaction evaluation with the use of outdoor fitness equipment. DAT Journal, 6(1), 179–197. https://doi.org/10.29147/dat.v6i1.334
Section
Dossiê PPGDesign UFCG