Virtual and augmented reality for the built Heritage Dissemination
Keywords:
Augmented Reality, Virtual Reality, Built heritage, enchanted narratives
Abstract
Several technologies have been used to survey and register the built heritage. Therefore, complex software is used, and their visualization is often restricted to specialists. The Virtual and Augmented Reality (VAR) use, as a form of dissemination of the built heritage, can facilitate access to information for the lay public through remote visits. However, an appropriate narrative model for effective communication with the audience is important. Bearing in mind the potential of VAR systems for the built heritage dissemination, this research performs a Systematic Literature Review to identify applications for this purpose. Subsequently, the adopted narrative models are analyzed. This study identifies the lack of research in the area and opens the possibility for new VAR development, aiming at the architectural heritage dissemination.
Downloads
Download data is not yet available.
References
ABDELMONEM, M. G. et al. Virtual platforms for heritage preservation in the Middle East: The case of Medieval Cairo. Archnet-IJAR, v. 11, n. 3, p. 28–41, 2017. ISSN 19387806. DOI 10.26687/archnet-ijar.v11i3.1404.
AMORIM, A. A documentação arquitetônica como uma atividade multi, inter e transdisciplinar. PontodeAcesso, v. v. 11, p. 61–84, 2017. DOI 10.9771/rpa.v11i1.23176.
BANFI, F.; STANGA, C.; BRUMANA, R. A Digital Workflow for Built Heritage: From SCAN-to-BIM Process to the VR-Tour of the Basilica of Sant'Ambrogio in Milan. Lecture Notes in Computer Science (including subseries Lecture Notes in Artificial Intelligence and Lecture Notes in Bioinformatics), v. 11196 LNCS, p. 334–343, 2018. ISSN 03029743. DOI 10.1007/978-3-030-01762-0_28.
CANUTO, C. L.; MOURA, L. R.; SALGADO, M. S. Tecnologias digitais e preservação do patrimônio arquitetônico: explorando alternativas. PARC Pesquisa em Arquitetura e Construção, v. 7, n. 4, p. 252–264, 2016. ISSN 1980-6809. DOI http://dx.doi.org/10.20396/parc.v7i4.8647456.
CERÁVOLO, A. L. O Plano de Conservação e sua aplicação no contexto brasileiro. (Even3, Ed.) In: Anais do 3o Simpósio Científico do ICOMOS Brasil, Belo Horizonte(MG). Anais[...] Belo Horizonte(MG): Universidade Federal de Minas Gerais - UFMG, 2019. Disponível em: https://www.even3.com.br/anais/iiisimposioicomosbrasil/149104-o-plano-de-conservacao-e-sua-aplicacao-no-contexto-brasileiro/
CERÁVOLO, A. L.; COELHO, D. A.; GONÇALVES, M. P. Documentação do Patrimônio Arquitetônico Moderno: Estudo de Caso no edifício E1. In: ENCONTRO BRASILEIRO DE MODELAGEM DA INFORMAÇÃO DA CONSTRUÇÃO E PATRIMÔNIO CULTURAL, São Carlos, SP. Anais[...] São Carlos, SP: São Carlos: IAU-USP, 2019.
CHEN, X.; KALAY, Y. E. Making a livable "place": Content design in virtual environment. In: KALAY, Y. E.; KVAN, T.; AFFLECK, J. (Ed.). New Heritage: new media and cultural heritage. [s.l.] ROUTLEDGE JOURNALS, TAYLOR & FRANCIS LTD, 2008. p. 207–221.
CUPERSCHMID, A. R. et al. Casa de Vidro: BIM e Gestão do Patrimônio Histórico Arquitetônico. p. 177–198, 2018.
CUPERSCHMID, A. R. M. Realidade Aumentada. In: BRAIDA, F. et al. (Ed.). 101 Conceitos de Arquitetura e Urbanismo na Era Digital. 1. ed. São Paulo: ProBooks, 2016. p. 176–177. ISBN 9788561453503.
CURY, I. (org). Cartas Patrimoniais. 3a ed. Rio de Janeiro: IPHAN, 2004.
FEJÉRDY, T. The reconstruction of listed and unlisted historic buildings in the light of the guidelines set forth by the international documents [A muemlékek, történeti épületek rekonstrukciója a nemzetközi dokumentumokban megfogalmazott iránymutatások tükrében]. Transsylvania Nostra, n. 40, p. 2–15, 2016. ISSN 18425631.
FERREIRA, T. de A.; TIRELLO, R. A. EIXO TEMÁTICO: DOCUMENTAÇÃO DA ARQUITETURA PRÁTICAS DE DOCUMENTAÇÃO E REGISTRO EM LASER SCANNING 3D EM MONTE SANTO-BA, A CIDADE QUE ABRIGA O "ALTAR DO SERTÃO". In: Anais[...]2019.
HANZL, M. Information technology as a tool for public participation in urban planning: a review of experiments and potentials. Design Studies, v. 28, n. 3, p. 289–307, 2007. ISSN 0142-694X. DOI https://doi.org/10.1016/j.destud.2007.02.003.
ICOMOS. The ICOMOS Ename Charter. [s.l: s.n.]. Disponível em: https://www.icomos.org/charters/interpretation_e.pdf.
JERALD, J. The VR Book: Human-Centered Design for Virtual Reality. New York, NY, USA: Association for Computing Machinery and Morgan & Claypool, 2016. ISBN 978-1-97000-112-9.
KALKOFEN, D.; MENDEZ, E.; SCHMALSTIEG, D. Comprehensible Visualization for Augmented Reality. IEEE Transactions on Visualization and Computer Graphics, v. 15, n. 2, p. 193–204, mar. 2009. ISSN 1077-2626. DOI 10.1109/TVCG.2008.96.
KIRNER, C.; KIRNER, T. G. Development of an Educational Spatial Game using an Augmented Reality Authoring Tool. International Journal of Computer Information Systems and Industrial Management Applications, v. 3, p. 602–611, 2011. Disponível em: http://www.mirlabs.org/ijcisim/regular_papers_2011/Paper68.pdf
KIRNER, C.; SISCOUTO, R. Fundamentos de Realidade Virtual e Aumentada. In: KIRNER, C.; SISCOUTO, R. (Ed.). Realidade Virtual e Aumentada: Conceitos, Projeto e Aplicações. Porto Alegre: Editora SBC (Sociedade Brasileira de Computação), 2007. p. 02–21. ISBN 85-7669-108-6.
NEAMTU, C.; BARCĂ, V.; BUNA, Z. Promoting and capitalizing on the vestiges from sarmizegetusa regia by modern multimedia methods [Promovarea și valorificarea vestigiilor de la Sarmizegetusa Regia prin metode multimedia moderne]. Plural. History. Culture. Society, v. 8, n. 1, p. 150–173, 2020. ISSN 23451262. DOI 10.37710/PLURAL.V8I1_8.
RIMKUS, C. M. F. Avaliação da Aplicabilidade da Tecnologia de Realidade Aumentada na área do Patrimônio Arquitetônico. GEINTEC, v. 3/n.2, p. 70–80, 2013.
TEMPLIN, T.; POPIELARCZYK, D. The Use of Low-Cost Unmanned Aerial Vehicles in the Process of Building Models for Cultural Tourism, 3D Web and Augmented/Mixed Reality Applications. SENSORS, v. 20, n. 19, 2020. DOI 10.3390/s20195457.
TIRELLO, R.; COSTA, A. Questões sobre conservação do patrimônio arquitetônico moderno e a Vila Serra do Navio. PARC Pesquisa em Arquitetura e Construção, v. 8, p. 75, 2017. DOI 10.20396/parc.v8i2.8648299.
WANG, X. Exploring an Innovative Collaborative Design Space through Mixed Reality Boundaries. In: 2007 11th International Conference on Computer Supported Cooperative Work in Design, Anais[...]abr. 2007. DOI 10.1109/CSCWD.2007.4281445.
WATRALL, E. Public heritage at scale: Building tools for authoring mobile digital heritage and archaeology experiences. Journal of Community Archaeology and Heritage, v. 5, n. 2, p. 114–127, 2018. ISSN 20518196. DOI 10.1080/20518196.2017.1334619.
WENDT, G. W. Tecnologias de interface humano-computacional: realidade virtual e novos caminhos para pesquisa. Archives of Clinical Psychiatry (São Paulo), v. 38, p. 211–212, 2011. ISSN 0101-6083. Disponível em: http://www.scielo.br/scielo.php?script=sci_arttext&pid=S0101-60832011000500009&nrm=iso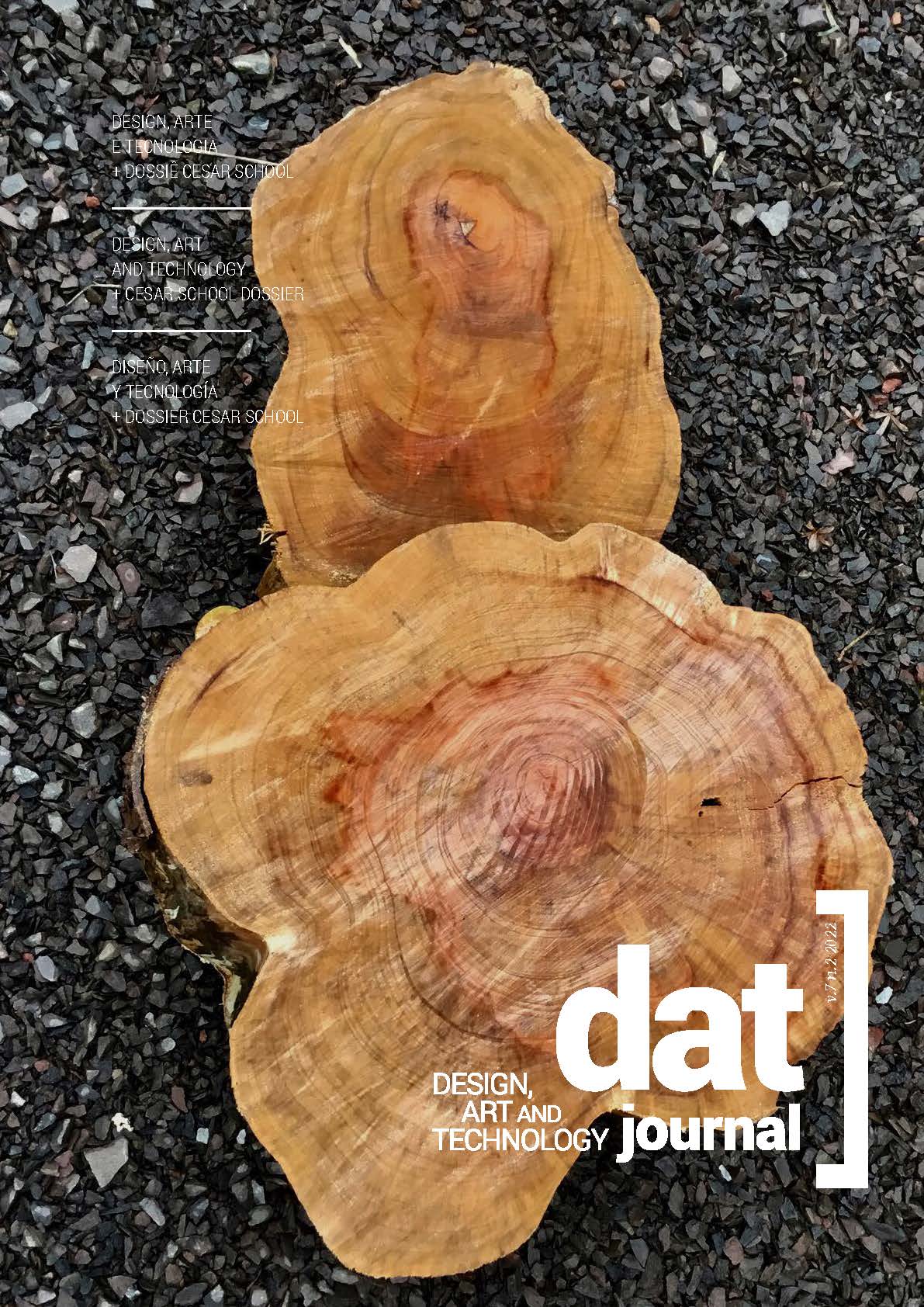 Downloads
How to Cite
Dias, M. S., & Cuperschmid, A. R. M. (2022). Virtual and augmented reality for the built Heritage Dissemination . DAT Journal, 7(2), 84–103. https://doi.org/10.29147/datjournal.v7i2.484
Section
Design, Art and Technology
License
Copyright (c) 2022 DAT Journal
This work is licensed under a Creative Commons Attribution 4.0 International License.