Reflections on the use of techniques and materials in the construction of the tactile collection in museums
Keywords:
Materials collection, Materials for design, Classification, Cataloguing
Abstract
This article discusses the artworks adaptation process in museums from the
perspective of inclusive design. For this study, five museums were selected comprising two categories: those that have in their collection artworks adapted for people with visual impairment and those designed to be inclusive museums. In this context, based on the assertion that the representation of the tactile image is an important channel of information for the blind, a survey on the current methods adopted in the production of inclusive works is justified in order to reflect on possible alternatives and processes that contribute to the expansion of this images repertoire. This article also intends to think over possible advances in image representation, migrating from
a predominantly handcraft technique to a digital one that would allow an expansion of the tactile collection in museums, understanding that they have a great responsibility in the process of socio-cultural inclusion of the visitor with visual impairment.
Downloads
Download data is not yet available.
References
CARDEAL, M. Metáforas visuais - redundâncias táteis. In: DUARTE, M. L. B., PIEKAS, M. I. (org.). Desenho infantil em pesquisa: imagens visuais e táteis. Curitiba: Editora Insignt, 2011.
CARDOS, E.; TEIXEIRA F.G.; SILVA, R.P.; SILVA, T.L.K. Fabricação digital de recursos táteis aplicados do design de exposição. Augmented Culture: Proceedings of the 15th Iberoamerican Congress of Digital Graphics, 2011, 330-334. SIGraDi. Santa Fe, Argentina.
CELANI, G., PUPO, R. Prototipagem Rápida e fabricação digital para arquitetura e construção: definições e estado da arte no Brasil. In: Cadernos de Pós-Graduação em Arquitetura e Urbanismo.
CELANI, M.G.C., MILAN, L.F. 2007. Tactile scale models: three-dimensional info-graphics for space orientation of the blind and visually impaired. 3rd International Conference on Advanced Research in Virtual and Rapid Prototyping, VRAP 2007, Leiria, Portugal, pp. 1–10.
COHEN, R.; DUARTE, C. e BRASILEIRO, A. Acessibilidade a Museus. Brasília, DF: MinC/Ibram, 2012.
DUARTE, M. L. B. Desenho infantil e seu ensino a crianças cegas: Razões e Método. Curitiba: Editora Insignt, 2011.
LEMOS, E.R. [et al.]. Normas Técnicas para a produção de textos em braille. Brasília: Ministério da Educação, Secretaria de Educação Especial, 2006.
TOJAL, A. F. Acessibilidade e inclusão de públicos especiais em museus. In: Caderno de acessibilidade: Reflexões e Experiências em Museus e Exposições. São Paulo: Expomus, 2010. Universidade Presbiteriana Mackenzie. São Paulo, 2008, Vol.8, No.1, p.31-41.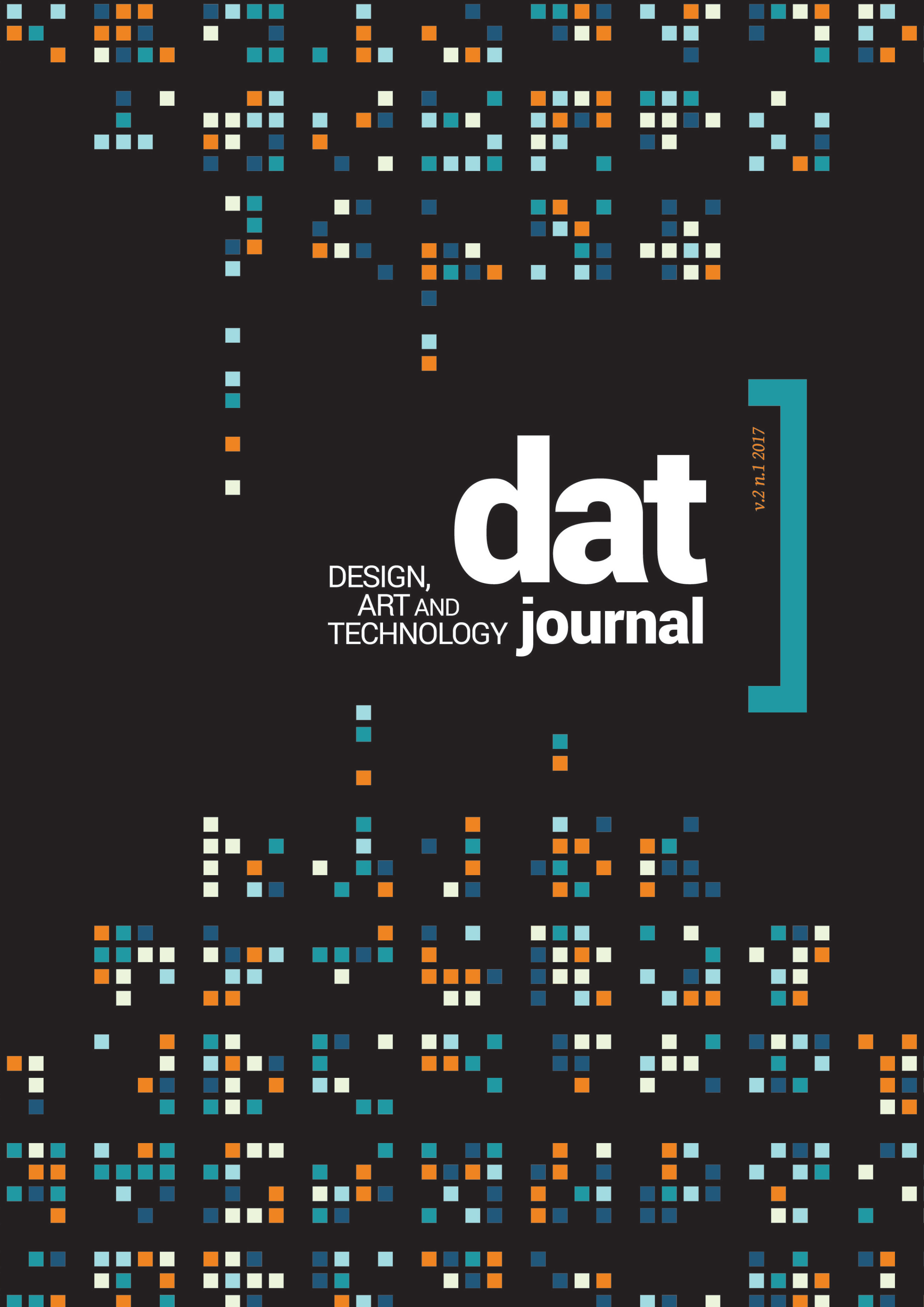 Downloads
How to Cite
Romani, E., & Henno, J. H. (2017). Reflections on the use of techniques and materials in the construction of the tactile collection in museums. DAT Journal, 2(1), 134–149. https://doi.org/10.29147/2526-1789.DAT.2017v2i1p133-147