Fashion images on magazines: A typology proposition
Keywords:
Imagens híbridas, Fashion photography, Pictorial images, Hybrid images
Abstract
This article analyses and highlights images from printed fashion magazines that, from a standpoint of their graphic, visual, editorial, journalistic, commercial, or conceptual characteristics could be divided into images that are photographic, pictorial, or hybrid. The text, which is essentially qualitative, and founded on bibliographic and documental research, attempts to revisit the typology of fashion images, proposed and identified by Calza (2015a). Images from those magazines are identified as (i) photographic images: fashion stills, documental photography and fashion editorial photography; (ii) pictures and drawings: croquis, illustrations, and technical fashion designs; (iii) hybrids. The ways in which the images are used as the focus center of the fashion magazines' graphic projects are evidence of how they help define their editorial and commercial traits, molding their forms and contents according to the themes that are published.
Downloads
Download data is not yet available.
References
ALI, F. A arte de editar revistas. São Paulo: Companhia Editora Nacional, 2009.
AMBROSE, G.; HARRIS, P. Imagem: s. a aparência ótica de um objeto produzida em um espelho, por uma lente, etc. Porto Alegre: Bookman, 2009.
ANGELETTI, N; OLIVA, A. In Vogue: The illustrated History of the World's Most Famous Fashion Magazine. New York: Rizzoli New York, 2006.
CALZA, M. U., A identidade visual no projeto gráfico de revistas de moda. Porto Alegre:
UFRGS/PPGCOM, 2015. 355. Tese (Doutorado em Comunicação e Informação). Universidade Federal do Rio Grande do Sul – UFRGS [2015a].
CALZA, M. U. Modalidades de imagem de moda no projeto gráfico das revistas de moda e luxo. In: XI SEMANA DE EXTENSÃO, PESQUISA E PÓS-GRADUAÇÃO UNIRITTER. SEPESQ UNIRITTER, 2015b. Porto Alegre.
DERRICK, R., MUIR, R. Vogue Covers: On fashion's front page. Londres: Little, Brown, 2007.
FERNÁNDEZ, Á.; ROIG, G. M. Desenho para designers de moda. 2. ed. Lisboa: Estampa, 2010.
FRANGE, C. Styling: mapeando o território. In: In: FAÇANHA, Astrid; MESQUITA, Cristiane (Org.). Styling e criação de imagem de moda. São Paulo: Editora Senac São Paulo, 2012.
GRUSZYNSKI, A.; CALZA, M. Projeto gráfico: a forma de um conceito editorial. In: SCHWAAB, Reges, TAVARES, Frederico. (Org.). A revista e seu jornalismo. Porto Alegre, Editora Penso, 2013, p. 203-220.
HOPKINS, J. Desenho de moda. Coleção Fundamentos de Design de Moda. Porto Alegre: Bookman, 2011.
JOFFILY, R. O Jornalismo e produção de moda. Rio de Janeiro: Nova Fronteira, 1991.
LEITE, A.; VELLOSO, M. D. Desenho técnico de roupa feminina. 2. ed. Rio de Janeiro: Ed. SENAC Nacional, 2007.
MCASSEY, J.; BUCKLEY, C. Styling de moda. Coleção Fundamentos de Design de Moda. Porto Alegre: Bookman, 2013.
MEARS, A. Size zero high-end ethnic: Cultural production and the reproduction of culture in fashion modeling. In: Poetics, 2010, Vol.38 (1), p.21-46.
MENDONÇA, C. M. C. Um olhar sobre as mulheres de papel: tirania e prazer nas revistas Vogue. Tese (Doutorado em Comunicação Social). Universidade Federal de Minas Gerais – UFMG [2010].
MORRIS, B. Fashion illustrator: manual do ilustrador de moda. São Paulo: Cosac Naify, 2007.
SIEGEL, E. Curso de fotografia de moda. Barcelona: Editoria Gustavo Gili SL, 2012.
SORGER, R.; UDALE, J. Fundamentos de design de moda. Porto Alegre: Bookman, 2009.
SOUZA, V. V.; CUSTÓDIO, J. A. C. Fotografia: meio e linguagem dentro da moda. In: Discursos fotográficos, Londrina, v.1, p.231-251, 2005.
TREPTOW, D. Inventando Moda: planejamento de coleção. 5 ed. São Paulo: Edição da Autora, 2013.
VOLONTÉ, P. Vita da stilista. Il ruolo sociale del Fashion Designer. Milão: Bruno Mondadori, 2008.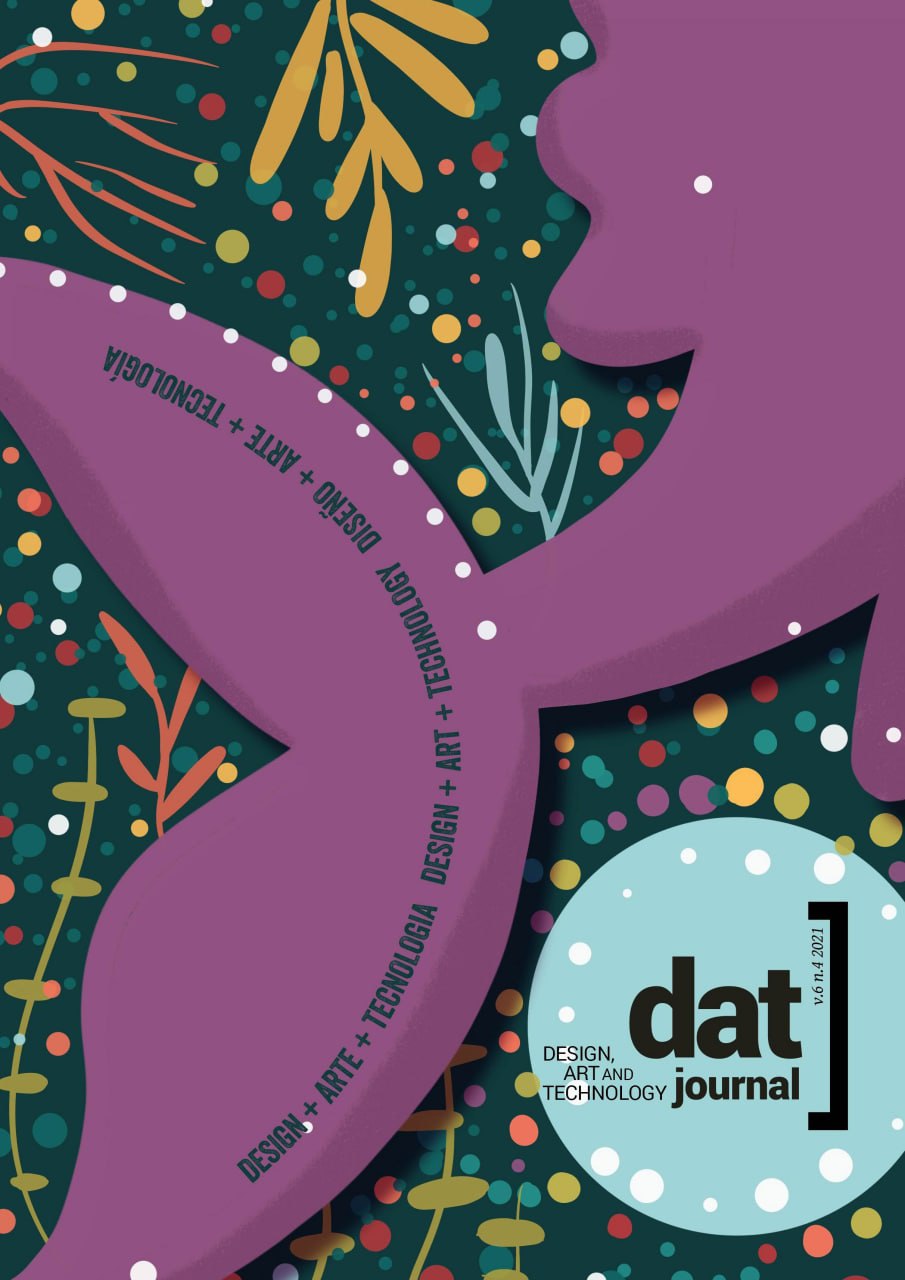 Downloads
How to Cite
Calza, M. U. (2021). Fashion images on magazines: A typology proposition. DAT Journal, 6(4), 119–141. https://doi.org/10.29147/datjournal.v6i4.496
License
This work is licensed under a Creative Commons Attribution 4.0 International License.