Audiovisual design and the change in content consumption habits: a reinterpretation 2012 – 2022
Keywords:
Audio-visual, Design, Interaction, Immersive technologies
Abstract
In recent years, audiovisual production and consumption have undergone quite significant changes. New platforms, new technologies, new habits are contribut­ing to greater interaction and, currently, an intensification of niche content audience formation is observed.
Based on a case developed in an experimental way, the webseries #E_VC? and another case produced by the Gloob channel (Globo Studios) we seek to exemplify how some strategies previously adopted in productions made for broadcasting on the internet were also adopted in television productions. This "hybridization" has been quite re­current and shows a certain market trend in the adoption of these languages and technologies, promoting virtual and face-to-face interactions to their audiences. Top­ics such as transmedia, virtual environments, forms of interaction and audiovisual consumer experience have been increasingly discussed in this light.
TV channels and media conglomerates have turned their attention to on-demand au­diovisual consumption environments, as well as other platforms and websites that provide new information (not only those that are placed in the script and history of audiovisual content) but also experiences in these complementary environments, that is, the production of audiovisual content and design concepts are being worked on together, focusing on their audiences and how this relationship can be approached from the personal interests of this audience. Algorithms, manipulation of information increasingly faster from large databases are of great value to understand communi­cation contexts and changes in this market.
Downloads
Download data is not yet available.
References
ALEXANDRO, Victor. Gloob realiza projeção em prédio e tour virtual para nova tempo¬rada de DPA. In: GKPB, 2021. (https://gkpb.com.br/66645/gloob-tour-virtual-dpa/).
ANDERSON, Chris. A cauda longa: do mercado de massa para o mercado de nicho. Rio de Janeiro: Elsevier, 2006.
JENKINS, Henry. Cultura da convergência. São Paulo: Aleph, 2009.
MACHADO, Arlindo. A televisão levada a sério. São Paulo: Senac, 2000.
MACHADO, Arlindo. O Sujeito na Tela: modos de enunciação no cinema e no ciberespa¬ço. São Paulo: Paulus, 2007.
MACHADO, Arlindo. Pré-cinemas & pós cinemas. Campinas, SP: Papirus, 2005.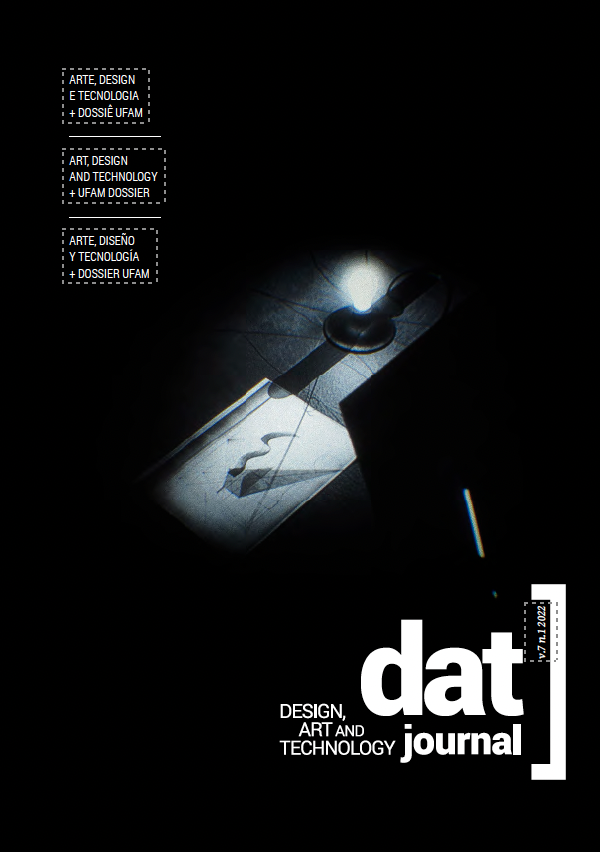 Downloads
How to Cite
Barbosa, F. (2022). Audiovisual design and the change in content consumption habits: a reinterpretation 2012 – 2022. DAT Journal, 7(1), 77–88. https://doi.org/10.29147/datjournal.v7i1.549
Section
Art, Design and Technology
License
Copyright (c) 2022 DAT Journal
This work is licensed under a Creative Commons Attribution 4.0 International License.