Art on the Divide Line: Experiments in Art and Technology in India and Latin America
Keywords:
Art, technology, India, Latin-America, AI
Abstract
In this paper, we discuss the causes of regional variations in electronic art. Mapping regional achievements in electronic art requires understanding of resources of education and advancement of engineering in locations of economically productive cultures. If we think of development of algorithm as the driving cause of innovations in electronic media art we shall find that more regional niches are not lagging far behind – at least not in alternative market locations like India, or even China, although results are not so encouraging in Africa and the Eurasian countries.
Downloads
Download data is not yet available.
References
Drori, G. S. (2010). Globalization and technology divides: Bifurcation of policy between the "digital divide" and the "innovation divide". Sociological Inquiry, 80(1), 63-91.
Herkenhoff, P. "Learning and Dislearning to be Global: Questions at 44°53'N, 93°13' W, and 22°54'24'' S, 43°10'21'' W." How Latitudes Become Forms. Retrieved 17th November 2021.
Krithivasan, K. (2016). A View of India Through Kolam Patterns and Their Grammatical Rep¬resentation. In The Mind of an Engineer (pp. 375-384). Springer, Singapore.
MUKHOPADHYAY, T. P.; THOMPSON, R. "Tecnoflâneurs y faquires: El arte al otro lado de la brecha digital" in H-ART. Revista de historia, teoría y crítica de arte. Issue 9, Jul 01, 2021. ht-tps://doi.org/10.25025/hart09.2021.07
Schmitt, U., & Butchart, B. A. (2014, April). Making Personal Knowledge Management Part and Parcel of Higher Education Programs and Services Portfolios. In Journal of the World Uni¬versities Forum (Vol. 6, No. 4).
Thompson, R. & Mukhopadhyay, T. Arantes, P. & Prado, G., Argente, D. Cruz, D. & Piñero, B. Fragoso, M., La Ferla, J., Santos. N.C. Panel 492. In "Penumbra in faint light: contemporary art and technology in Latin America". ISEA2019 Gwangju LUX AETERNA - Proceedings of the 25th International Symposium on Electronic Art. Gwangju: Art Center Nabi, Korea Advanced Institute of Science and Technology, Chung-Ang University, and ISEA International. p. 679- 699. http://j.mp/2Y893FU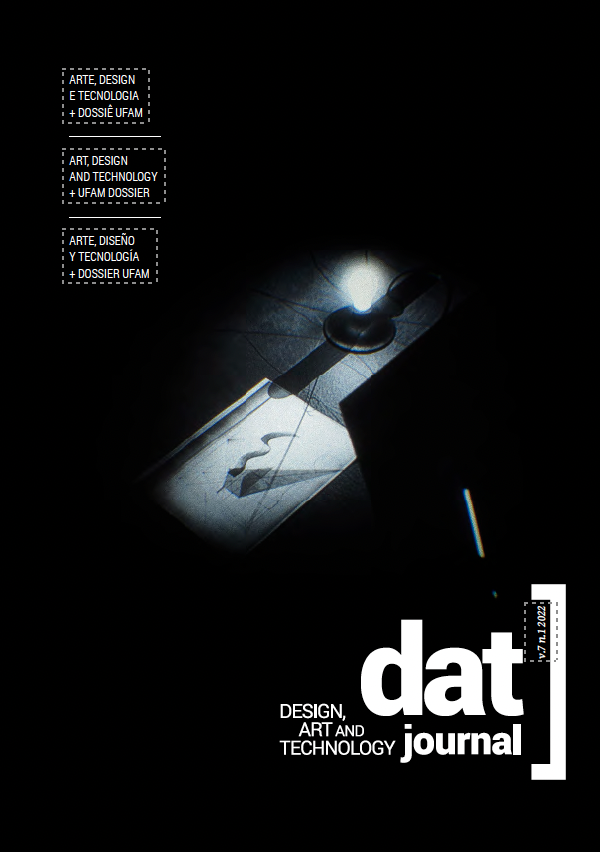 Downloads
How to Cite
Thompson, R., & Mukhopadhyay, T. (2022). Art on the Divide Line: Experiments in Art and Technology in India and Latin America. DAT Journal, 7(1), 89–101. https://doi.org/10.29147/datjournal.v7i1.574
Section
Art, Design and Technology
License
This work is licensed under a Creative Commons Attribution 4.0 International License.