Design, tourism and technology: market and the need to use mobile technology to help tourism in Manaus
Keywords:
Mobile Technology, Tourism, Interface Design
Abstract
Mobile technology, the constant use of apps and the instantaneous obtain­ment of information are currently present, creating a revolution in several economic sectors, including the tourist market. Tourists are "connected", planning trips direct­ly from their mobile devices and establishing a new tourism paradigm, in which trav­elers share their experiences and obtain local information before, during and after their trip. Thus, smartphones have become important tools for their users to navigate in unknown places.
Manaus is a city with great tourist potential, drawing attention with its environmen­tal, cultural and historical attractions. However, it is still outdated in investments that support tourists, having a deficit in infrastructure and tourist services, espe­cially in the technological area. This study aims to evaluate the need to use mobile technology as a tourist assistance at Manaus, also investigating the role of design and its benefits in the development of apps.
Downloads
Download data is not yet available.
References
ADIPAT, B.; ZHANG, D.; ZHOU, L. The effects of tree-view based presentation adaptation on mobile web browsing, Mis Quarterly, 2016.
ALVES, F.; SILVA. C.; REIS, P.; MARIZ, L.; CACHO, A. Design e usabilidade: desenvolvimento e análise de aplicativo móvel para o setor de turismo da cidade de Natal/RN, 2016.
AMADEUS – TRAVEL TECH CONSULTING. The always-connected traveler: How mobile will transform the future of air travel, 2014.
AMAZONASTUR, Aproximadamente 286 Mil Turistas Desembarcaram No Amazonas, em 2019. Amazonastur, 2019. (www.amazonastur.am.gov.br/aproximadamente-286-mil-turistas-desembarcaram-no-amazonas-em-2019-aponta-amazonastur/)
AMAZONASTUR, Indicadores do Turismo, Amazonastur, 2019. ( www.amazonastur.am. gov.br/indicadores-de-turismo/)
BHANDARI, U.; NEBEN, T.; CHANG, K.; CHUA, W. Effects of interface design factors on affective responses and quality evaluations in mobile applications. 2017. DOI: https://doi.org/10.1016/j.chb.2017.02.044
BARBOSA, M. Índice de competitividade do turismo nacional: relatório Brasil, 2015. Brasília, DF: Ministério do Turismo, 2015.
BATISTA, O.; CACHO, B.; MENDES, L.; SOARES, A. Aplicativos Móveis e Turismo: Um Estudo Quantitativo Aplicando a Teoria do Comportamento Planejado. Rosa dos Ventos - Turismo e Hospitalidade, 2017.
BORGES, P.; GUIMARÃES, S. E-turismo: Internet E Negócios Do Turismo. São Paulo: Cengage Learning , 2008.
CAI, S.; XU, Y. Designing not just for pleasure: Effects of web site aesthetics on consumer shopping value. International Journal of Electronic Commerce, 2011. DOI: https://doi.org/10.2753/JEC1086-4415150405
DAN, W.; XIANG, Z.; FESENMAIER, D. Adapting to the mobile world: a model of smartphone use. Annals of Tourism Research, 2014.
FANG, J.; ZHAO, Z.; WEN, C.; WANG, R. Design and performance attributes driving mobile travel application engagement. 2017. DOI: https://doi.org/10.1016/j.ijinfomgt.2017.03.003
FARIAS, A.; CRUZ, C.; RAMOS, É.; BELÉM, J.; SOUZA, L. MORISSON, A. Comunicação Intera¬tiva: Aplicativo para Dispositivos Móveis voltados ao Turismo em Belém do Pará. Inter¬com, 2013.
FECOMERCIO/IFPEAM. Comportamento Do Turismo Na Região Metropolitana De Manaus. Relatório Mensal Da Pesquisa Do Comportamento Do Turismo Na Região Metropolitana De Manaus, Ano 2019 - N° 07, 2019.
Gil, A. Métodos e técnicas de pesquisa social, Atlas, 2014
GUIMARÃES, M.; MAIA, K.; OLIVEIRA, S. Centro Histórico de Manaus/AM: Subsídios para o reordenamento turístico, 2020.
LEE, S.; HA, S.; WIDDOWS, R.; Consumer responses to high-technology products: Product attributes, cognition, and emotions, Journal of Business Research, 2011. DOI: https://doi.org/10.1016/j.jbusres.2011.06.022
MANAUSCULT. Portal GuiaTur. ManausCult, 2022. (https://guiatur.manaus.am.gov.br/)
NASCIMENTO, L. Número de turistas em viagem pelo Brasil cresce em 2019. Ministério do Turismo, 2020.
NORMAN, D. Design emocional: por que adoramos (ou detestamos) os objetos do dia a dia. Rio de Janeiro: Rocco, 2008.
NUNES, M.; MAYER, V. Mobile technology, games and nature areas: The tourist perspective. TMStudies, Faro, 2014.
WANG, D.; PARK, S.; FESENMAIER, D. The role of smartphones in mediating the touristic experience. Journal of Travel Research, 2012. DOI: https://doi.org/10.1177/0047287511426341
WTTC. Benchmarking Travel & Tourism – Global Summary. World Travel & Tourism Council, 2019.
YIN, R. Estudo de Caso: Planejamento e Métodos. Porto Alegre/RS: Editora Bookman, 2015.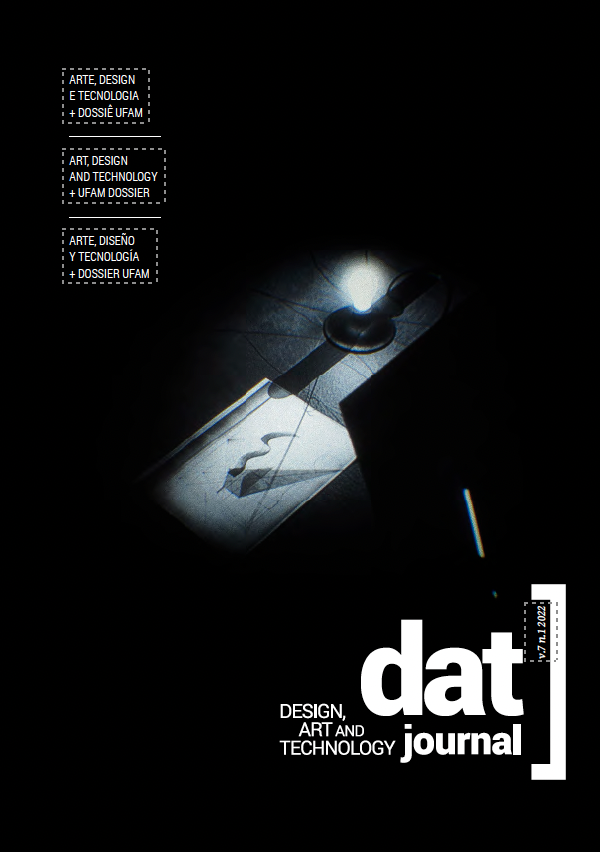 Downloads
How to Cite
Brito, M., & Pacheco, K. M. M. (2022). Design, tourism and technology: market and the need to use mobile technology to help tourism in Manaus. DAT Journal, 7(1), 280–290. https://doi.org/10.29147/datjournal.v7i1.584
Section
Dossiê PPG Design UFAM
License
This work is licensed under a Creative Commons Attribution 4.0 International License.