Privacy by design and the privacy aspects of personal data in the context of inclusive design and services
Keywords:
Diseño de servicios, Diseño inclusivo, Tecnología, Diseño centrado en el usuario, Privacidad por diseño
Abstract
This article presents the result of a study that sought to identify conducts, techniques and good practices related to data privacy, which can be incorporated into the user-centered process, within the scope of service design and inclusive design, using the Internet of Things (IoT). It is important to identify new guidelines that can be incorporated into service design and inclusive design. This study was supported by a Systematic Bibliographic Review, covering 150 articles in a 5-year period (2017-2021), in the Web of Science databases, Scopus databases and the Periodic Journal Portal of CAPES. As a result, it brings a list of recommendations for good practices that can be adopted in design processes, especially to the Privacy by Design (PbD) framework.
Downloads
Download data is not yet available.
References
ABDUL-GHANI, Hezam Akram; KONSTANTAS, Dimitri. A comprehensive study of security and privacy guidelines, threats, and countermeasures: An IoT perspective. Journal of Sensor and Actuator Networks, v. 8, n. 2, p. 22, 2019.
BENDER, Jacqueline Lorene et al. Ethics and privacy implications of using the internet and social media to recruit participants for health research: A privacy-by-design framework for online recruitment. Journal of Medical Internet Research, v. 19, n. 4, p. e7029, 2017.
BRASIL. Lei 13.709 de 14 de agosto de 2018. Dispõe sobre a proteção de dados pessoais e altera a Lei nº 12.965, de 23 de abril de 2014 (Marco Civil da Internet). Diário Oficial da República Federativa do Brasil, 15 ago. Disponível em http://www.planalto.gov.br/ccivil_03/_Ato2015-2018/2018/Lei/L13709.htm, last accessed 2019/20/10.
BU, Fei et al. Motivating information system engineers' acceptance of Privacy by Design in China: An extended UTAUT model. International Journal of Information Management, v. 60, p. 102358, 2021.
CAVOUKIAN, Ann. Privacy by design [leading edge]. IEEE Technology and Society Magazine, v. 31, n. 4, p. 18-19, 2012.
CHAUDHURI, Abhik; CAVOUKIAN, Ann. The proactive and preventive privacy (3P) framework for IoT privacy by design. Edpacs, v. 57, n. 1, p. 1-16, 2018.
CONFORTO, Edivandro Carlos; AMARAL, Daniel Capaldo; SILVA, SL da. Roteiro para revisão bibliográfica sistemática: aplicação no desenvolvimento de produtos e gerenciamento de projetos. In VIII Congresso Brasileiro de Gestão de Desenvolvimento de Produto. Porto Alegre, RS, Brasil, v. 8, 2011.
DIVER, Laurence; SCHAFER, Burkhard. Opening the black box: Petri nets and Privacy by Design. International Review of Law, Computers & Technology, v. 31, n. 1, p. 68-90, 2017.
EFRAIMIDIS, Pavlos S. et al. A privacy-by-design contextual suggestion system for tourism. Journal of Sensor and Actuator Networks, v. 5, n. 2, p. 10, 2016.
FRANCELIN, Marivalde Moacir. Fichamento como método de documentação e estudo. SILVA, JFM, 2016.
GEA, Tomas et al. Smart cities as an application of internet of things: Experiences and lessons learnt in barcelona. In: 2013 Seventh International Conference on Innovative Mobile and Internet Services in Ubiquitous Computing. IEEE, 2013. p. 552-557.
GOMES, D.; QUARESMA, M. Introdução ao design inclusivo. Appris, Curitiba, 2018.
HERNANDEZ-RAMOS, Jose L.; BERNABÉ, Jorge Bernal; SKARMETA, Antonio. ARMY: architec ture for a secure and privacy-aware lifecycle of smart objects in the internet of my things. IEEE Communications Magazine, v. 54, n. 9, p. 28-35, 2016. LOWDERMILK, Travis. Design Centrado no Usuário. Novatec, São Paulo, 2013.
MATTOS, P. D. C. Tipos de Revisão de Literatura. Unesp, Botucatu, 2015. https://www.fca.unesp.br/Home/Biblioteca/tipos-de-evisao-de-literatura.pdf, last accessed 2021/05/10.
DE OLIVEIRA, Nairobi et al. Segurança da informaçao para internet das coisas (iot): uma abordagem sobre a lei geral de proteçao de dados (lgpd). Revista Eletrônica de Iniciação Científica em Computação, v. 17, n. 4, 2019.
PADYAB, Ali; STÅHLBRÖST, Anna. Exploring the dimensions of individual privacy concerns in relation to the Internet of Things use situations. Digital Policy, Regulation and Governance, 2018.
PERERA, Charith et al. Privacy-by-design framework for assessing internet of things applications and platforms. In: Proceedings of the 6th International Conference on the Internet of Things. 2016. p. 83-92.
PORAMBAGE, Pawani et al. The quest for privacy in the internet of things. IEEE Cloud Computing, v. 3, n. 2, p. 36-45, 2016.
ROGERS, Yvonne; SHARP, Helen; PREECE, Jennifer. Design de interação. Bookman Editora, 2013.
PREUVENEERS, Davy; JOOSEN, Wouter. Security and privacy controls for streaming data in extended intelligent environments. Journal of Ambient Intelligence and Smart Environments, v. 8, n. 4, p. 467-483, 2016.
PRODANOV, Cleber Cristiano; DE FREITAS, Ernani Cesar. Metodologia do trabalho científico: métodos e técnicas da pesquisa e do trabalho acadêmico. 2ª Edição. Editora Feevale, 2013.
ROBLES, Tomás et al. Enabling trustworthy personal data protection in eHealth and well- -being services through privacy-by-design. International Journal of Distributed Sensor Networks, v. 16, n. 5, p. 1550147720912110, 2020.
ROMANOU, Anna. The necessity of the implementation of Privacy by Design in sectors where data protection concerns arise. Computer law & security review, v. 34, n. 1, p. 99-110, 2018.
ROMERO, Santiago Martín-Romo; DE-PABLOS-HEREDERO, Carmen. Contribution of Privacy by Design (of the Processes). Harvard Deusto Business Research, v. 6, n. 3, p. 176-191, 2017.
SAMPIERI, R. H.; COLLADO, C. F.; LUCIO M. D. P. B. Metodologia de Pesquisa. 5. Ed. Porto Alegre: Editora Penso, 2013.
SCAVONI, G. dos S., & BÜHRING, M. A. Uma ótica sobre cidades inteligentes. RJLB, Ano 7, nº 4, p. 655-701, 2021.
SCHARTUM, Dag Wiese. Making privacy by design operative. International Journal of Law and Information Technology, v. 24, n. 2, p. 151-175, 2016.
SEDENBERG, Elaine; CHUANG, John; MULLIGAN, Deirdre. Designing commercial therapeutic robots for privacy preserving systems and ethical research practices within the home. International Journal of Social Robotics, v. 8, n. 4, p. 575-587, 2016.
SEMANTHA, Farida Habib et al. A systematic literature review on privacy by design in the healthcare sector. Electronics, v. 9, n. 3, p. 452, 2020.
AN, Seyun; KIM, Sungwhan; KIM, Soyeon. Necessity of the Needs Map in the Service Design for Smart Cities. Frontiers in Psychology, v. 11, p. 202, 2020.
STICKDORN, Marc; SCHNEIDER, Jakob. Isto é design thinking de serviços: fundamentos, ferramentas, casos. Bookman Editora, 2014.
WAHLSTROM, Kirsten et al. Privacy by design. Australasian Journal of Information Systems, v. 24, 2020.
ZAMAN, Bieke. Designing technologies with and for youth: Traps of privacy by design. Media and Communication, v. 8, n. 4, p. 229-238, 2020.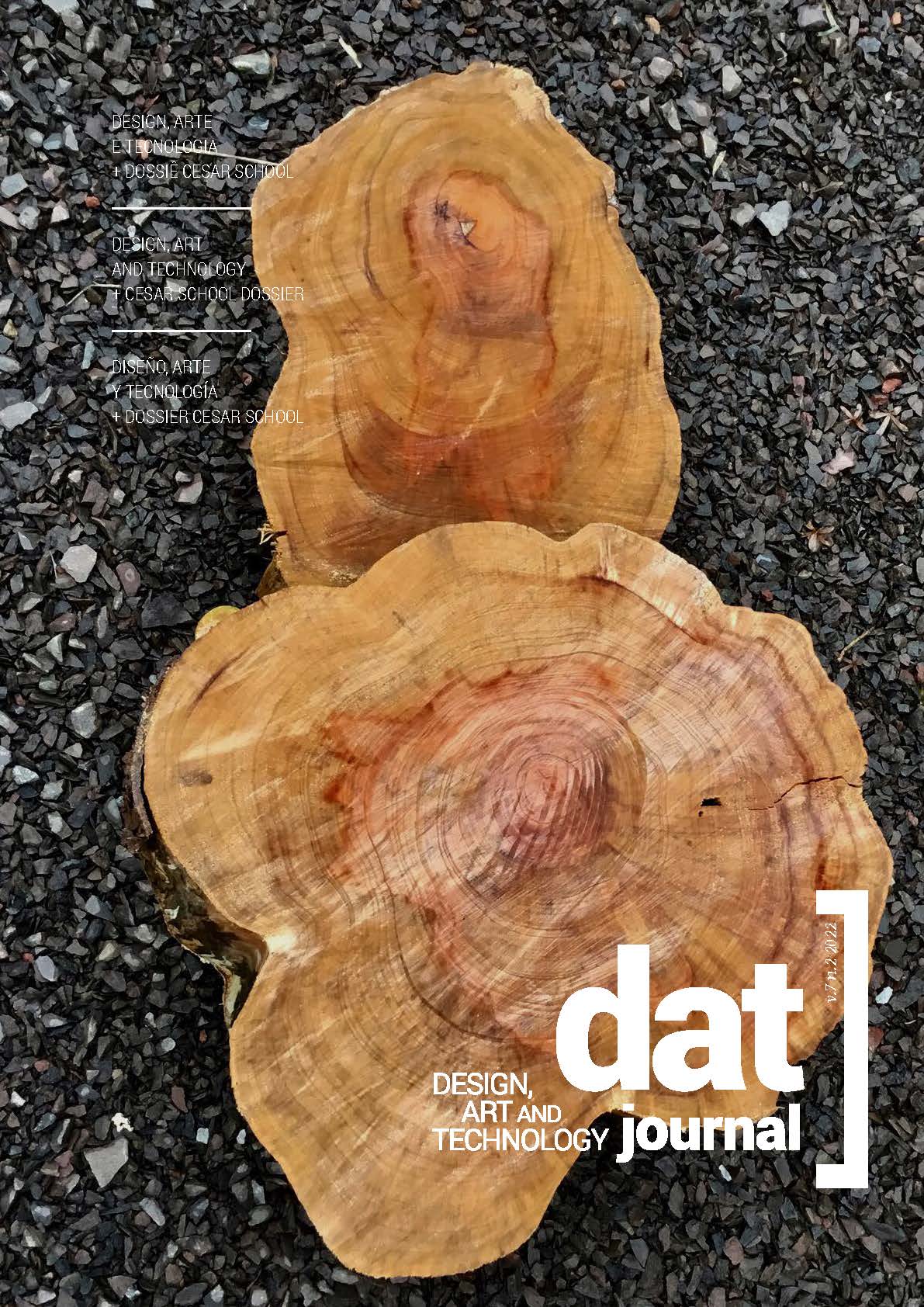 Downloads
How to Cite
Oliveira, R. D. de, Barbosa, M. L. de A., Klein, A. A., Kistmann, V. B., & Okimoto, M. L. L. R. (2022). Privacy by design and the privacy aspects of personal data in the context of inclusive design and services. DAT Journal, 7(2), 179–197. https://doi.org/10.29147/datjournal.v7i2.613
Section
Design, Art and Technology
License
This work is licensed under a Creative Commons Attribution 4.0 International License.