Processing of Banana Fibers: conservation, softening and dyeing
Keywords:
Banana fibers, Fiber dyeing, Fiber treatment, Crafts
Abstract
Banana pseudostem substrates are materials commonly used in handicrafts throughout Brazil. However, there are still limitations in its application, both due to the susceptibility to attack by fungi and insects and the availability of colors. In this sense, the aim of this article is to present the development of processes for processing banana pseudostem materials, particularly aimed at conservation, softening and coloring. The development focused on the needs and possibilities of a group of artisans from the region of Corupá/SC. Some theoretical aspects about the characteristics, processing and use of this material are discussed. Next, empirical practices are presented, carried out in laboratories with specific materials for textile processing. The results indicate that the processes of conservation with saline solution, softening and dyeing with textile dyes are effective, resistant and easily applicable. It is concluded that the development has the potential to expand the diversity of artifacts and applications of the material, collaborating with the improvement of income for the families of banana growers.
Downloads
Download data is not yet available.
References
ASSOCIAÇÃO BRASILEIRA DE NORMAS TÉCNICAS. NBR ISO 105-X12: Ensaios de solidez da cor Parte X12: Solidez À Fricção). 2 ed. Rio de Janeiro: ABNT, 2019. 5 p.
ASSOCIAÇÃO BRASILEIRA DE NORMAS TÉCNICAS. NBR ISO 105-E4: Têxteis-Ensaio da solidez da cor parte E-4: Solidez da cor ao suor. 2 ed. Rio de Janeiro: ABNT, 2014. 9 p.
ASSOCIAÇÃO BRASILEIRA DE NORMAS TÉCNICAS. NBR ISO 105-C06: Têxteis – Ensaios de solidez da cor – Parte C06: Solidez da cor à lavagem doméstica e comercial. 2 ed. Rio de Janeiro: ABNT, 2010. 14 p.
ASSOCIAÇÃO BRASILEIRA DE NORMAS TÉCNICAS. ABNT NBR ISO 105 – B01: Solidez da cor à luz: Luz do dia. 1 ed. Rio de Janeiro: ABNT, 2009. 16 p.
AGUIAR NETO, Pedro Pita. Fibras Têxteis. Rio de Janeiro: Cetiqt/Senai, 1996. 2 v.
ATHAYDE, Carolina Sampaio. Análise dos resíduos gerados pela bananicultura como possível fonte de geração de energia. 2014. 99 f. Dissertação (Mestrado) - Curso de Engenharia Química, Engenharia Química, Universidade Federal de Minas Gerais, Belo Horizonte, 2014. Disponível em: https://repositorio.ufmg.br/handle/1843/BUBD-9UNHAF. Acesso em: 19 mar. 2020.
BROADBENT, Arthur D. Basic Principles of Textile Coloration. Sherbrooke: Society of Dyers and Colourists, 2001. 568 p.
DEMARCHI, Carlos Alberto. Aplicabilidade de placas de fibra de bananeira: caracterização, produção e absorção sonora. 2010. 106 fl. Dissertação de Mestrado em Engenharia de Edificações e Saneamento – Universidade Estadual de Londrina, Londrina, 2010.
FAO-ONU (org.). Crops and livestock products. 2020. Disponível em: http://www.fao.org/faostat/en/#data/QC/visualize. Acesso em: 07 ago. 2022.
MARCONI, Marina de Andrade; LAKATOS, Eva Maria. Metodologia científica. 8a. ed. Barueri: Atlas, 2022.
MILES, Leslie W. C. (ed.). Textile Printing. 2ª. ed. Manchester: Amer Assn of Textile, 2003. 340 p.
ONU. Organização das Nações Unidas. Transformando Nosso Mundo: A Agenda 2030 para o Desenvolvimento Sustentável. 2015. Disponível em: <https://nacoesunidas.org/ pcontent/uploads/2015/10/agenda2030-pt-br.pdf >. Acesso em 17.out.2019.
ROCHA, Quédina Martins. Artesanato em Palha de Bananeira. In: VALADÃO, Lúcio Taveira; LUZ, Ricardo de Magalhães; NAKAMURA, Wilson (Org.). Caderno de inovações tecnológicas: espaço de valorização da agricultura familiar. Brasília: Emater, 2010. Cap. 3. p. 17-19.
SCHINDLER P. J.; HAUSER, W. D. Chemical finishing of textiles. Cambridge: Woodhead Publishing Ltd, 2004. 213 p.
TARACHUCKY, Edílson Bories. Beneficiamento de materiais do pseudocaule da bananeira para a associação dos bananicultores de Corupá - SC. 2021. 70 f. Relatório Técnico (Mestrado) - Curso de Mestrado Profissional em Design, Universidade da Região de Joinville, Joinville, 2019.
XU, Shuying et al. Microstructural, Thermal, and Tensile Characterization of Banana Pseudo-stem Fibers Obtained with Mechanical, Chemical, and Enzyme Extraction. BioResources vol. 10 n.2. 2015.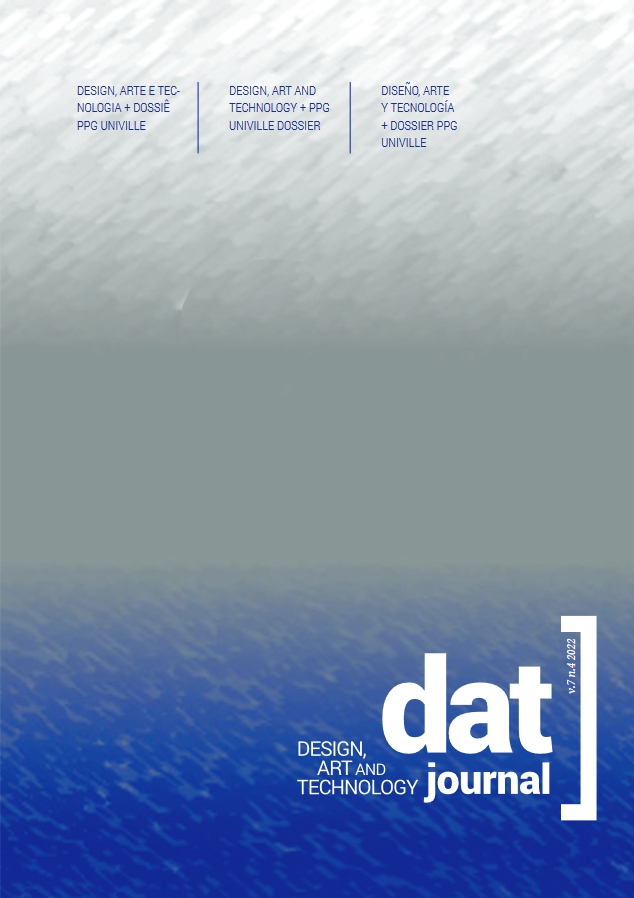 Downloads
How to Cite
Tarachucky, E. B., Silva, D. C., Picolli, H. H., & Müller, E. (2022). Processing of Banana Fibers: conservation, softening and dyeing. DAT Journal, 7(4), 214–233. https://doi.org/10.29147/datjournal.v7i4.661
Section
PPG Univille Dossier
License
Copyright (c) 2022 DAT Journal
This work is licensed under a Creative Commons Attribution 4.0 International License.