Design and product portfolio management
Keywords:
Design, Visual management, Product portfolio, Competitive strategies
Abstract
This article aims to provide reflections related to the attribution of the Industrial Designers in portfolio management and product strategies, transcending their focus on product development only  and transiting in the analysis of results of those strategies. It was verified the existence of an alignment between Design methods and monitoring of product performances, having as a background the product portfolio management. For the work development, the method of systematic bibliographic review was used, which sought to answer the question: "do the classic methods of Design help in the post-project follow-up?". As a result, the reflection comprises the breaking of a projectual barrier and the insertion of the designer as a strategic agent capable of providing a competitive differential, contributing to the product portfolio management, using their technical knowledge and their considerations and views about the systemic process of the organization's results, in the strategies alignment that bring the competitive differential focused on the attributes and mainly on the positioning of the products in the moving market.
Downloads
Download data is not yet available.
References
BAXTER, M. Projeto de produto: guia prático para o design de produto. São Paulo: Blucher, 2011.
BROWN, T. Design Thinking: uma metodologia poderosa para decretar o fim das velhas ideias. Rio de janeiro: Elsevier, 2010.
BÜRDEK, B. E. História, teoria e prática do design de produtos. São Paulo: Edgar Blücher, 2006.
COSTA, E. A. D. Gestão estratégica. São Paulo: Saraiva, 2006.
DURAND. D. D. T. Análise do portfólio de produtos: um estudo de caso. 2005. Dissertação (Dissertação em Engenharia de Produção) - São Paulo: Escola Politécnica da Universidade de São Paulo, 2005.
GOVINDARAJAN, V. O desafio da inovação: fundamentos para construir empresas inovadoras em meio a incertezas e complexidades. Rio de Janeiro: Elsevier, 2014.
IBGE. Diretoria de Pesquisas, Coordenação de Serviços e Comércio. Pesquisa de inovação: 2014. PINTEC: 2014. IBGE: Rio de Janeiro, 2016.
IBGE. Diretoria de Pesquisas, Coordenação de Serviços e Comércio. Pesquisa de inovação: 2017. PINTEC: 2017. IBGE: Rio de Janeiro, 2020.
JOHNSON, S. De onde vêm as boas ideias. Rio de Janeiro: Zahar, 2011.
KOTLER, P. Administração de marketing: a edição do novo milênio. São Paulo: Pearson Prentice Hall, 2000.
MUNARI, B. Das coisas nascem coisas. São Paulo: Martins Fontes, 1998.
OCDE. Manual de Oslo: diretrizes para a coleta e interpretação de dados sobre inovação tecnológica. 3. ed. [S.l.]: Publicado pela FINEP (Financiadora de Estdos e Projeto), 2006.
PORTER, M. Estratégia competitiva. Técnicas para análise de indústrias. Rio de janeiro: Elsevier, 2005.
SCHERER, F. O.; SELISTRE, M. Gestão da inovação na prática: como aplicar conceitos e ferramentas para alavancar a inovação. São Paulo: Carlomagno, 2016.
UOTANI, M. M.; HAMZA, K. M.; BONTEMPO, C. P. Ferramentas de gestão de portfólio e suas contribuições para a elaboração de estratégias de crescimento e estratégias competitivas – Estudo de caso. Revista Jovens Pesquisadores, 21, p. 63-85, jul./ dez. 2014.
VIANNA, M. et al. Design thinking: inovação em negócios. Rio de Janeiro: MJV Press, 2012.
WDO. Definition of Industrial Design. 2015. Disponível em: <https://wdo.org/about/definition/>. Acesso em: 10 set 2022.
ZILLNER, S.; KRUSCHER, B. A arte da inovação conduzindo o futuro das organizações. [S.l.]: School of International Business and Entrepreneurship, 2014.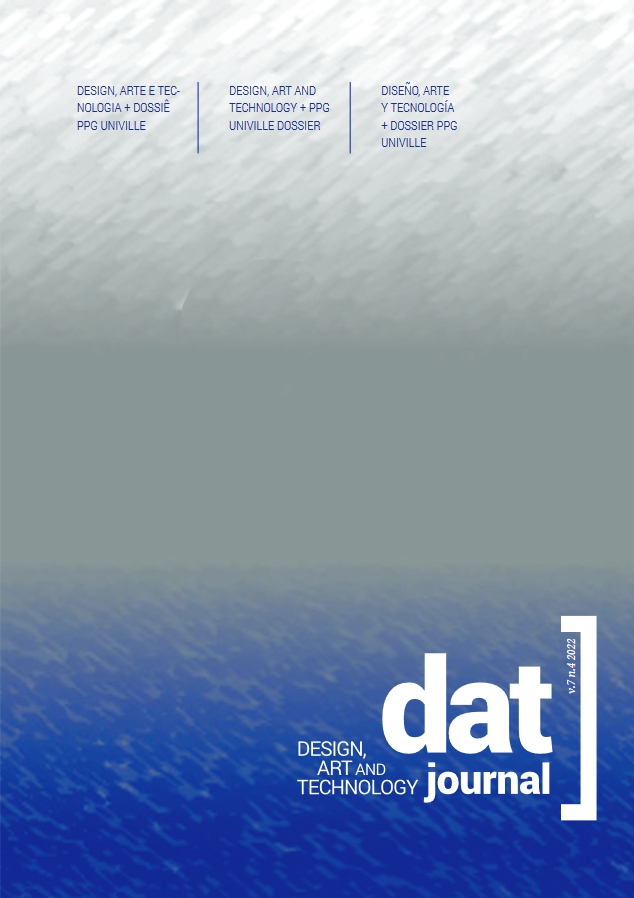 Downloads
How to Cite
de Souza, G. L., & Shibata Santos, A. S. (2022). Design and product portfolio management. DAT Journal, 7(4), 234–253. https://doi.org/10.29147/datjournal.v7i4.667
Section
PPG Univille Dossier
License
Copyright (c) 2022 DAT Journal
This work is licensed under a Creative Commons Attribution 4.0 International License.