Interactive Digital Images
From Simulacrum to Immersion
Keywords:
Interactive Digital Image, Simulacrum, Simulation, Perception, Immersion
Abstract
This paper presents a theoretical and poetic research on interactive digital images, a very broad group of visual objects characterized mainly by their power to react to the viewer with whom it relates. Considering the context of the digitalization process in contemporary society, we analyze interactive images under the concept of simulacrum, an image without an original matrix. This process associates a perceptive proposal that aims to find the objects in an intuitive way. This intense connection guides us towards a new approach to the concept of immersion, which we comprehend in this work as an immediate relation between subject and interactive digital image. These discussions unfolded in a poetic effort - the REM game, whose development was guided by methods of design that aim to think and conceive virtual objects.
Downloads
Download data is not yet available.
References
Aumont, Jacques. A Imagem. Campinas: Papyrus, 1993.
Baudrillard, Jean. Simulacros e Simulação. Lisboa: Relógio d'água. 1991.
Bergson, Henri. Matéria e Memória. São Paulo: Martins Fontes. 2011.
Brown, E., and Cairns, P. A grounded investigation of game immersion. The ACM Conference on Human Factors in Computing Systems 2004, Viena. Proceedings Nova Iorque: ACM Press, 2004. pp. 1279-1300
Couchot, Edmond. Da Representação à Simulação. PARENTE, André (org.). Imagem Máquina: A era das tecnologias do virtual. Rio de Janeiro: Editora 34, 1993. pp. 37-47
Deleuze, Gilles. Bergsonismo. São Paulo: Editora 34, 2008.
Deleuze, Gilles. (2000) Platão e o Simulacro. Lógica do Sentido. São Paulo: Editora Perspectiva, 2000. pp. 259-271
Deleuze, Gilles, and Guattari, Félix. Mil Platôs: Capitalismo e Esquizofrenia. Vol. 5. São Paulo: Ed. 34, 1997.
Deleuze, Gilles, and Parnet, Claire. Diálogos. São Paulo: Escuta, 1998.
Gere, Charlie. Digital Culture. London: Reaktion Books, 2008.
Grau, Oliver. Arte Virtual: Da Ilusão à Imersão. São Paulo: Editora Unesp: Editora Senac, 2007.
Murray, Janet H. Hamlet no Holodeck: O Futuro da Narrativa no Ciberespaço. São Paulo: Itaú Cultural: Editora Unesp, 2003.
Perniola, Mario. Pensando o Ritual: Sexualidade, Morte, Mundo. São Paulo: Studio Nobel, 2000.
Prado, Gilbertto. Arte telemática: dos intercâmbios pontuais aos ambientes virtuais multiusuário. São Paulo: Itaú Cultural, 2003.
Rossi, Dorival C. Transdesign: Folias da Linguagem. Anarquia da Representação. Um Estudo Acerca dos Objetos Sensíveis. 2003. 343f. Tese (Doutorado em Comunicação e Semiótica) – Estudos Pós-Graduados em Comunicação e Semiótica, Pontifícia Universidade Católica de São Paulo, São Paulo. 2003.
Villela-Petit, Maria da P. (2003) Platão e a Poesia na República. KRITERION. Belo Horizonte, nº 107, Jun/2003, pp.51-71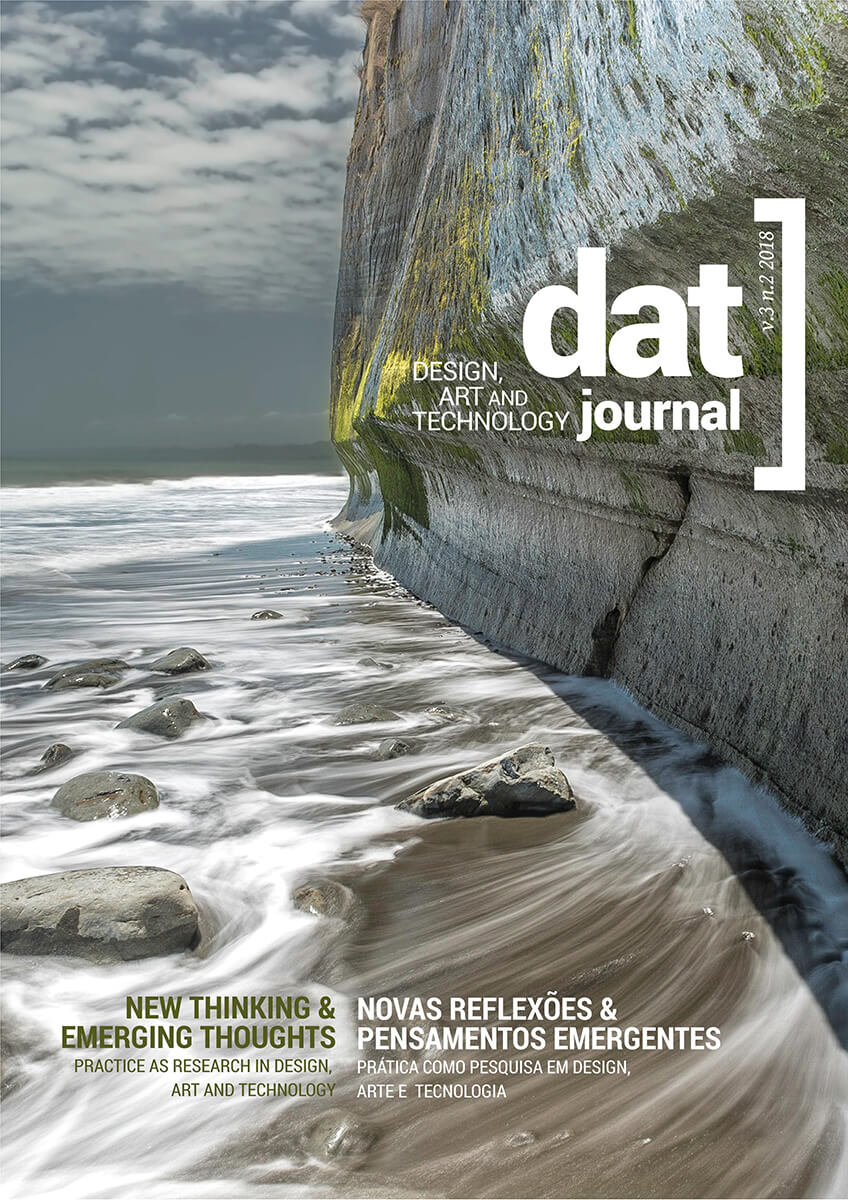 Downloads
How to Cite
Lima, L., & Prado, G. (2018). Interactive Digital Images: From Simulacrum to Immersion. DAT Journal, 3(2), 43–71. https://doi.org/10.29147/dat.v3i2.86