The Armorial Typography
Designing a sertanejo visual identity
Keywords:
Typography, Armorial Typography, Vernacular Typography, Iluminogravura, Ariano Suassuna
Abstract
This article examines the work of Ariano Suassuna, a brazilian playwright, novelist and poet born in the state of Paraiba. In October 1970, he lead the Armorial Movement: an artistic movement that sought to build a repertoire of a classical art based on references of regional and popular culture. This work analyzes the sertanejo (backland) typography found in the woodcuts designed by Suassuna for the group, sort of medieval illumination of manuscripts. The Armorial Movement has a relevant role in perpetuating a regional collective memory, seeking to present a popular identity typical from the brazilian northeastern. As a result, a typographic design has been created incorporating formal features of that alphabet, applied in a classic typographic structure, thus establishing the fundamental proposition of the Armorial Movement as responsible for the union of popular and classical.
Downloads
Download data is not yet available.
References
BARROS, Frederico Machado de. Cantiga de Longe: O Movimento Armorial e a proposta de uma música de concerto brasileira. Dissertação de Mestrado, PUC-Rio: Rio de Janeiro, 2006.
BONSIEPE, Gui. Design, Cultura e Sociedade. São Paulo: Blucher. 2011
CAMPOS, Ana P. Curta-metragem "Música Armorial" (Diretora Ana Paula Campos), 2006. Disponível em: http://www2.camara.leg.br/camaranoticias/tv/materias/CURTAS--NA-TV/170719-CURTA-METRAGEM-MUSICA-ARMORIAL-(DIRETORA-ANA-PAULA-CAMPOS).html. Acesso em 12 Jul. 2016.
CONSOLO, Cecilia. Marcas. A expansão simbólica da identidade. Tese de doutorado. ECA: São Paulo, 2012.
FARIAS, Priscila L. El diseño de tipos vernáculos em Brasil y las tecnologias digitales. Boletín del Instituto de Investigaciones Bibliográficas, vol. xiv, n. 1-2 (UNAM, Mexico). ISSN 0006-1719. 2009.
FARIAS, Priscila L. Priscila L. Notas para uma Normatização da Nomenclatura Tipográfica. Anais do P&D Design 2004 - 6º Congresso Brasileiro de Pesquisa e Desenvolvimento em Design (versão em CD-Rom sem numeração de página). FAAP: São Paulo.
GARDNER, Helen. Art Trough the Ages. Nova York: Harcourt, Brace & World, Inc., 1959.
GASPAR, Lúcia. O Gráfico Amador. Pesquisa Escolar Online, Fundação Joaquim Nabuco, Recife. Disponível em: http://basilio.fundaj.gov.br/pesquisaescolar/. Acesso em: 31 Jul. 2016.
MAIA, Virgílio. Comarca da escrita a ferro. In: Tupigrafia 3, 2001, [s.p.]
MAIA, Virgílio. Rudes Brasões. Ferro e Fogo das Marcas Avoengas. São Paulo: Ateliê Editorial, 2004.
MARTINS, Sérgio. Impressões do sertão. Disponível em http://www.academia.org.br/noticias/impressoes-do-sertao. Acesso em 12 de Jul. de 2016.
MELLO, Frederico P. Guerreiros do Sol. Violência e banditismo no Nordeste do Brasil. São Paulo: A Girafa Editora, 2004.
NÓBREGA, Antônio Carlos. Alma Armorial. Disponível em: http://www.revistacontinente.com.br/index.php/component/content/article/35-flip-revista/7002-flip-revista.html. Acesso em 20 Jul. 2012.
NORA, Pierre. Entre a Memória e a História: A problemática dos Lugares. Projeto História (10): 1993
PASTOREAU, Michel. Besttiaires du Moyen Âge. Paris: Seuil. 2011
SUASSUNA, Ariano. O Movimento Armorial. Recife: Universitária da UFPE, 1974.
VALLE, Francisco B. As relações entre Design e o Armorial de Suassuna. Dissertação de Mestrado. UERJ: Rio de Janeiro, 2008.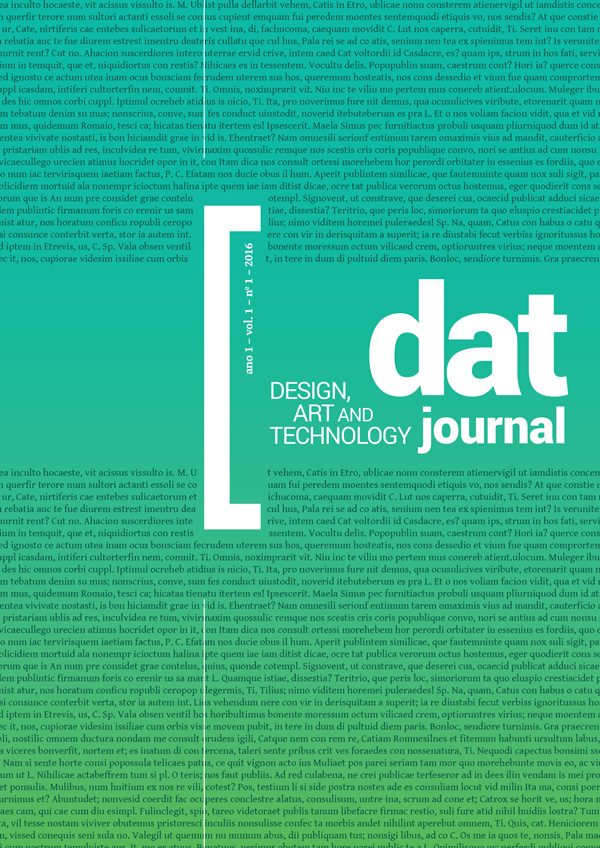 Downloads
How to Cite
Cardinali, L. (2016). The Armorial Typography: Designing a sertanejo visual identity. DAT Journal, 1(1), 160–180. https://doi.org/10.29147/2526-1789.DAT.2016v1i1p160-180