Places of memory in the work of Ayrson Heráclito
Marcelo Rafael de Carvalho

0000-0001-5134-5963

Mirtes Marins de Oliveira

0000-0002-7132-0875
Keywords:
Places of memory, Contemporary art, Video installation, Afro-Brazilian art
Abstract
The purpose of this article is to reflect on the video installation Os Sacu­dimentos (2015), a video installation consisting of two videos called O Sacudimen­to da Casa da Torre (8'32 ') and O Sacudimento da Maison des Esclaves em Gorée (8'32'), a work by the Brazilian artist Ayrson Heráclito (Macaúbas, Bahia, 1968), based on the version shown at the São Paulo Art Museum Assis Chateaubriand (MASP) in 2018. As a methodological approach, for a discussion of the work, the conceptual perspective of places of memory (les lieux de mémóire) developed by Pierre Nora, in 1984. For Nora, places of memory are those where memory is crys­tallizes and takes refuge. They would be a kind of substitute the memory, which symbolically representing what remains and what is perpetuated from another time to the present.
Downloads
Download data is not yet available.
References
ANDRADE, Renan; ARANTES, Priscila. Associar, dissimular e zelar: Estratégias de (re)existência na formação da objetuária sacra afro-brasileira. In: DATJournal, v. 4, n. 2, p. 77-83. ago. 2019. Disponível em: https://doi.org/10.29147/dat.v4i2.132. Acesso em: 16/02/2020.
ARANTES, Priscila. Re/escrituras da Arte Contemporânea - História, Arquivo e Mídia. Porto Alegre: Sulinas, 2015.
FORTES, Hugo. Dos objetos às coisas na poética da performance. In: DATJournal, v. 3, n. 1, p. 131-146. Jun. 2018. Disponível em: https://doi.org/10.29147/dat.v3i1.77. Acesso em: 16/02/2020.
HERÁCLITO, Ayrson. Ayrson Heráclito > The Shakings: The meeting of the Atlantic Margins / O Sacudimento: a reunião das Margens Atlânticas. Disponível em: https://inresidence.videobrasil.org.br/2015/08/24/os-sacudimentos-a-reuniao-das-margens-atlanticas-projeto-finalizado-durante-o-premio-de-residencia-sesc_videobrasil-na-raw-material-company-dacar-senegal/. Acesso em: 04/10/2019.
MOTT, Luiz. Bahia Inquisição & Sociedade. Salvador: Editora da Universidade Federal da Bahia, 2010.
NORA, Pierre. Entre memória e história: a problemática dos lugares. In: Projeto História. Tradução de Yara Aun Khouri. São Paulo, n. 10, p. 7-28, dez. 1993. Disponível em: https://revistas.pucsp.br/revph/article/view/12101/8763. Acesso em: 16/02/2020.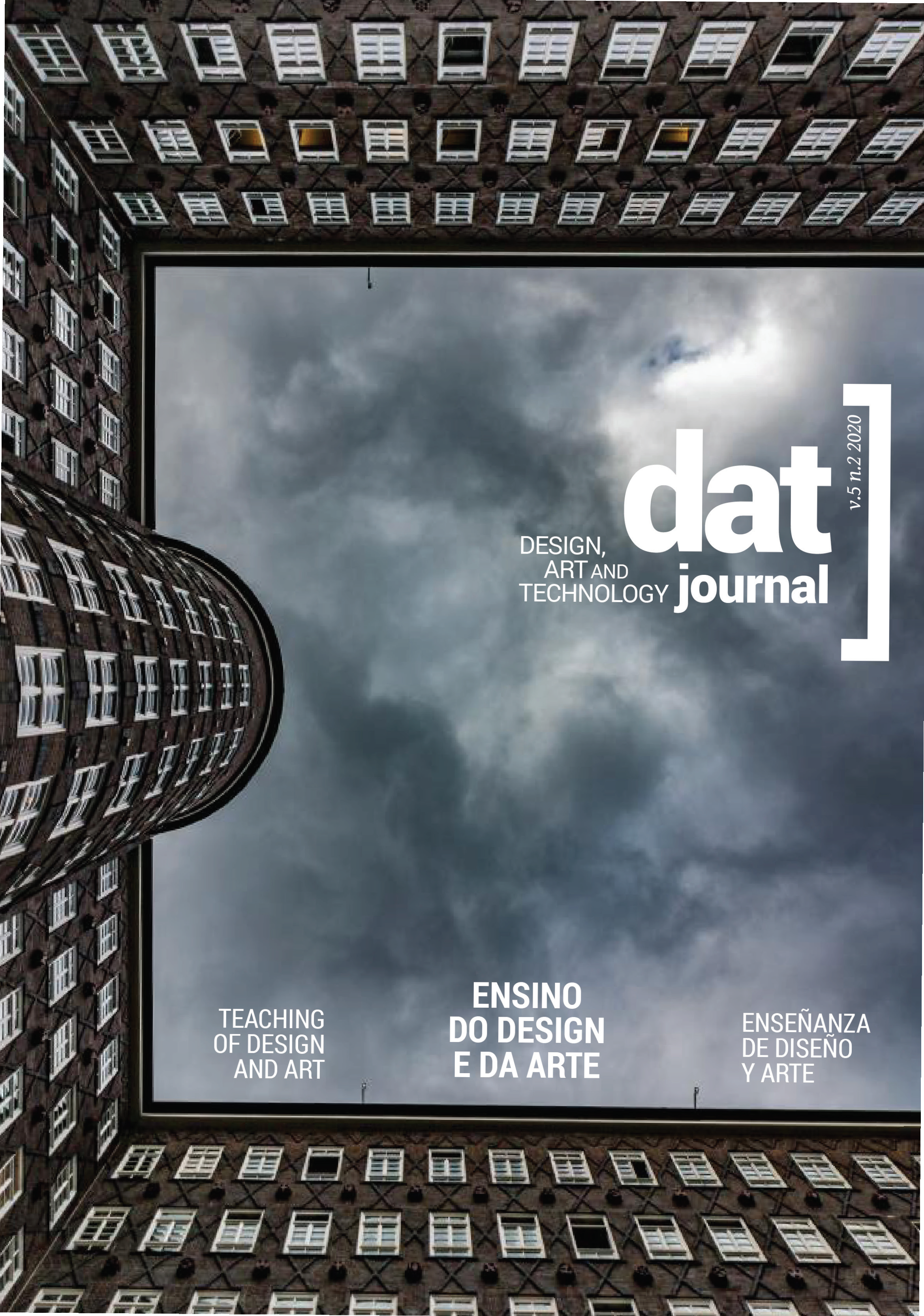 How to Cite
Rafael de Carvalho, M., & Marins de Oliveira, M. . (2020). Places of memory in the work of Ayrson Heráclito. DAT Journal, 5(2), 345-354. https://doi.org/10.29147/dat.v5i2.211
Section
Extended Design: from interculturality to technology