On relations between design, space and mediation
Keywords:
Design, Territory, Education, Space, Writing
Abstract
The research area Design, Space and Mediations, linked to the Postgraduate Program in Design of the University of Brasilia, proposes reflections on daily life and the configuration of space understanding its cultural aspects. The field of design is considered in friction with territories, with lifestyles and political actions. Aspects of cultural and ecological systems are the basis for studies on design as language. The city is thought on its multiplicity of territories, also as a constructed and imagined space, place of crystallization, old models and habits, in which lies the availability for dream, innovation, utopia, addressed in the research area by frictions between poetics, design and urban space. The educational role of such language mould is considered, as well as the different possibilities of information available in the city, that can be enhanced by artifacts. Thus, cities are viewed with its design artifacts, as a systemic, signaling and formal structure, seeking the process of emancipation and educational co-Participation
Downloads
Download data is not yet available.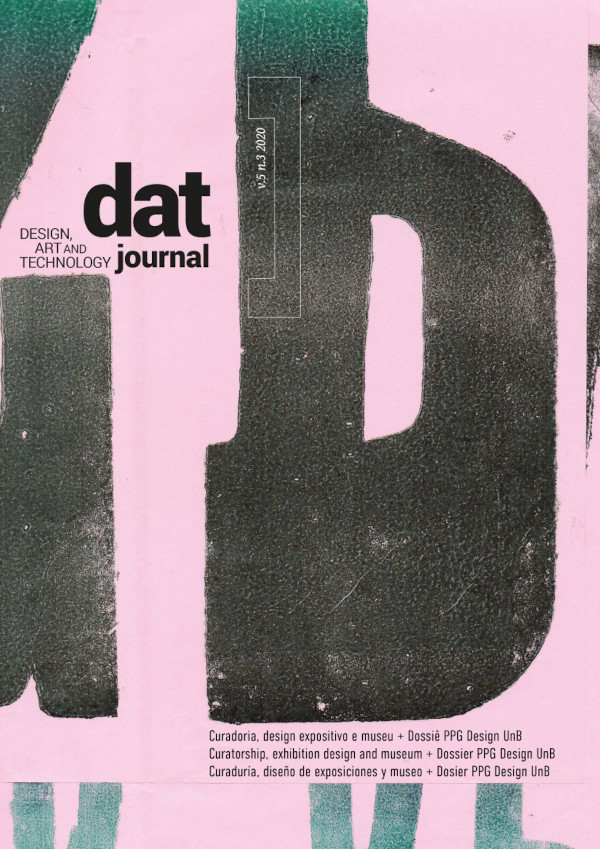 How to Cite
dos Santos, F. A. ., Cobbe Maass, M., & Camara, R. . (2020). On relations between design, space and mediation. DAT Journal, 5(3), 144-155. https://doi.org/10.29147/dat.v5i3.263
Section
Design research in the Brazilian Midwest: a portrait of the Postgraduate Program
This work is licensed under a Creative Commons Attribution 4.0 International License.