Soul sea waters
Abstract
This article presents the reflections of the artist researchers who authored the video work Águas de al-mar, for the PANORAMA EXPO exhibition at LABLUZ, a panoramic and sound device located in the Josep Renau showroom of the Faculty of Fine Arts of the Polytechnic University of Valencia, Spain, presented to the public in June 2021 at the VIII SIIMI/International Seminar on Innovation in Interactive Media, #20 ART and 8th Balance-Unbalance. The piece presents a succession of vid-
eo clips of the waters of Rio Grande do Norte, in a cinematic flow and metaphorical sound as emotions of the soul. The work is linked to the notions of expanded cinema and exhibition cinema, and is thought of in terms of their relationship with the cut, framing and scene in the audiovisual and with the options defined for the montage of the work, taking advantage of the horizontal frame cutout of the panoramic screen,among other issues.
Downloads
Download data is not yet available.
References
AUMONT, Jacques. A imagem. Campinas: Papirus Editora, 2004
EISENSTEIN, Sergei. A forma do filme. Rio de Janeiro: Jorge Zahar, 2002
FLUSSER. Willem. A filosofia da caixa preta. Rio de Janeiro, Relume Dumará, 2002
GRAU, Oliver. Virtual art, from Illusion to immersion. Cambridge, The MIT Press, 2003
MACIEL, Kátia (org.). Transcinemas. Rio de Janeiro: Contra Capa, 2009
MANOVICH. Lev. The language of the new media. Cambridge: MIT Press, 2001
MARIN, Louis. De la représentation. Paris, Seuil, 1993
MARIN, Louis. Des pouvoirs de l'image. Paris, Éditions du Seuil, 1993
MARKS, Laura U. Marks. The Skin of the Film: Intercultural Cinema, Embodiment, and
the Senses. Durham: Duke University Press, 2000
MARKS, Laura U. Marks. Touch: Sensuous Theory and Multisensory Media. Minneapolis:
Minnesota University Press, 2002.
MERLEAU-PONTY. Fenomenologia da percepção. São Paulo, Martins Fontes,1994
MILETTO, E.M. et al. Minicurso: Introdução à Computação Musical. In:"Anais do IV Congresso Brasileiro de Computação ", pp. 883-902. Congresso Brasileiro de Computação, 4. Itajaí, SC: Editora da Universidade do Vale do Itajaí (UNIVALI) 2004. Acessível em: http://www.inf.ufrgs.br/lcm/site_arquivos/textos/aula1/CMintro2.pdf
PARENTE, A. Cinema de exposição: o dispositivo em contra/campo in Revista Poiésis, n. 12, nov. 2008. Niterói: Programa de Pós-Graduação em Estudos Contemporâneos das Artes da Universidade Federal Fluminense, 2008, p. 51-63. Acessível em: https://periodicos.uff.br/
poiesis/article/view/26944/15652
PARENTE, A. Cinemáticos: tendências do cinema de artista no Brasil. Rio de Janeiro: +2 editora, 2013 Águas de al-mar 219 DATJournal v.6 n.3 2021
SALLES, Laurita R. de. Imagem: lógica para a visibilidade e interatividade, artigo in Anais do XXIII Encontro Nacional de Pesquisadores em Artes Plásticas [recurso eletrônico]: ecossistemas artísticos / Afonso Medeiros, Lucia Gouvêa Pimentel, Idanise Hamoy, Yacy-Ara Fro- ner (orgs.) – Belo Horizonte : ANPAP; Programa de Pós-graduação em Artes - UFMG, 2014 , p. 1077 a 1091. Acessível em: http:// anpap.org.br/anais/2014/Comit%C3%AAs/3%20PA/Laurita%20Ricardo%20de%20Salles.pdf
SIQUEIRA, Ana Paola Vianna Ottoni de. Cinema expandido : experiências cinemáticas no território das artes visuais / Ana Paola Vianna Ottoni de Siqueira. - 2019. 85 f.: il. Monografia (licenciatura) - Universidade Federal do Rio Grande do Norte. Centro de CiênciasHumanas, Letras e Artes. Licenciatura em Artes Visuais, Natal, 2019. Orientadora: Prof.a Dr.a Regina Helena Johas.
SCHOENBERG, Arnold: Fundamentals of Musical Composition, 1993.
SCHAEFFER, Pierre: Tratado de los objetos musicales. Madri: Alianza Editorial, 1996
SOBCHACK, Vivian. Carnal Thoughts, embodiement and moving image culture. Berke- ley, University of California Press, 2004
SOBCHACK, Vivian. The Adress of the eye: a Phenomenology of film experience. Princeton, Princeton University Press, 1992
XAVIER, Ismail. O olhar e a cena. São Paulo: Cosac & Naify, 2003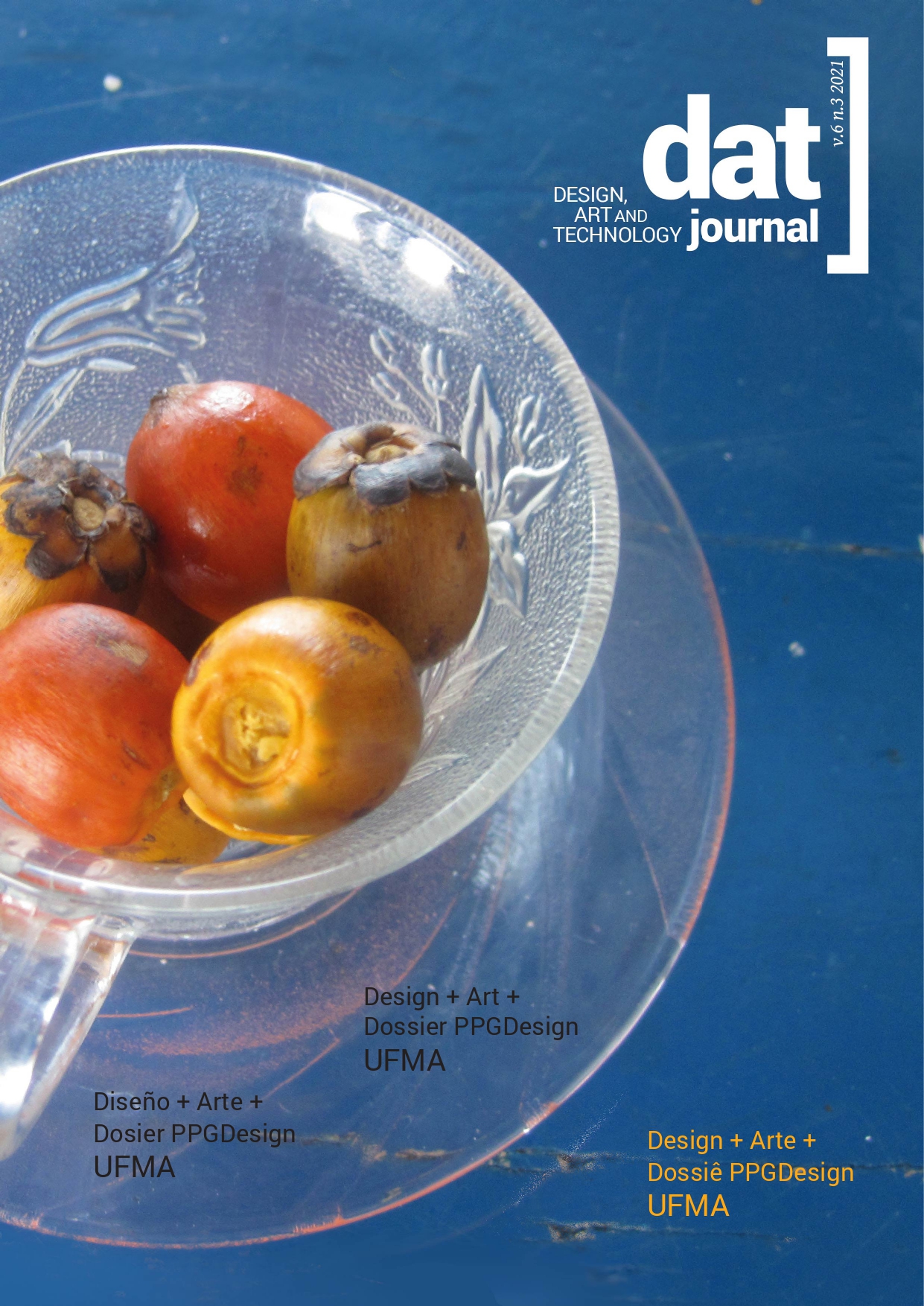 Downloads
How to Cite
Salles, L. R. de ., & Pereira, L. M. . (2021). Soul sea waters. DAT Journal, 6(3), 205–219. https://doi.org/10.29147/dat.v6i3.449
License
This work is licensed under a Creative Commons Attribution 4.0 International License.