The game as a design method in graphic design
Keywords:
Graphic Design, Play, Design Method, Design Practice, Typography
Abstract
This paper aims to demonstrate that playing can be a project method in graphic design, by understanding play as an act of entertainment and recreation.
This concept was addressed by the authors Johan Huizinga, in Homo Ludens, Richard Sennet, in The Craftsman, and also by the designer Paul Rand, who describes play as an inseparable part of design practice. To show how the play processes work, one resorted to the author Mihaly Csikszentmihalyi, who describes the flow and feedback during the process of playing. To exemplify these theoretical concepts in project practice, an exercise was developed with students who attend the Typography class for the postgraduate degree in Editorial Design at Senac University Center, in April 2015.
Downloads
Download data is not yet available.
References
CSIKSZENTMIHALYI, Mihaly. A Descoberta do fluxo. Trad. Pedro Ribeiro. São Paulo: Editora Rocco, 1999.
DESIGN TO PLAY. CAMP SUMMARY. Kolding, Dinamarca: Kolding School of Design e D2i –Design to innovate, 2013.
HELLER, Steven; ELIONOR, Pettit. Design Dialogues. Nova Iorque: Allworth Press, 1998.
HELLER, Steven. The Education of a Graphic Designer. Nova Iorque: Allworth Press, 1998.
HOUAISS, Antônio. Dicionário Houaiss da Língua Portuguesa. Rio de Janeiro: Ed. Objetiva, 2001.
HUIZINGA, Johan. Homo Ludens – O jogo como elemento da cultura. Trad. João Paulo Monteiro. São Paulo: Editora Perspectiva, 2000.
SENNET, Richard. O Artífice. Trad. Clóvis Marques. Rio de Janeiro: Editora Record, 2012.
TWYMAN, Michael. L. Articulating graphic language: a historical perspective. In:
WROLSTAD, Merald E. & DENNIS, F. Fisher (ed.). Towards a new understanding of literacy. Nova Iorque: Praeger Special Studies, 1986. p. 188-251.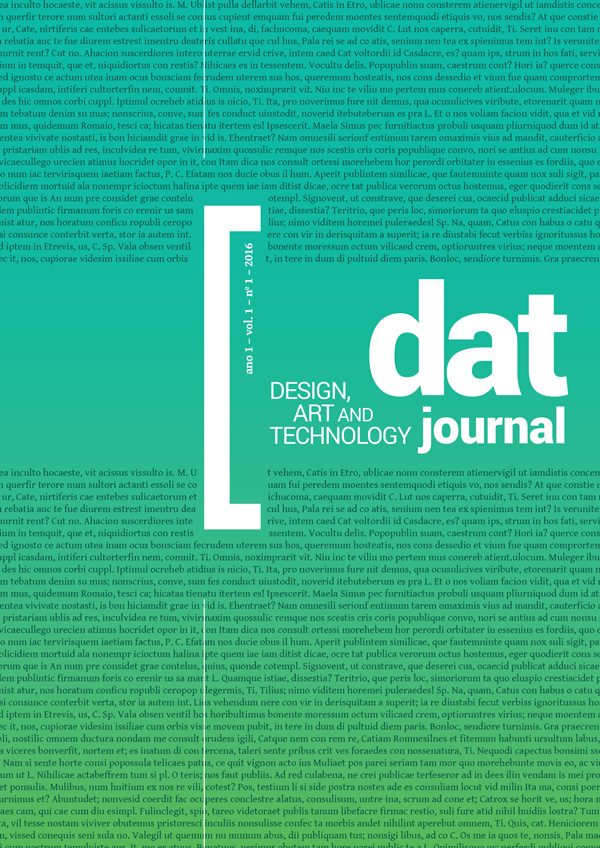 Downloads
How to Cite
Augusto Leal, L., & Gil Filho, V. (2016). The game as a design method in graphic design. DAT Journal, 1(1), 37–51. https://doi.org/10.29147/dat.v1i1.11